'Holy Basil' Blueberrylicious Lime Smoothie Recipe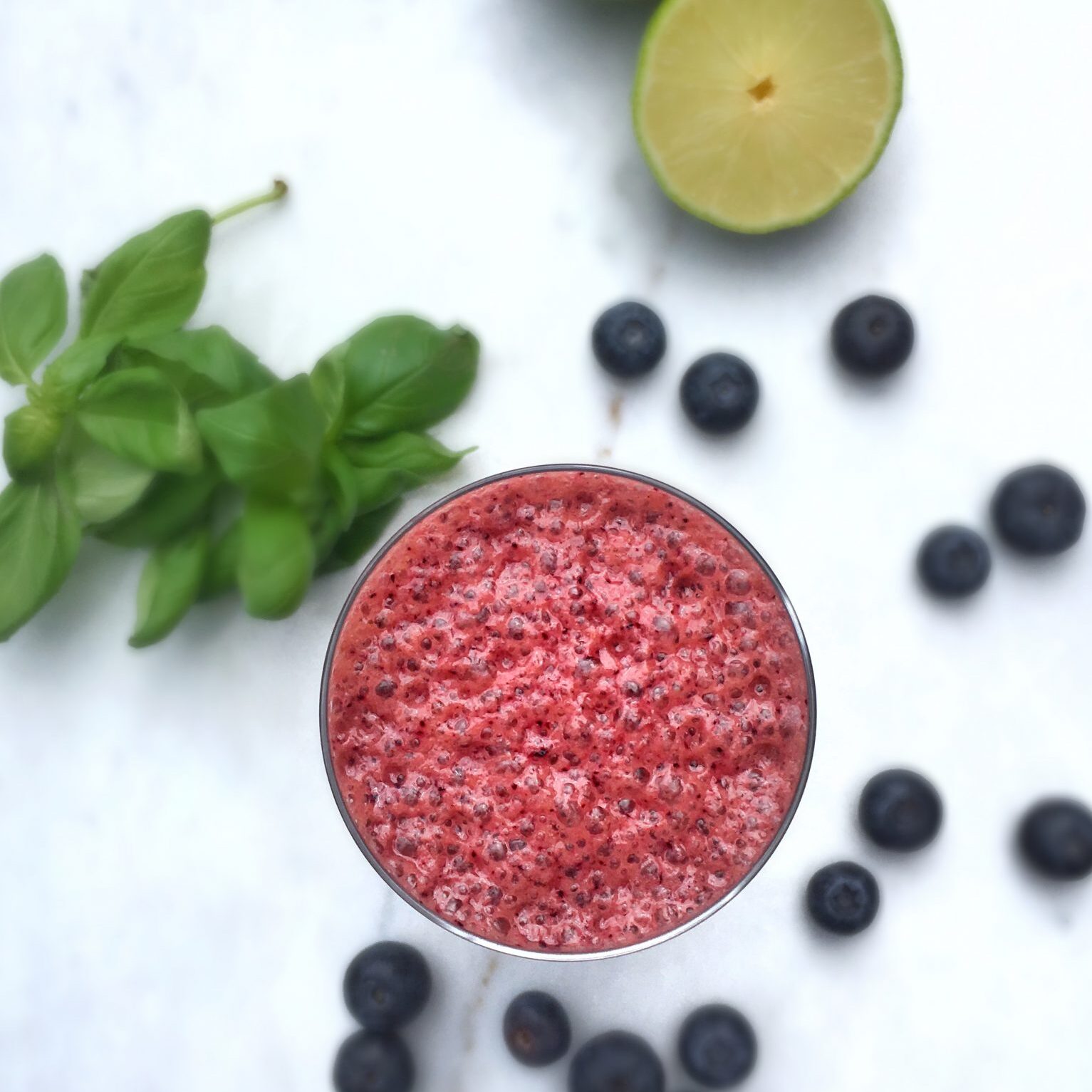 Ever thought about mixing fruits with herbs in your smoothie? Neither did I until I accidentally grabbed the basil from the chopping board rather than the spinach lol. I was trying to do two things at once, prepping tomorrow's lunch while making myself a drink which is when my 'Holy Basil' Blueberrylicious Lime Smoothie Recipe was born. Herbs are powerful, disease fighting foods which we should be using more often in our juices and smoothies. Parsley is detoxing, coriander eases digestion and today's star of the show herb 'The Holy Basil' full of antioxidants, anti stress and  anti viral properties.
Blueberry
Blueberries are one of the most nutrient-dense foods in the world and contain large levels and a broad range of antioxidants. One of the nutritional components of blueberries is Gallic acid which you may not of heard of but Gallic acid is an anti-fungal, ant-viral agent making it an extremely powerful antioxidant which keeps inflammation in the body at bay. Combating things like aging, digestive issues , heart disease and cancer.
Basil
Did you know that there are 35 different types of basil? Which come in all different sizes but holy basil is the one known for it's powerful healing properties. This medicinal herb enhances immunity, is anti inflammatory and bursting with antioxidants protecting us from a load of nasty diseases and infections with it's powerful essential oil.
In Southeast Asia and India holy basil is considered a sacred herb and has been used in over 300 Ayervadic treatments!
Let's get blending……
'Holy Basil' Blueberrylicious Lime Smoothie Recipe
Ingredients
Coconut water
Blueberries
Basil
Bana
Lime
Maple syrup
Directions
Squeeze the juice out of the lime straight into the blender.
Add in the rest of the ingredients.
Blend at highest speed until smooth.
Pour into a glass and enjoy!
I'm definitely going to play around with herbs in my smoothies more often after this 'Holy Basil' Blueberrylicious Lime Smoothie Recipe turned out ridiculously good! Do you have any suggestions when it comes to adding herbs to your smoothie? If so please share by commenting below and don't forget to add this recipe to your smoothie board on Pintrest! 
Honestly
Alessandra x