Spring To Summer Affordable Transitional Sustainable Dresses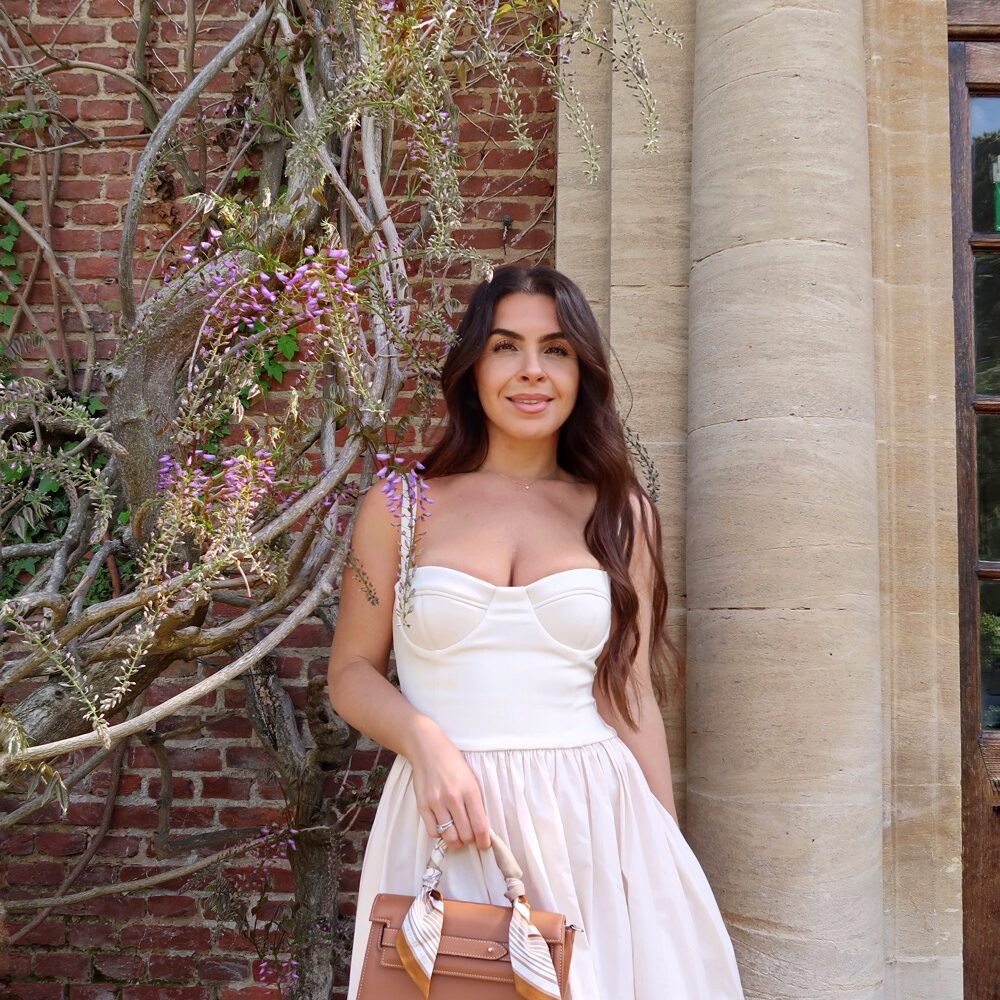 Better late than never
If you are looking for Spring To Summer Affordable and Transitional Sustainable Dresses I have put together a few of my favourites here. With the hope the miserable and cold weather is slowly on it's way out, these affordable dresses all under £200, involving zero plastics. You can confidently wear and look beatuiful.
R E F O R M A T I O N
A dress with zero effort but just looks beautiful, a real throw on and out of the door piece. The Crimini dress from Reformation in the latest colour palette of lilacs I fell for. I love how this dress has a relaxed fit throughout whilst having a cute shape to it. Any neutral accessories you have will go wonderfully with this colour. I would wear this out for lunch with the girls with a blazer thrown over my shoulders or over at a friend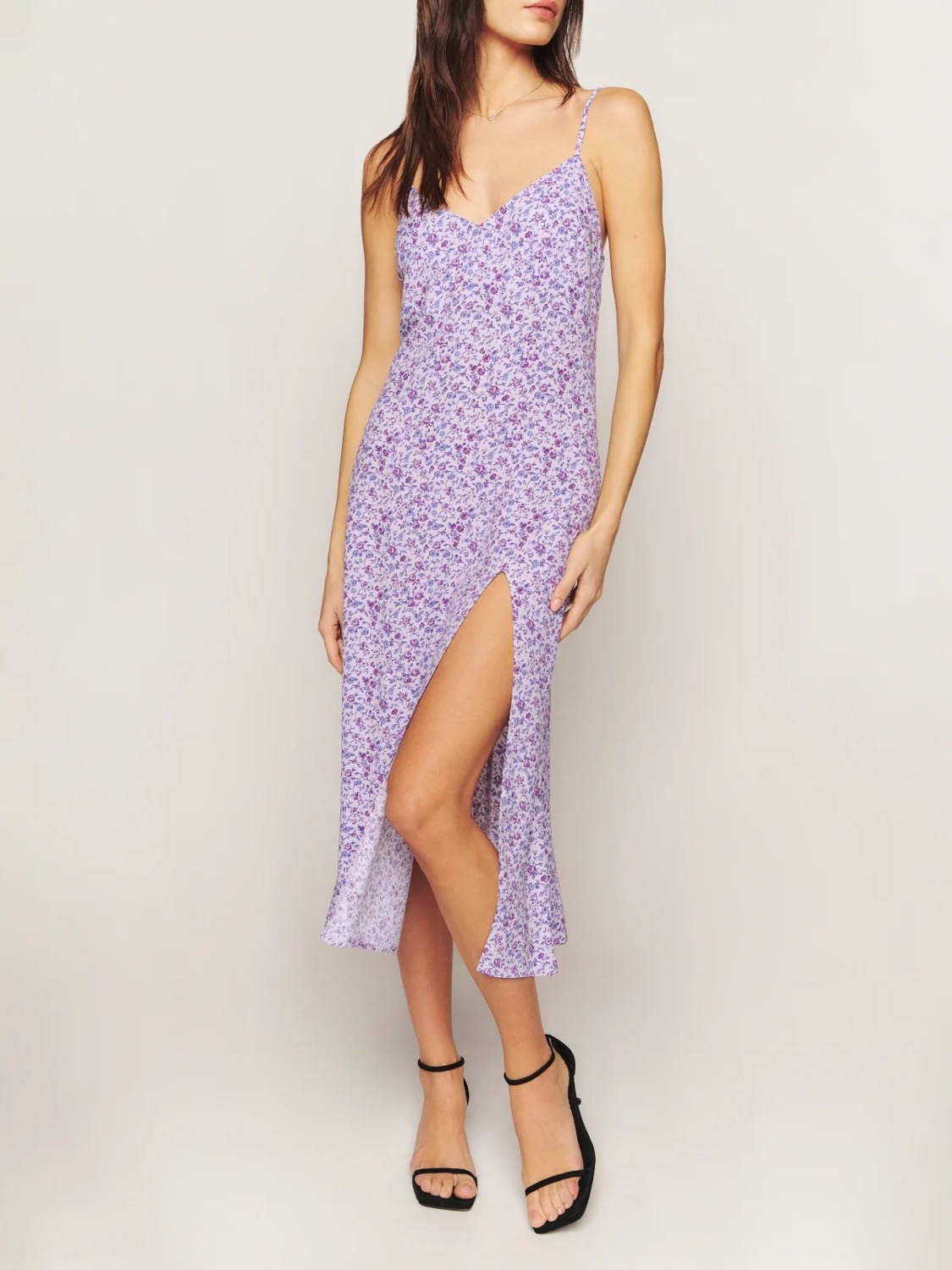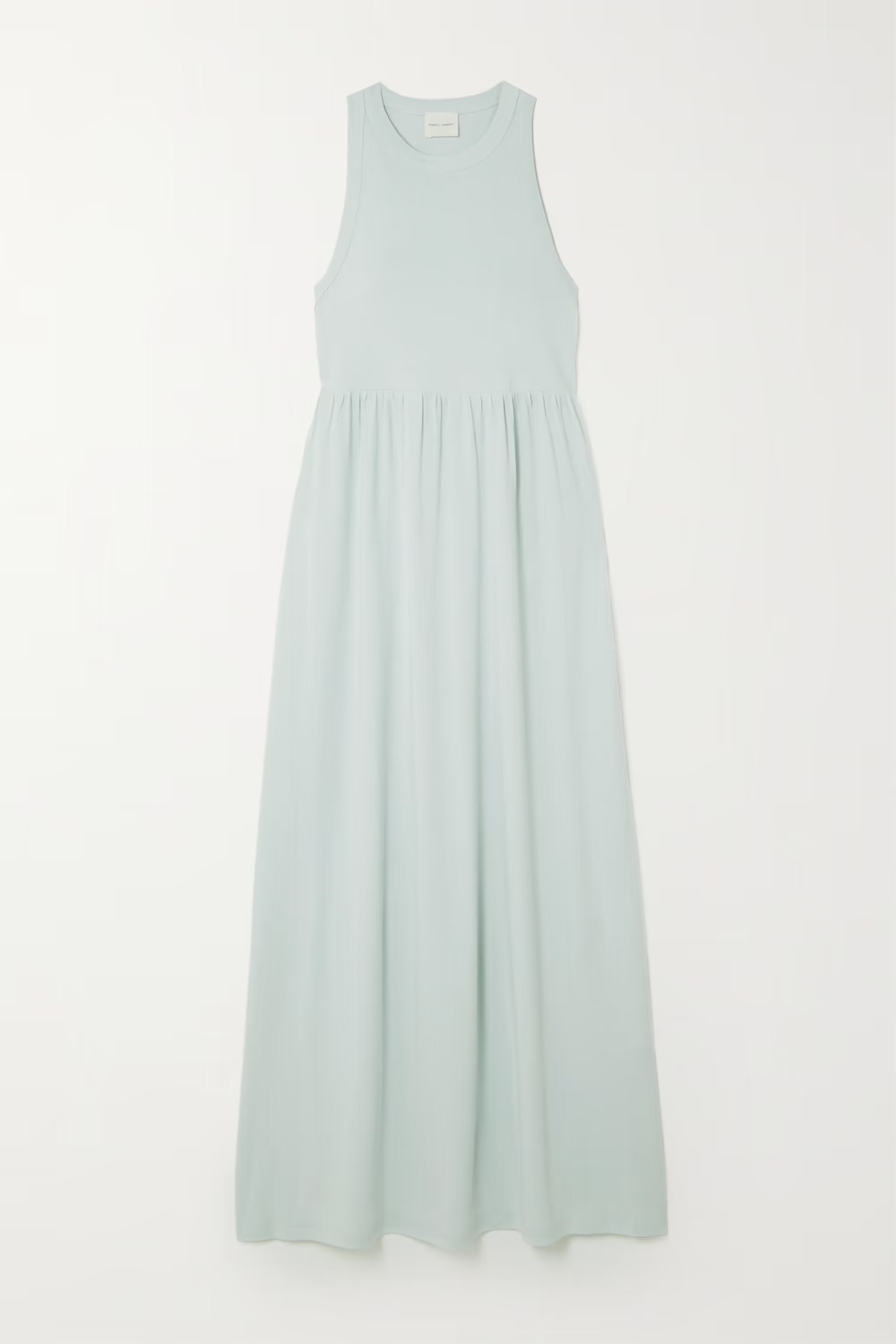 N I N E T Y P E R C E N T
A soft organic cotton- jersey maxi dress is a must for those more casual days. I feel like i'd be in a scene from dirty dancing playing Francis, baby when wearing this. A dress you can wear with any casual shoe and easily layered if you get a little chill. Around the house, relaxing in the garden, running errands or dance practise lol this is a dress you will most definitely get a lot of wears from.
It was very hard to choose a dress from Boden, they really have some beautiful prints in at the moment but I narrowed it down to this stunning pink floral embroided dress with pretty scalloped trims. 100% cotton midi dress with its romantic charm can be worn to any summer socials or garden parties With a fitted bodice which anchors the tiered, full skirt, creating a really elegant look.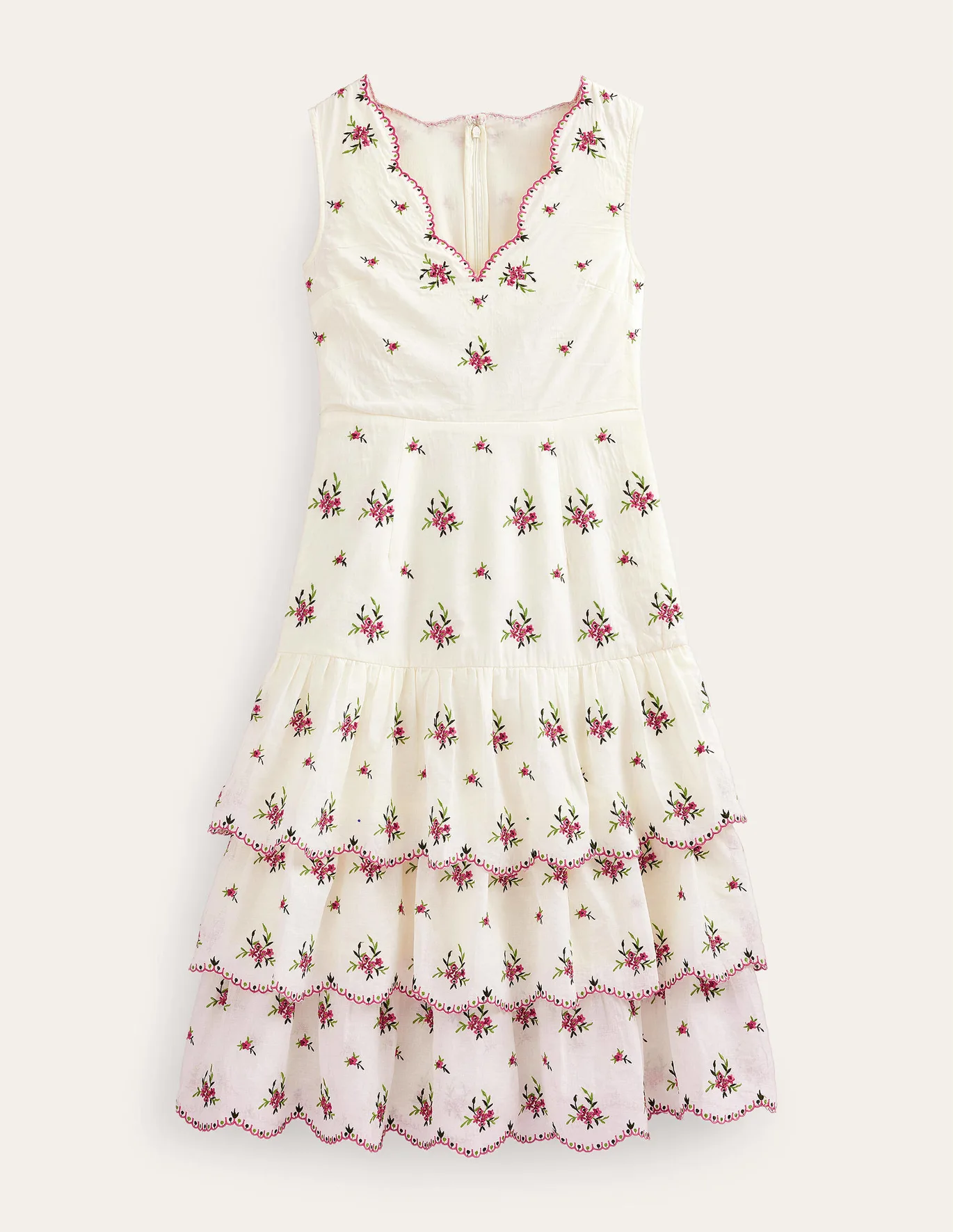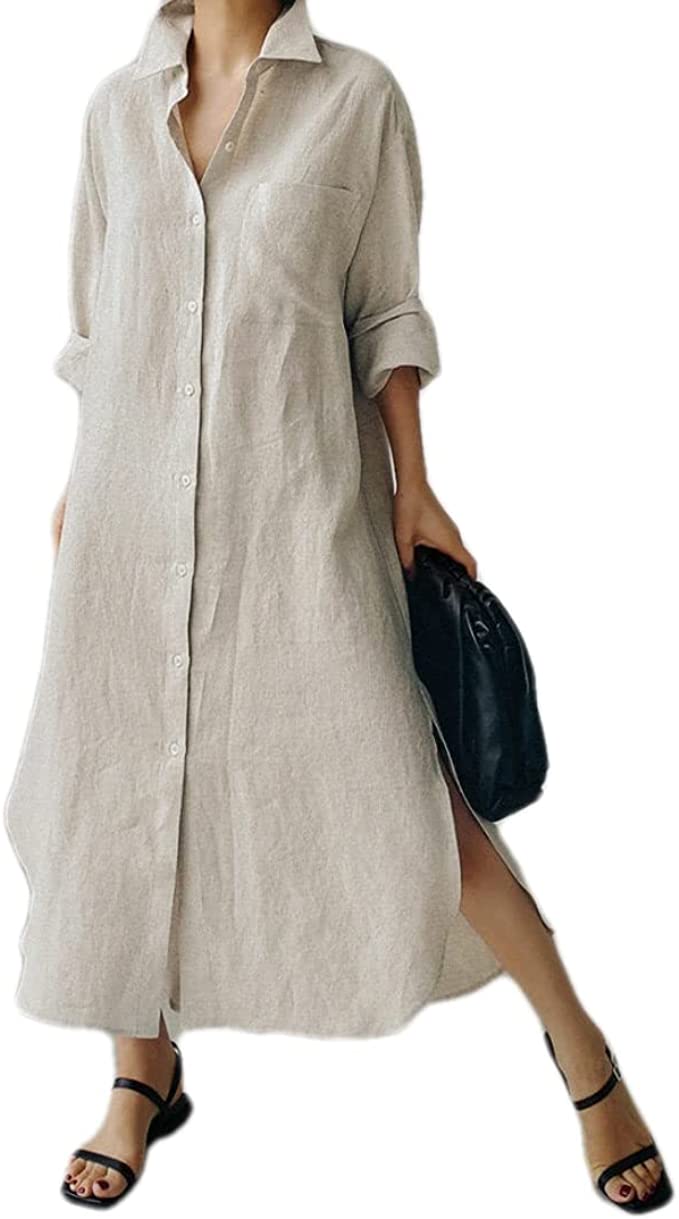 I LOVED this maxi linen dress I found from amazon! It was a real find and you can never have enough shirt dresses in my opinion lol. I love the natural linen colour of this one and shape and length. Slits either side and rolled up sleeve give it a more cool casual feel. I would cinch it in with a belt but equally worn loose would look and feel lovely on those days you are only interested in comfort. A soft organic cotton- jersey beautiful dress that you can also ad a thin layer underneath or over the top if needed.
A L B A R Y
I love easy wear pieces and this dress from Albary is exactly that along with elegance. The sleeveless A line style and midi length make this pieces very classic. Made from pure cotton this style is kept trend-free so that it'll sit in your closet for years to come. I have recently found a love for the colour navy and I have been wearing it with tan accessories which I think works really well.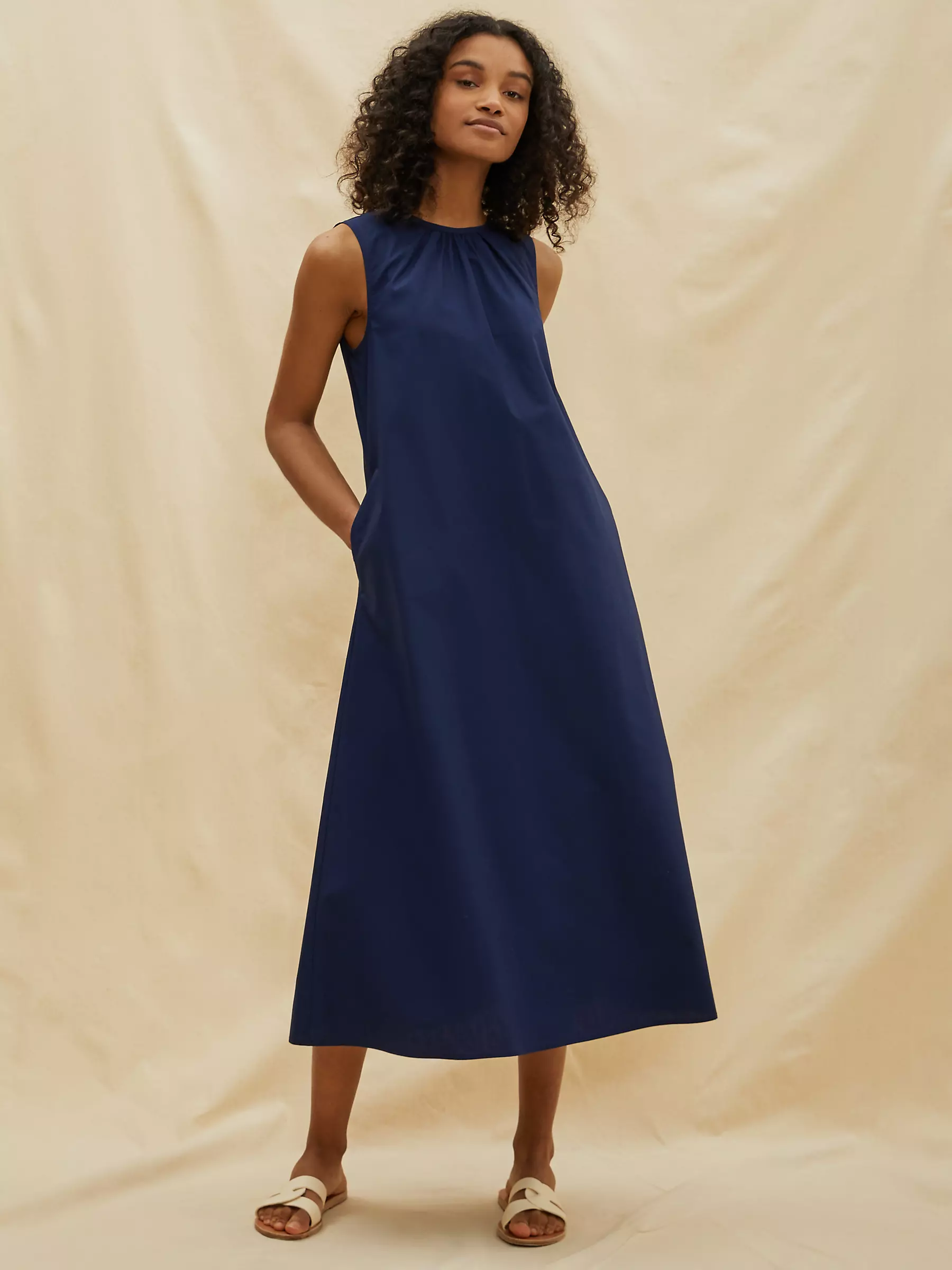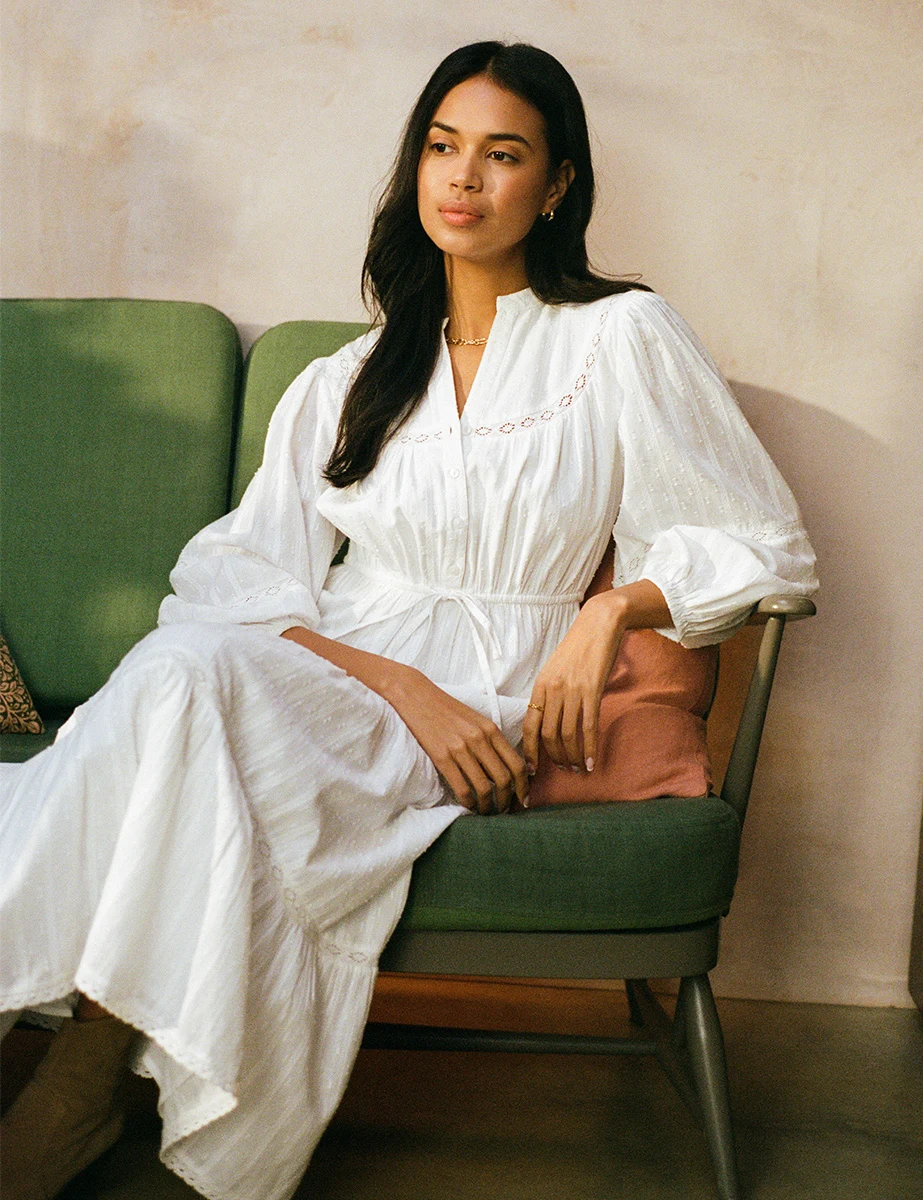 Would it be a spring summer dress blog without a beautiful white shirt dress? If i didnt have several white shirt dresses myself this one would of already been bagged. The Elsie dress is cut from organic dobby cotton with whimsical tiers, ladder lace and billowy puff sleeves, this is a midi made for drifting down cobbled streets in the sunshine. An elasticated waist, with it's own belt or you can swap if for tan accessories. I would pair this with my Hermes kelly tan belt and Ancient Greek Sandals both in tan and a basket bag from La Pappilon Vert.
The Riviera Dress from Everlane, I had to bring it back from last year! This dress was a real winner I had so many questions about it, even day to day when i'd be wearing it. They have brought it back in khaki which i love featuring a comfortable knit top and a voluminous woven bottom. The skirt is made with 100% cotton for all-day breathability and comfort The pinnacle of versatility.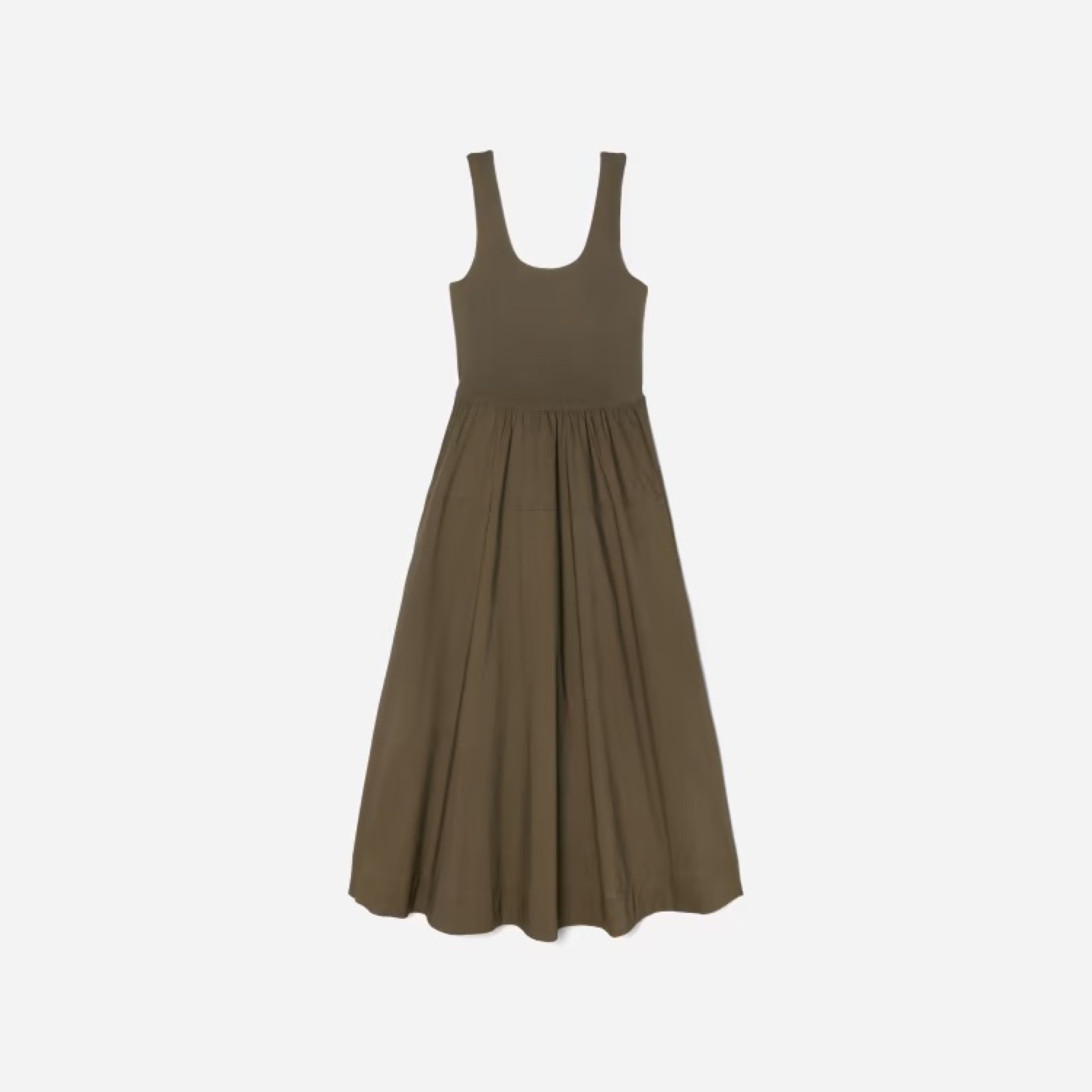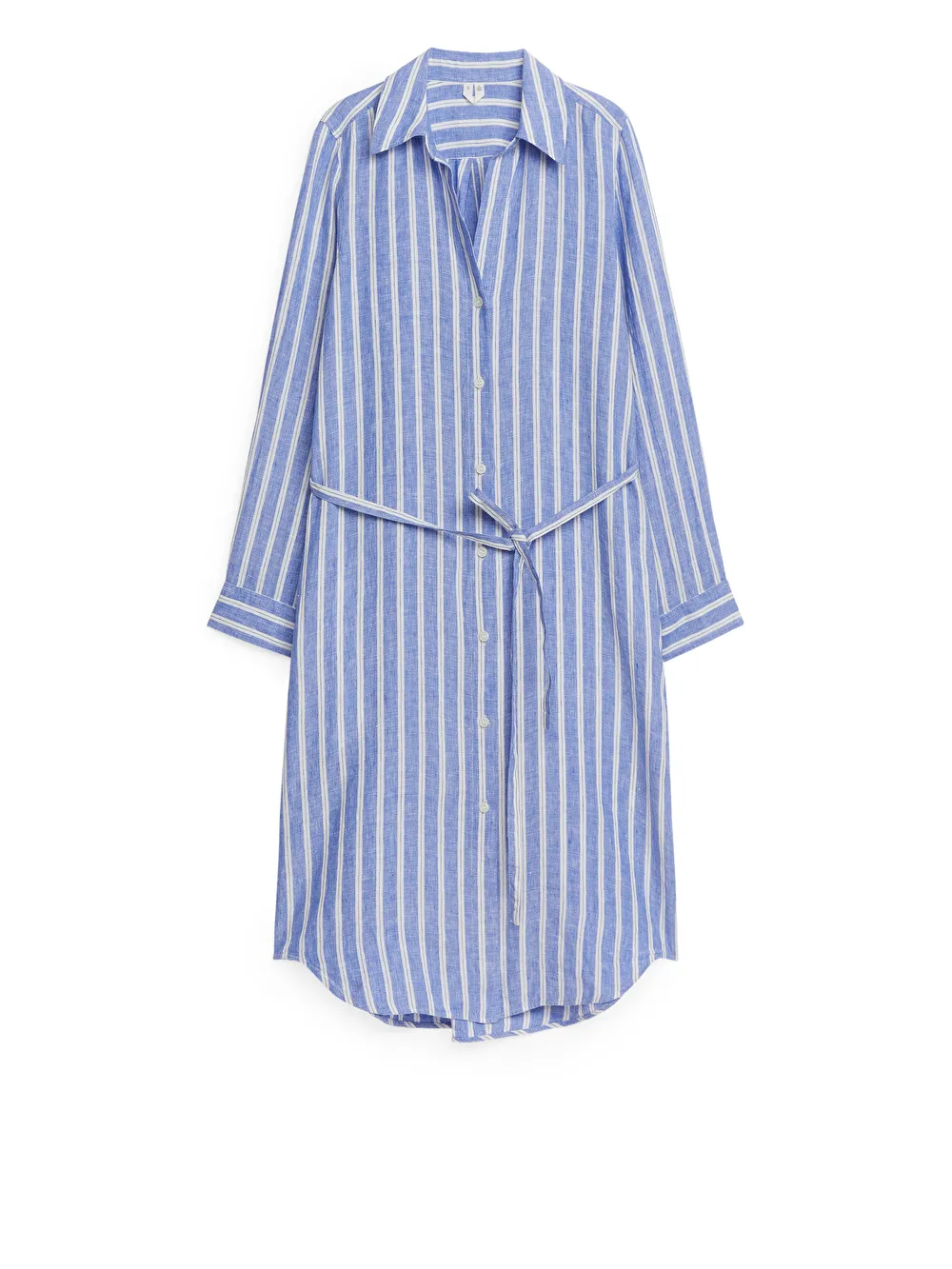 A striped 100% linen shirt dress had to be included, this season I am really loving striped blue linen at the moment and this one from Arket is ideal. The perfect length, airy and comfortable I would wear this around the house and pottering around the my kitchen garden. I believe looking smart no matter what you are doing is a real factor to feeling your best. This dress will make you feel ready for any kind of day ahead. It also comes in a beautiful pink.
This is my floral flourish, bursting with colour option which is beautiful and has just made it into the affordable but so so worth it! The Victoria floral print midi dress from Apiga creates a fluid feel in a tiered silhouette. Another dress that can be worn dressed up with a pair of kitten heels or dressed down with your favourite pair of flat sandals. The florals and detailing in the design make it a real statement piece. I particularly like the three quarter length sleeves with frill detailing that matches the tiered detailing at the bottom of the dress.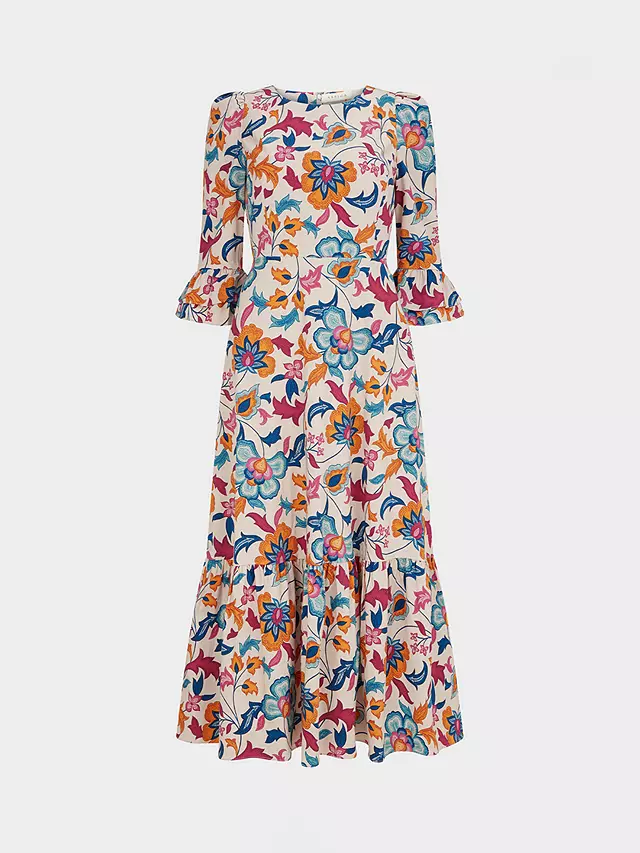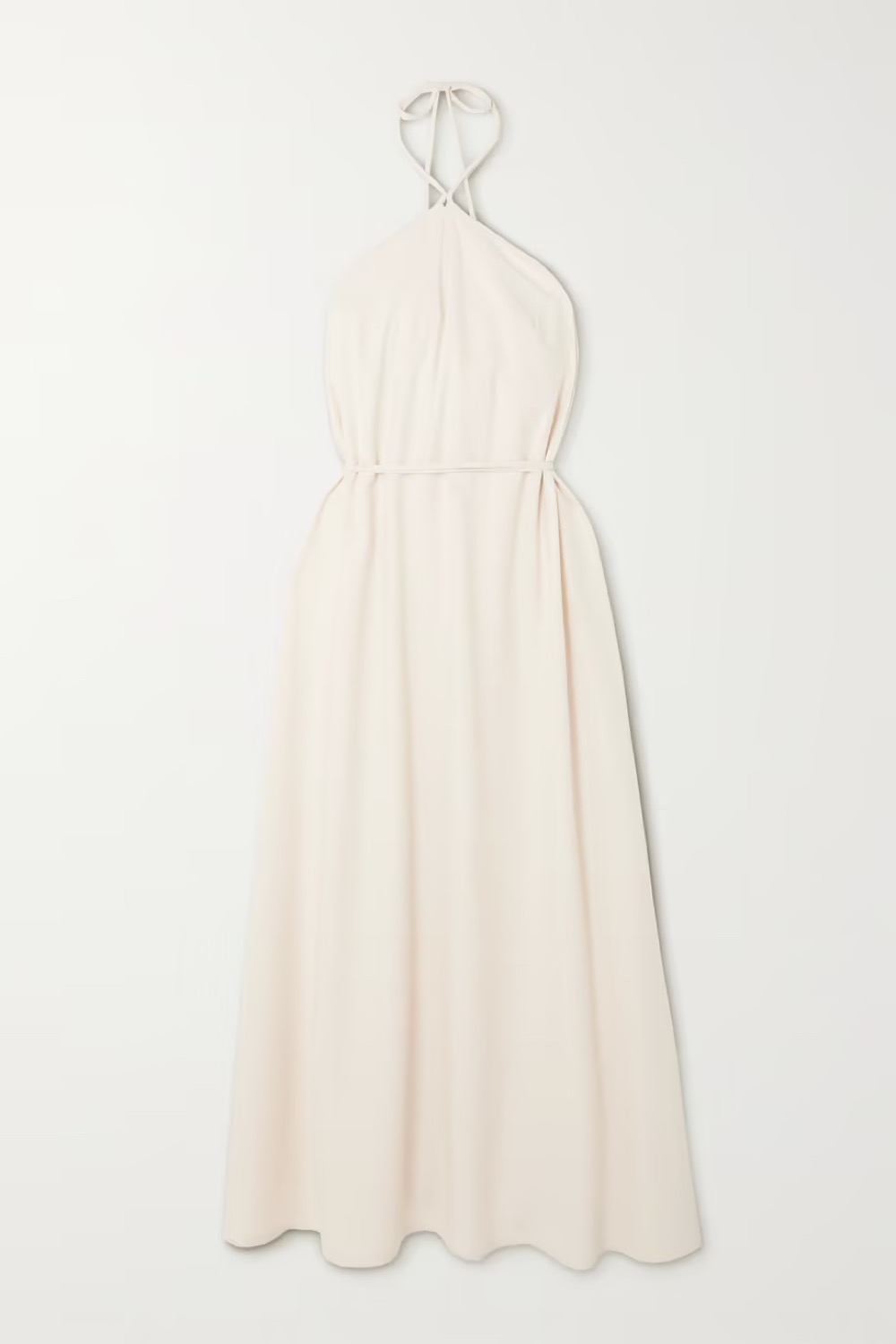 B A S A R A N G E
This dress was a real find. The 'Ligo' dress is 100% silk and only £122! The versatility of this piece makes it seem like a more expensive dress. As well as being able to wear it casual with a pair of tan leather sandals and your favourite tan bag (mine with a side of twilly lol) and dressed up with a pair of heals for an evening or occasion look this dress is also designed to be worn multiple ways – just change the positioning of the tie straps to suit your shape and personal style. Falling to a maxi length, did i mention it has an open back.
F A I T H F U L T H E B R A N D
I wanted to include a easy wear staple piece the Madella dress from faithful The Brand is a dress grab. Mine is last seasons in lilac but this pop of cherry tomato colour in the wardrobe is a must (especially after all of the gloom). Made from 100% GOTS-certified organic cotton-poplin that's soft, crisp and breathable and most importantly no plastics on your summer skin. I love a strapless smocked bodice with a bit of volume in the skirt, a classic. This does come in other colours if you want something a little more neutral but this with a tan…. just saying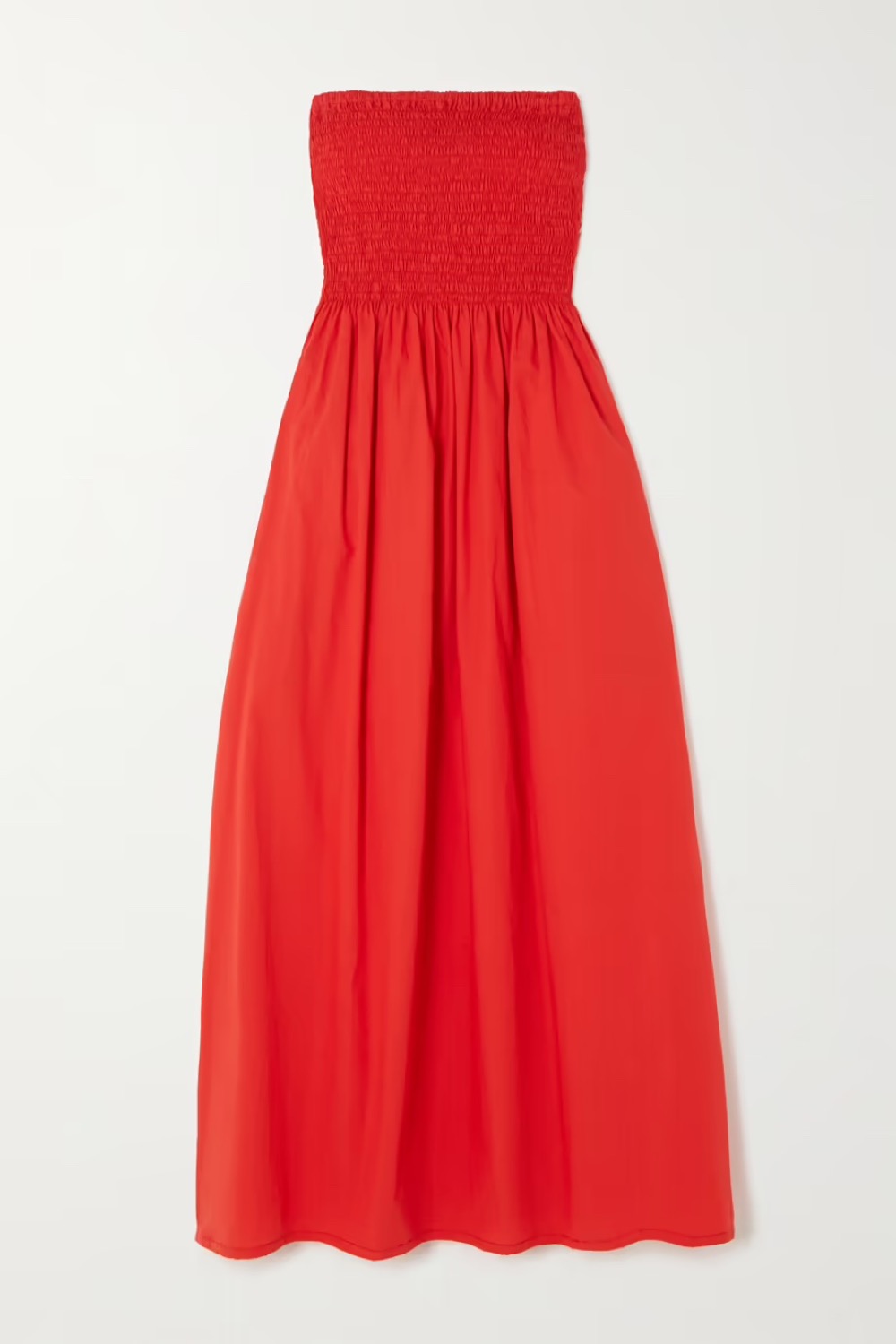 Shop my outfit.
The People Have Spoken
Earlier this month I launched my most successful collection with Karen Millen – and if you haven't had the chance to check it out, there are a few style still available to add to your autumn wardrobe. We sold out of some styles within 20 mins (which for me was one of the highlights of my LIFE), and the reaction was fantastic. We used the warmth of autumn colours to hue the wool and silk, and brought in the depth of heritage fabrics to complete the quintessentially English countryside look. I took it upon myself to style out some of the coats and jumpers with belts that weren't part of the collection, but part of my personal wardrobe (as an added personal touch!) and I've received so many questions about where people can find the waistbelts that I used to style out my collection.