Keeping It Plant Based | Isle of Wight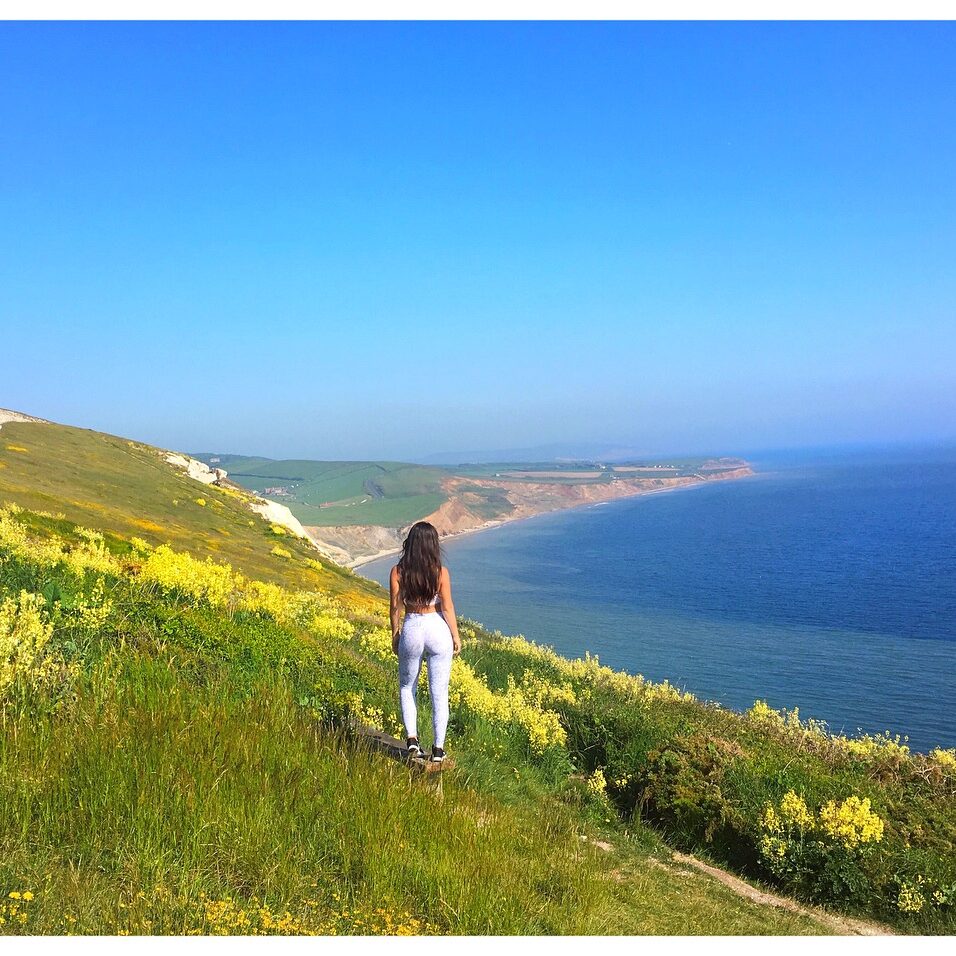 Back to life, back to reality and boy am I feeling it! Spending a week on one of the most chilled out places I have ever been, the Isle of Wight,  to then back to one of the busiest, fast paced places EVER, London, had me feeling a little overwhelmed. Myself and Stefania went for a girls weekend to take a moment out and chill and of course find out what the plantbased, health vibe was, as we do. The minute we arrived on the ferry we instantly felt the laid back, calmness wash over us and  knew we were going to love this place. The vegan, plant based scene really didn't disappoint as you're about to see.  Sharing how we Kept it Plant based on the Isle of Wight. But let me just start with where we stayed….
Keeping It Plant Based | Isle of Wight
The Retro Retreat, The Wight Place
Hambrough Rd, Ventnor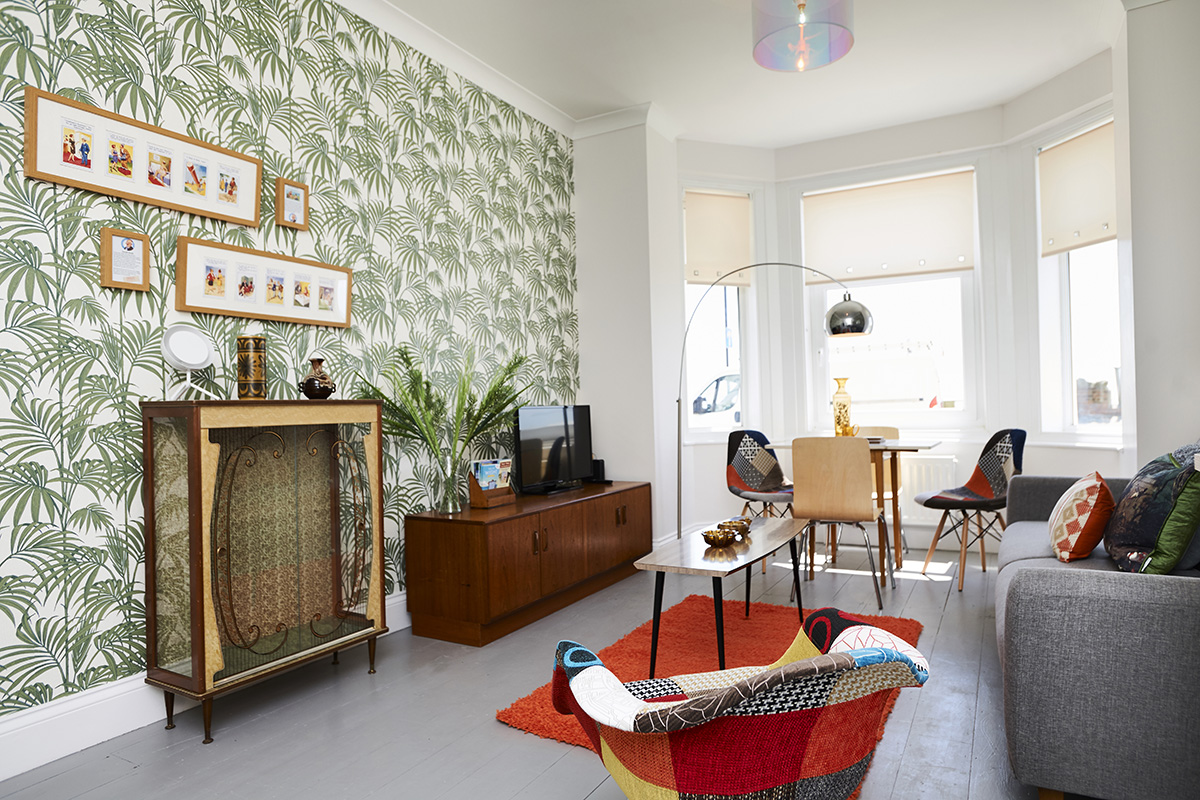 Stepping into the Retro Retreat took me back, and I mean way back! Memories from my grandparents, to when I was a kid, literally every turn was a flashback which was so homely and warm. I LOVED the vibes in this place. I am all about staying in apartments when I'm away from home as from time to time I still want home cooked meals plus I need to get my juices in you feel me!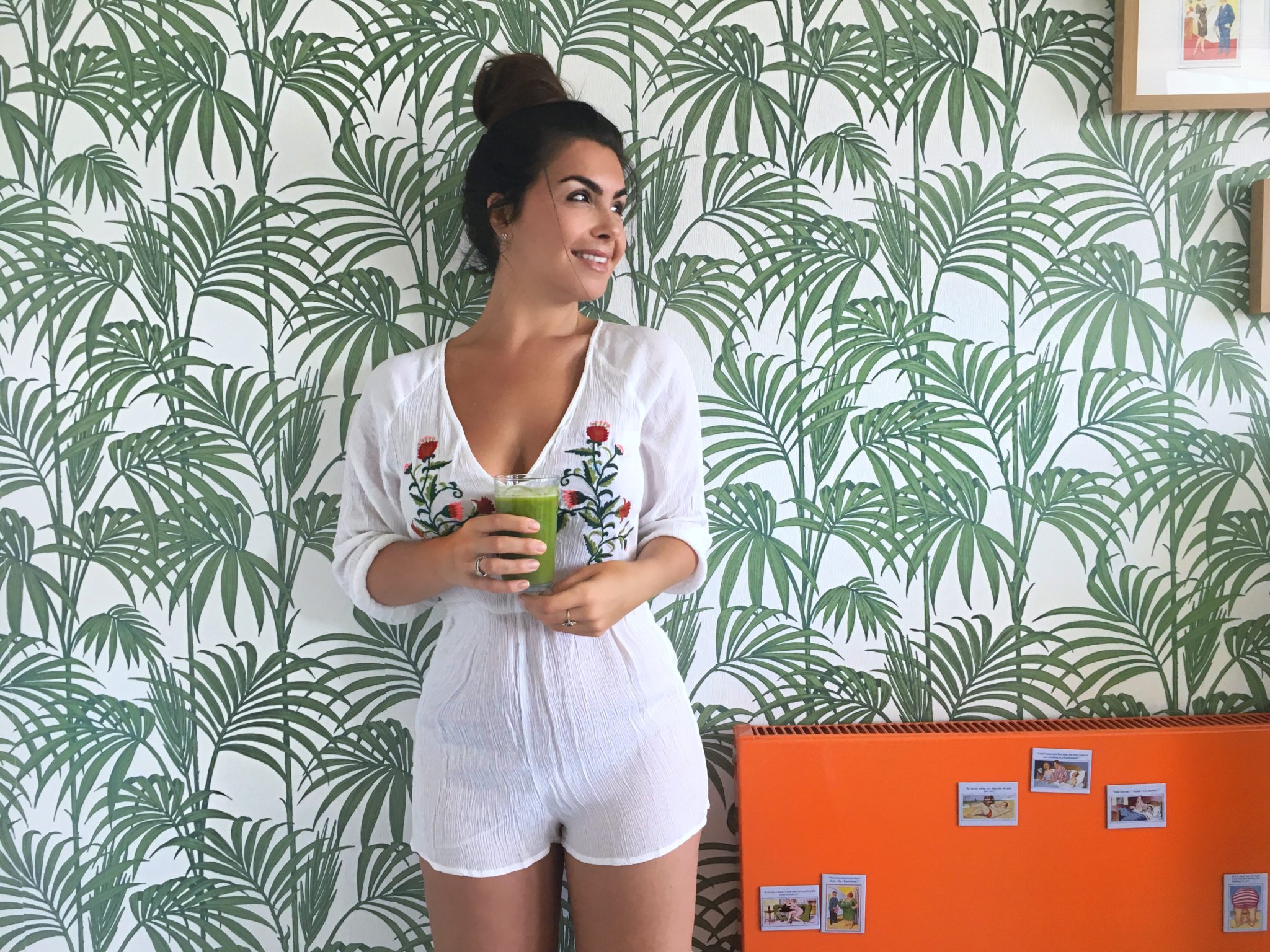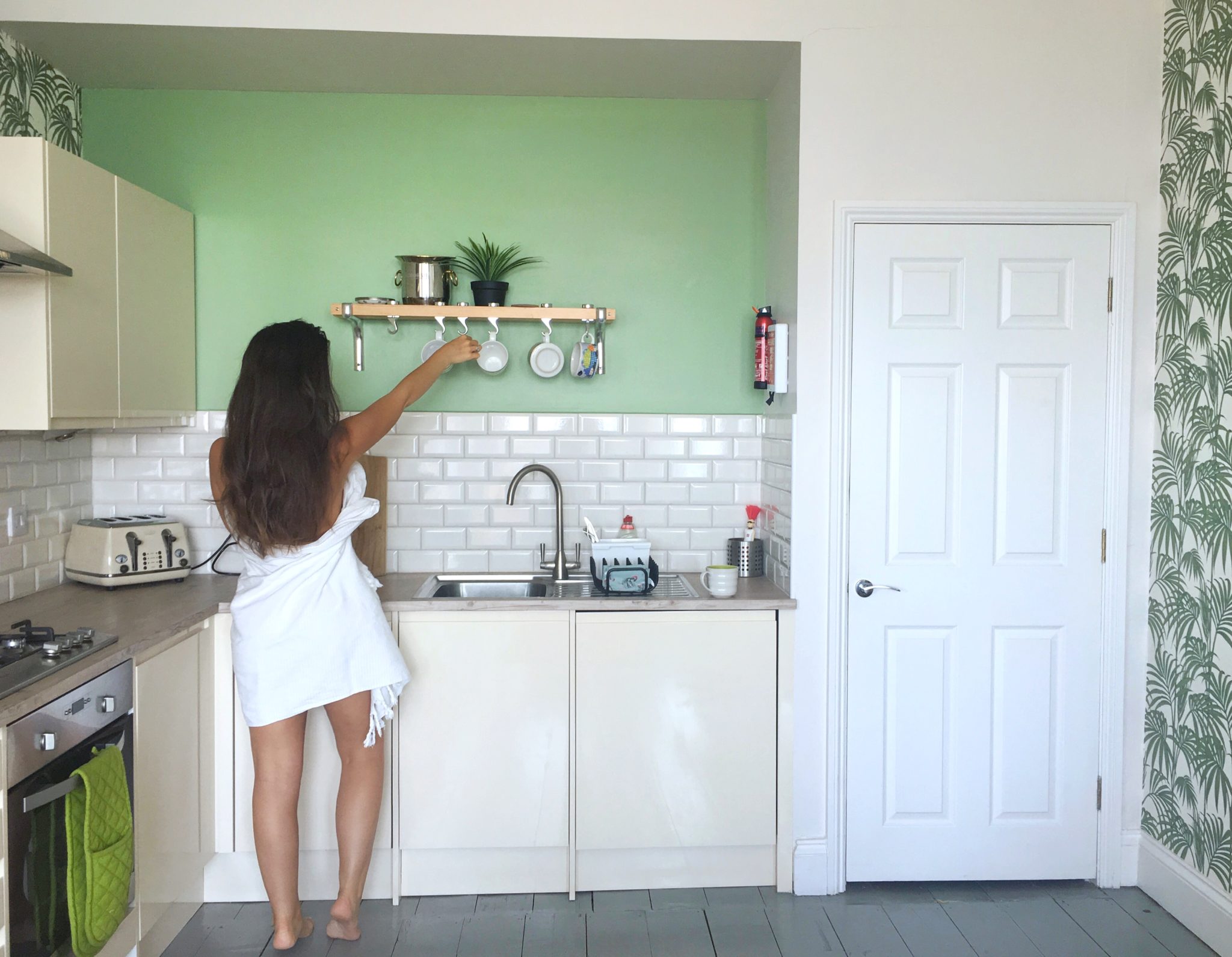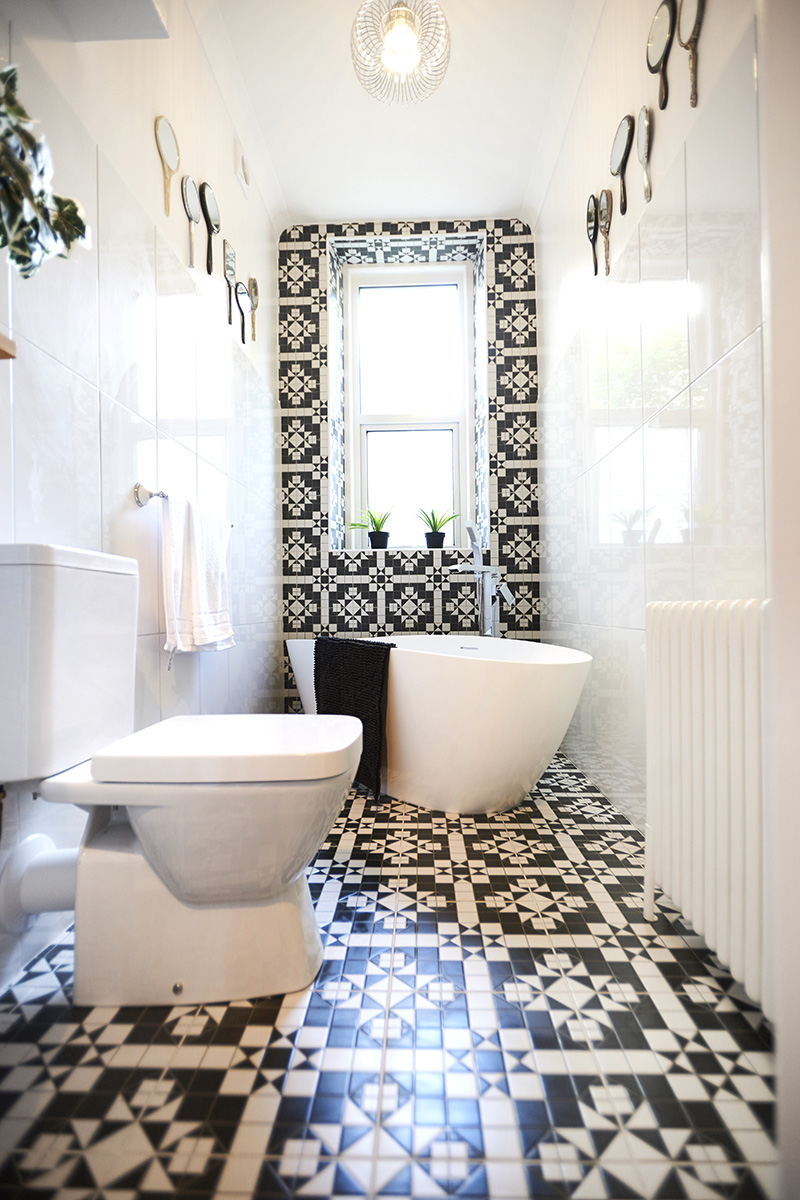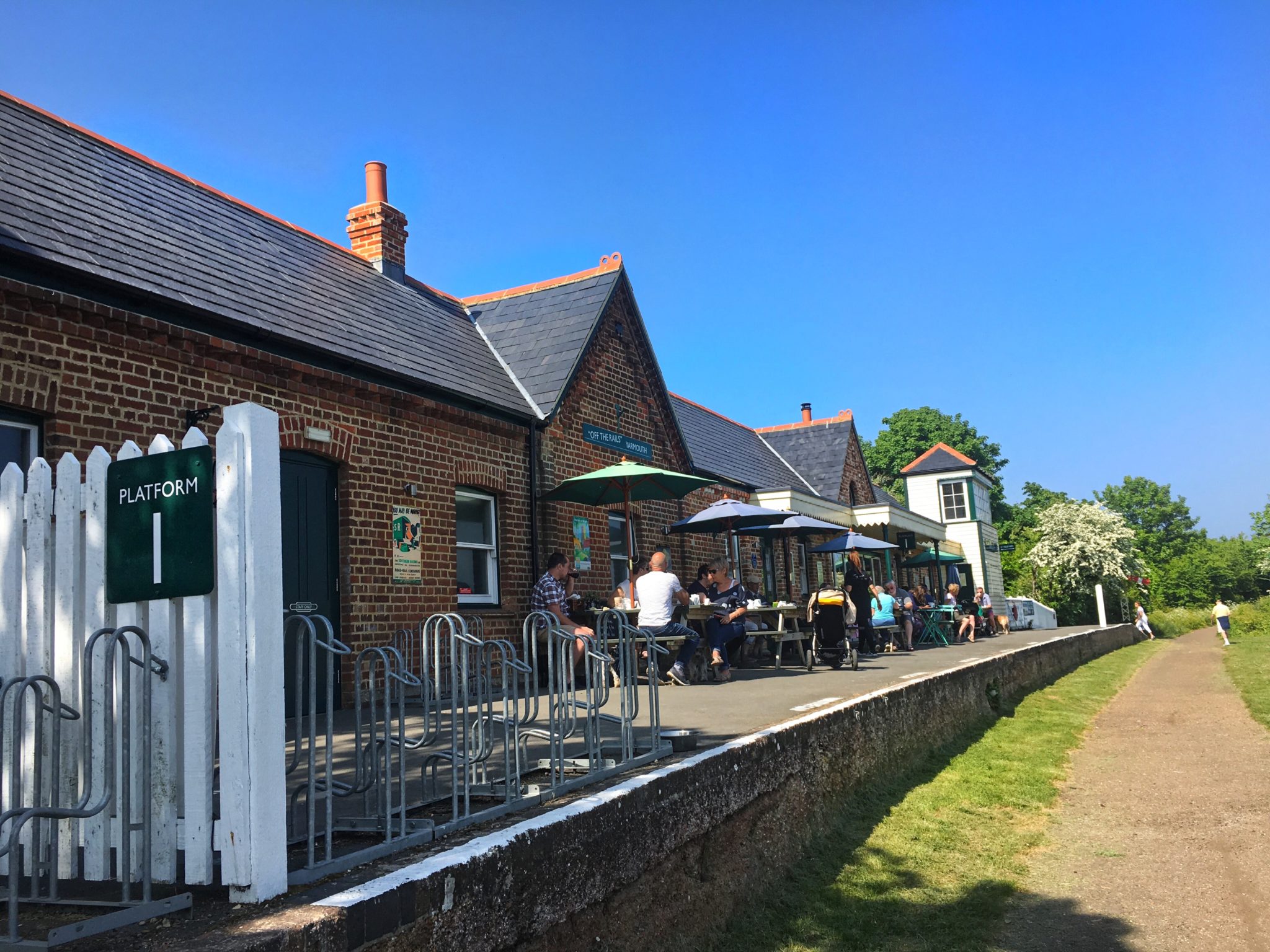 Off The Rails
Station Rd, Yarmouth
OMG, Off The Rails gave me sooo many feels. To start with we had the warmest of welcomes from Phillipe and his lovely team. We had the entire vegan menu explained to us which I always love, it's all about the details for me. Then the setting, ah it was so perfect, this little gem is hidden away in the most peaceful, tranquil spot where you have never ending views of greenery, ducks and swans drying off a few meters away in front of you without the manic noises from rushes of people or traffic noise, just nature. The building used to be a Yarmouth railway station which was given a new lease of life.  This restaurant is full of character throughout right down to the food! There is something for everyone on the menu, they even have a doggy menu, so the whole family can enjoy a day out together. We decided to try a bit of everything from the vegan burger to the smokebox and even their vegan bubble and squeak which were all so so delicious. Make sure if you visit to leave a little room for dessert as they do vegan sweets! The homemade banana and coconut creme brûlée  is to die for and I've never been a fan of brûlée so that's saying something!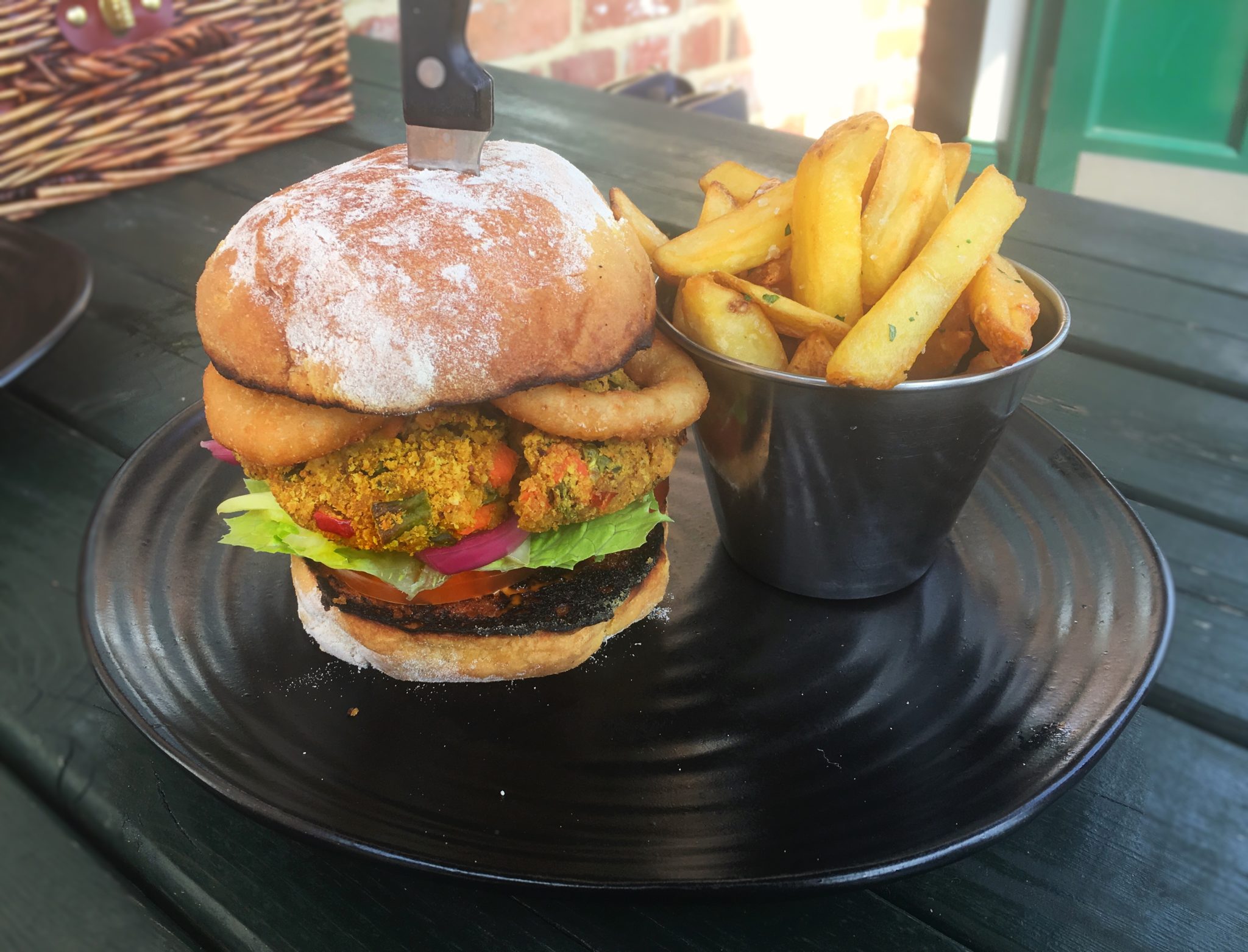 First class- Toasted vegan bun, fresh tomatoe romain lettuce, homemade salsa and vegan mayo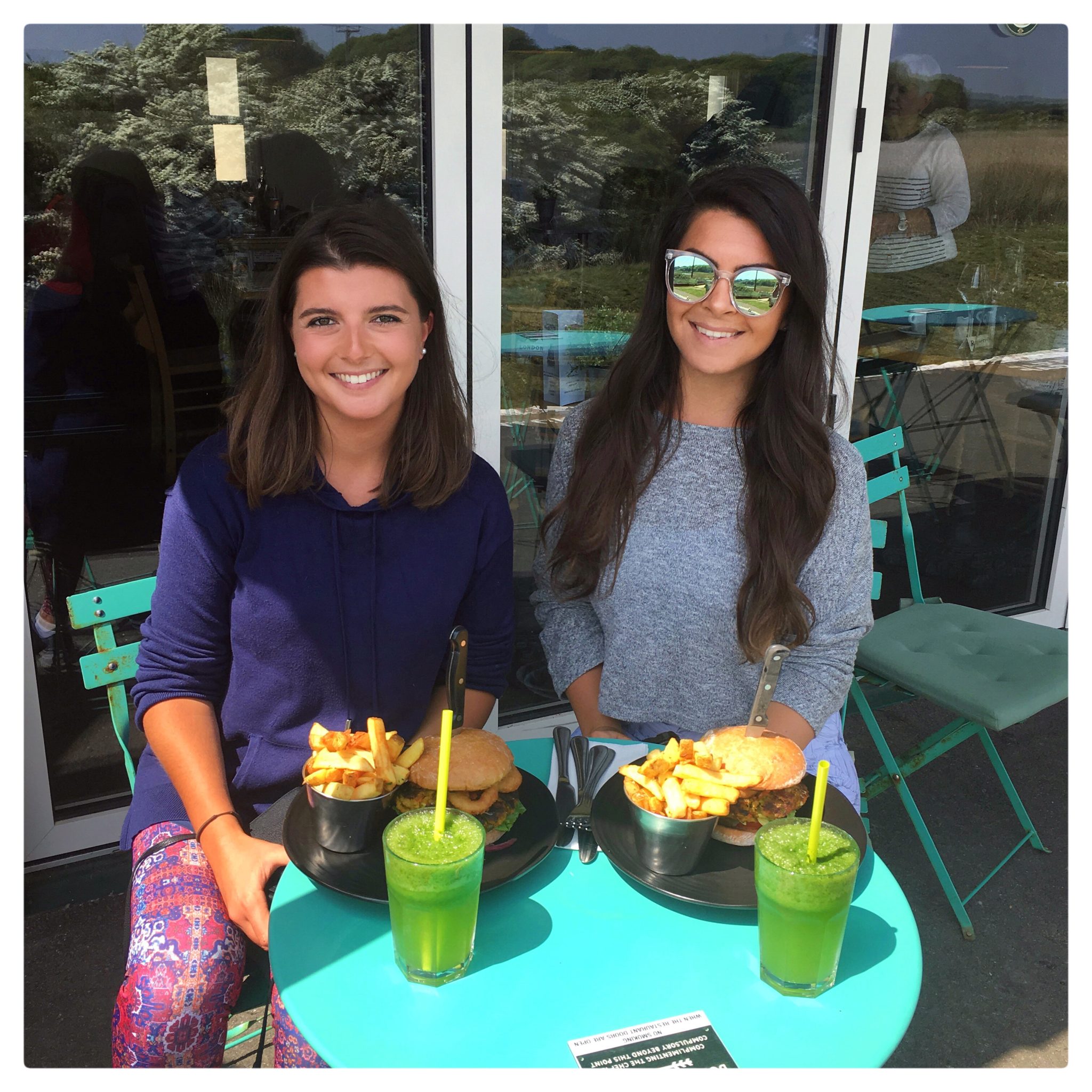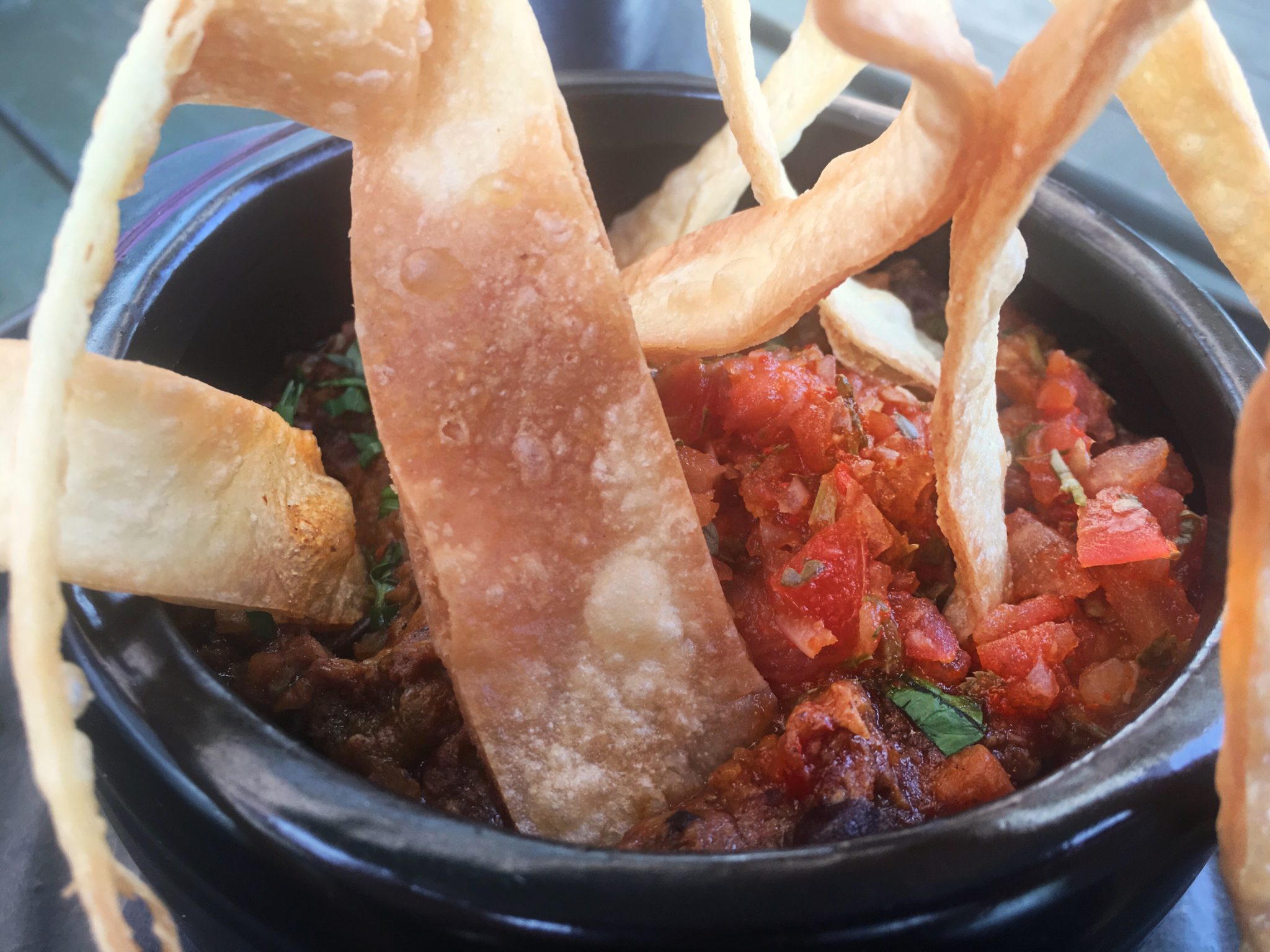 Smokebox – Homemade mushroom chilli, off the rails spiced rice and homemade salsa.
Vegan bubble and squeak
Banana, Coconut Creme Brûlée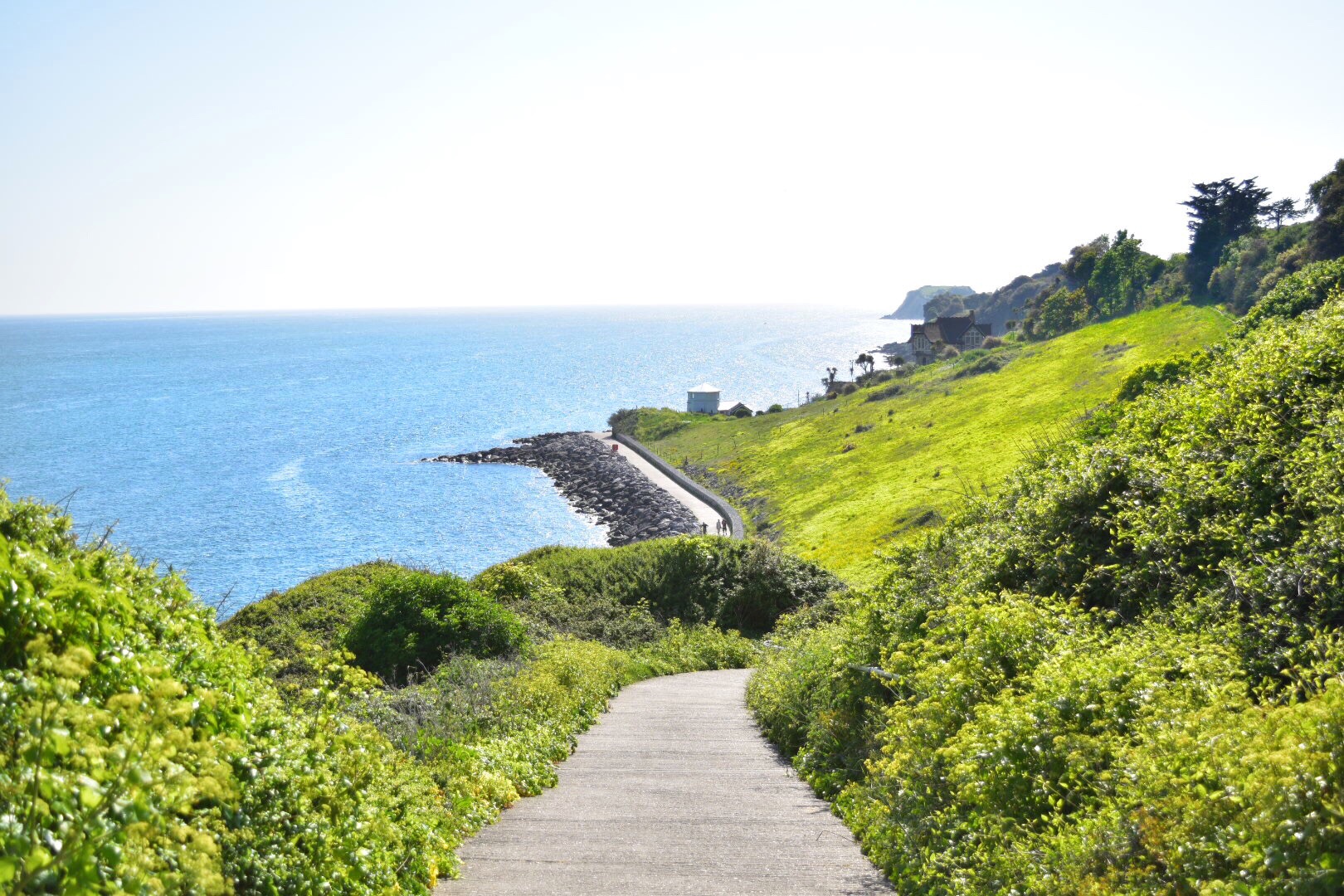 Crave Ice Cream
Ventnor

Craveing for vegan ice cream? Then Crave is a stop you have to make. Homemade delicious vegan ice cream available and not only one bog standard choice. I had pink grapefruit and starbar and Stefania had pink grapefruit and Pear & chocolate. Crave have a few flavours that they switch up everyday all while experimenting and consistantly creating new ones. It was so lovely to hear how passionate Tracey and her team are about working on giving everybody a choice when they visit Crave, including us vegans 🙂   As everywhere I have been on the Isle of Wight, we received the warmest of welcomes from Tracey and her team and absolutely loved the ice cream, we went back nearly everyday lol. Crave sits right in the middle of town and is only a very short walk to the beach, so cooling off on a hot day is a breeze.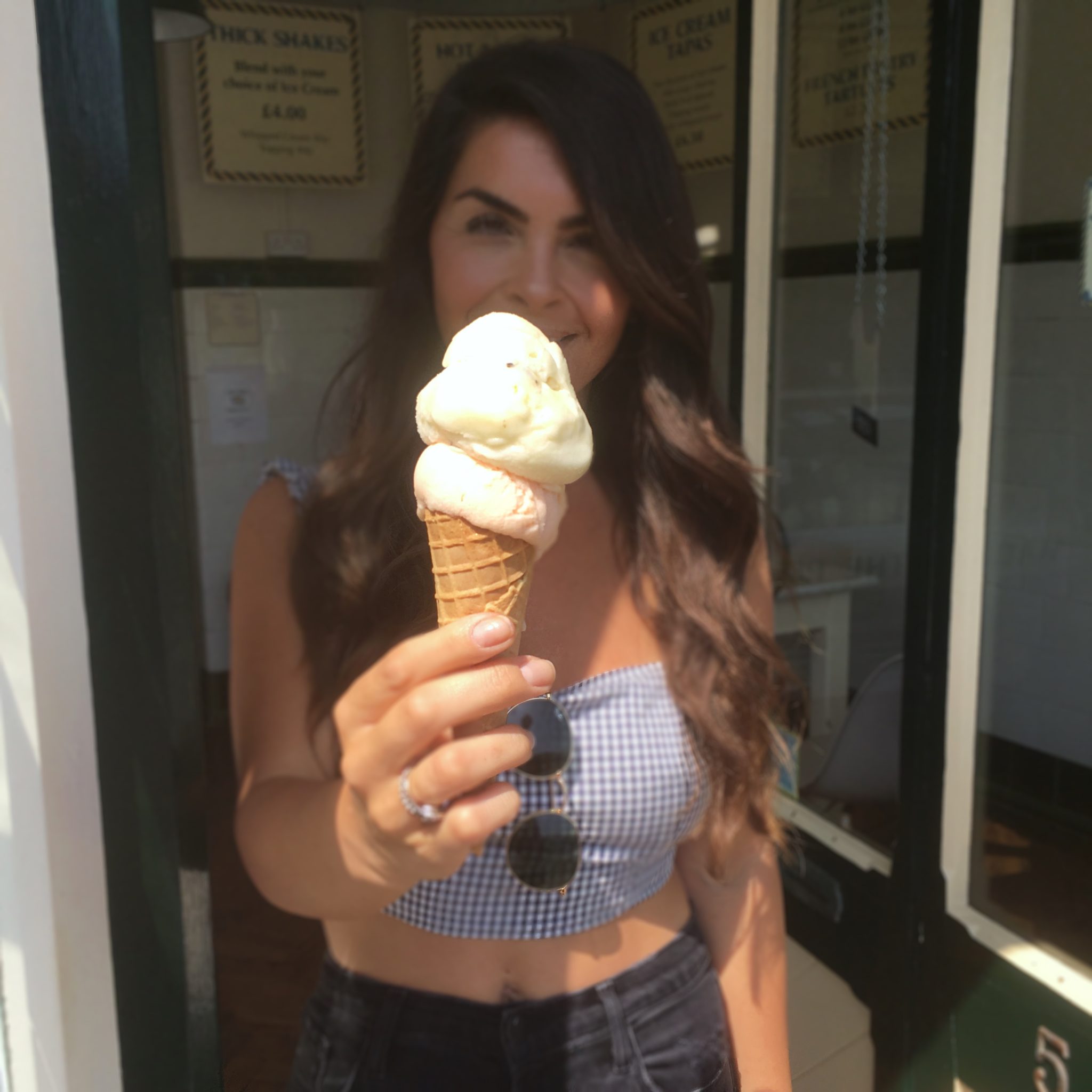 Blue Labelle
Pier Street, Ventnor
What's a holiday without a little pampering? I'm not just talking to the ladies, gentleman this is for you too. Blue Labelle is an adorable shop that is full of  beautiful, organic, pant based, 100% natural skincare. Facial serums, hand lotions, lip balms, hair oils and even pure essential oils is what you will find there as well as natural brushes and hemp cloths to add to your skincare collection. Pascalle the lady behind all of the beautiful botanical blends was so welcoming and so so informative in helping us with what was right for us, you know you're in the right place when you see someone who is so in love and passionate about what they do. This was exactly what I have been looking for when it comes to finding a skincare brand, I want the purest most honest products. I have been using the facial serum and I swear it has been the best thing I have ever put on my face! You don't even need to go all the way to the Isle of Wight to try these beautiful products as you can shop here on their website, they ship Worldwide so all my beauties from all over can enjoy these wonderful products!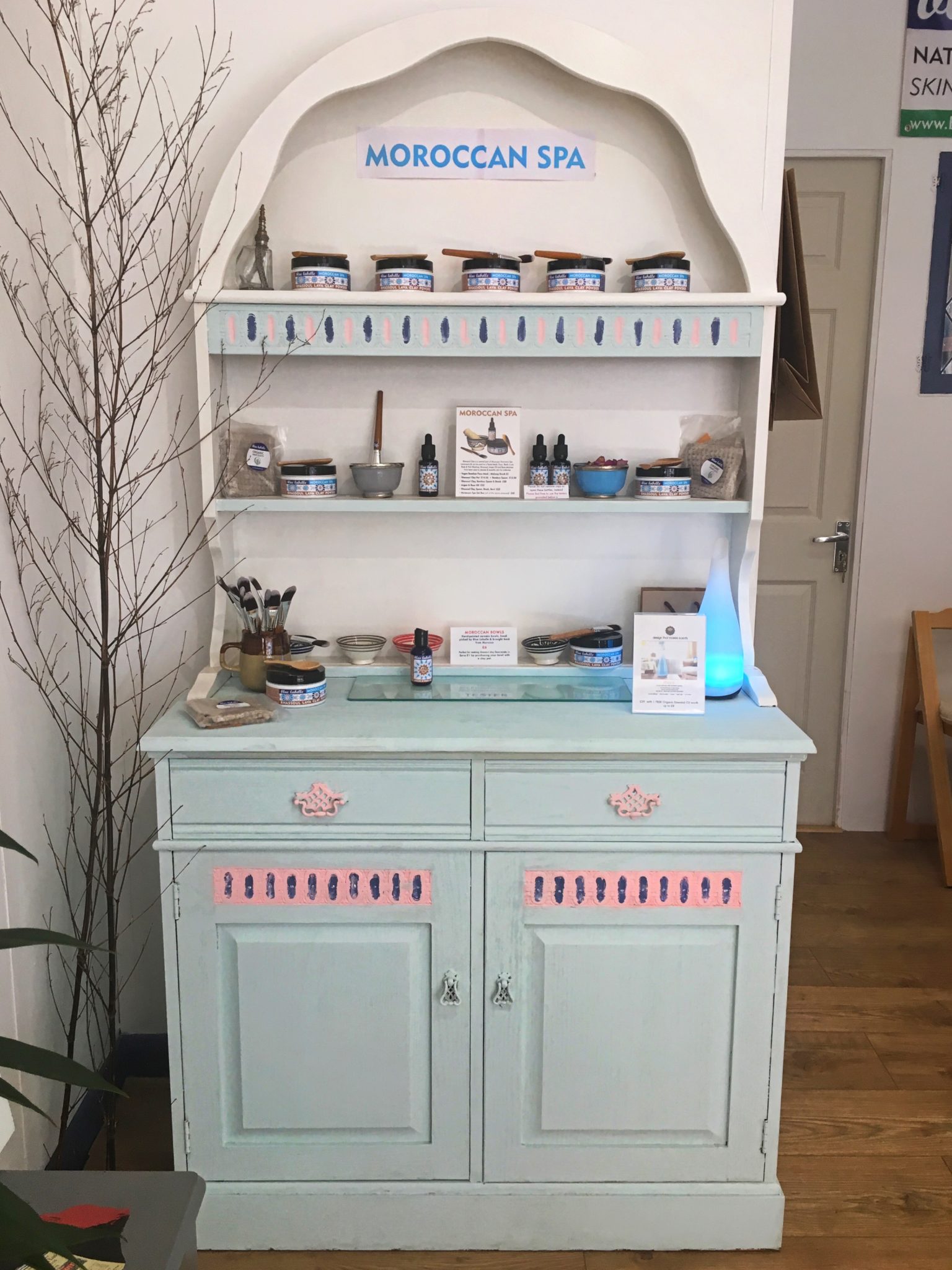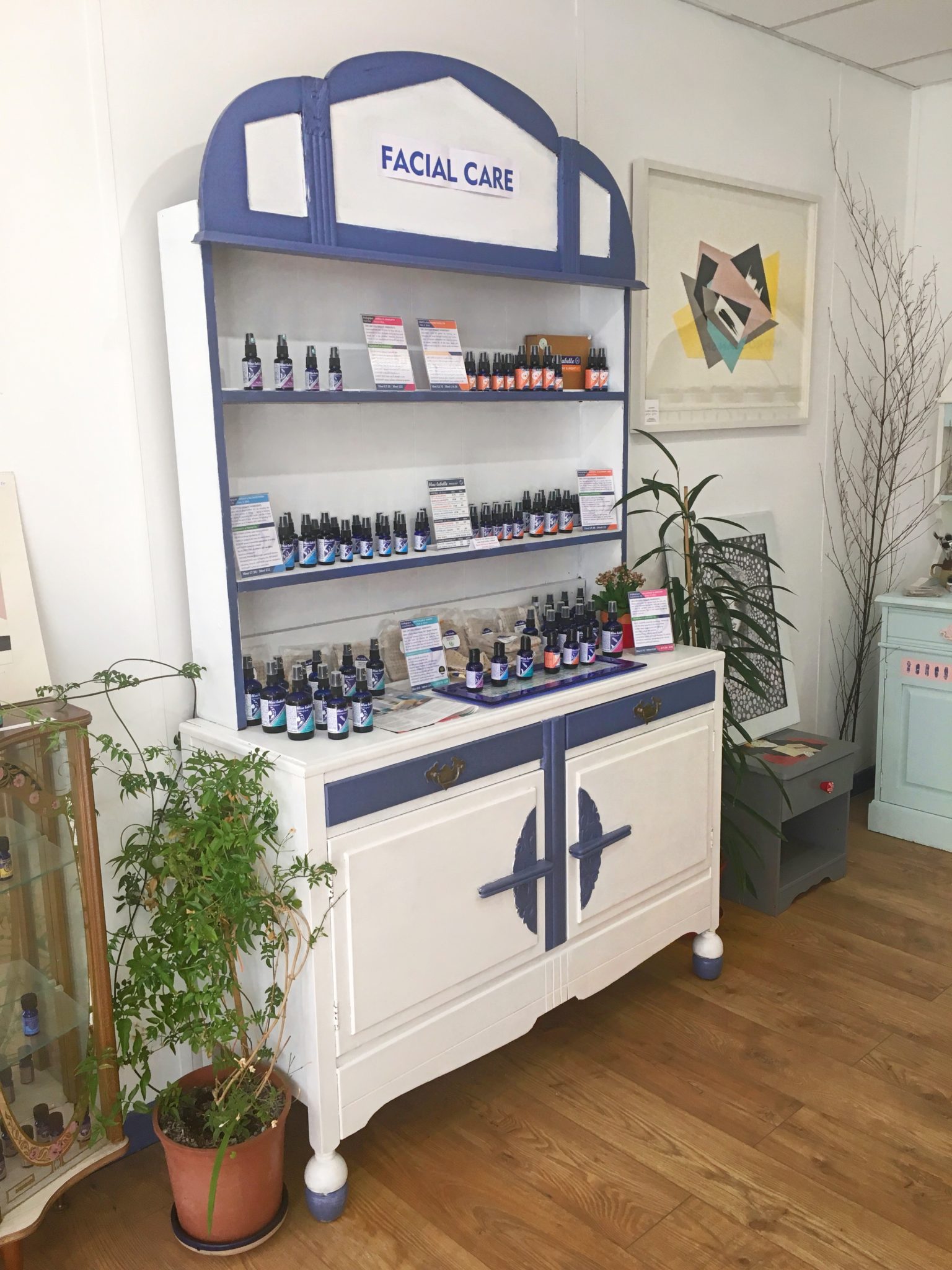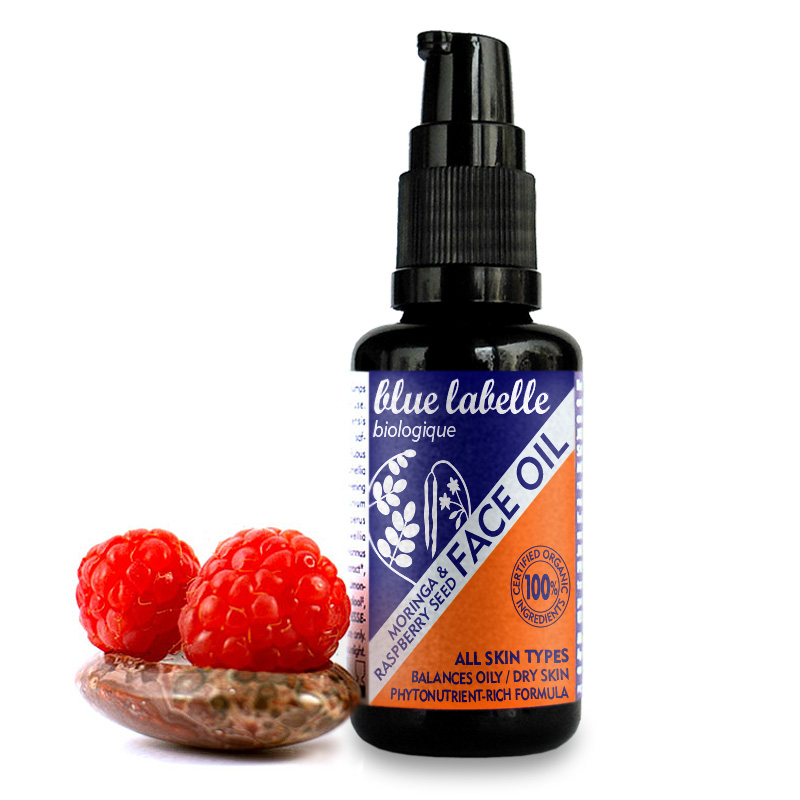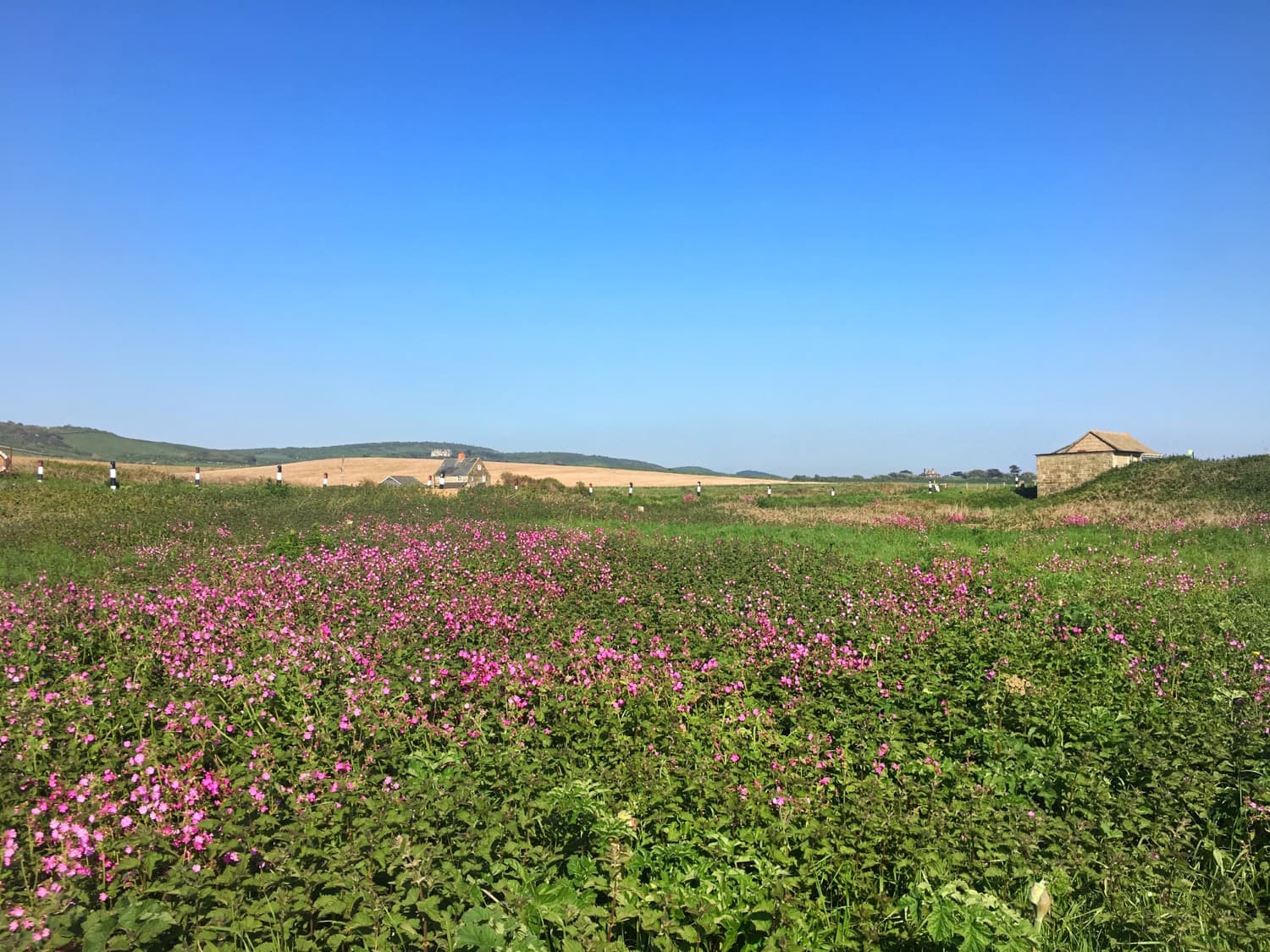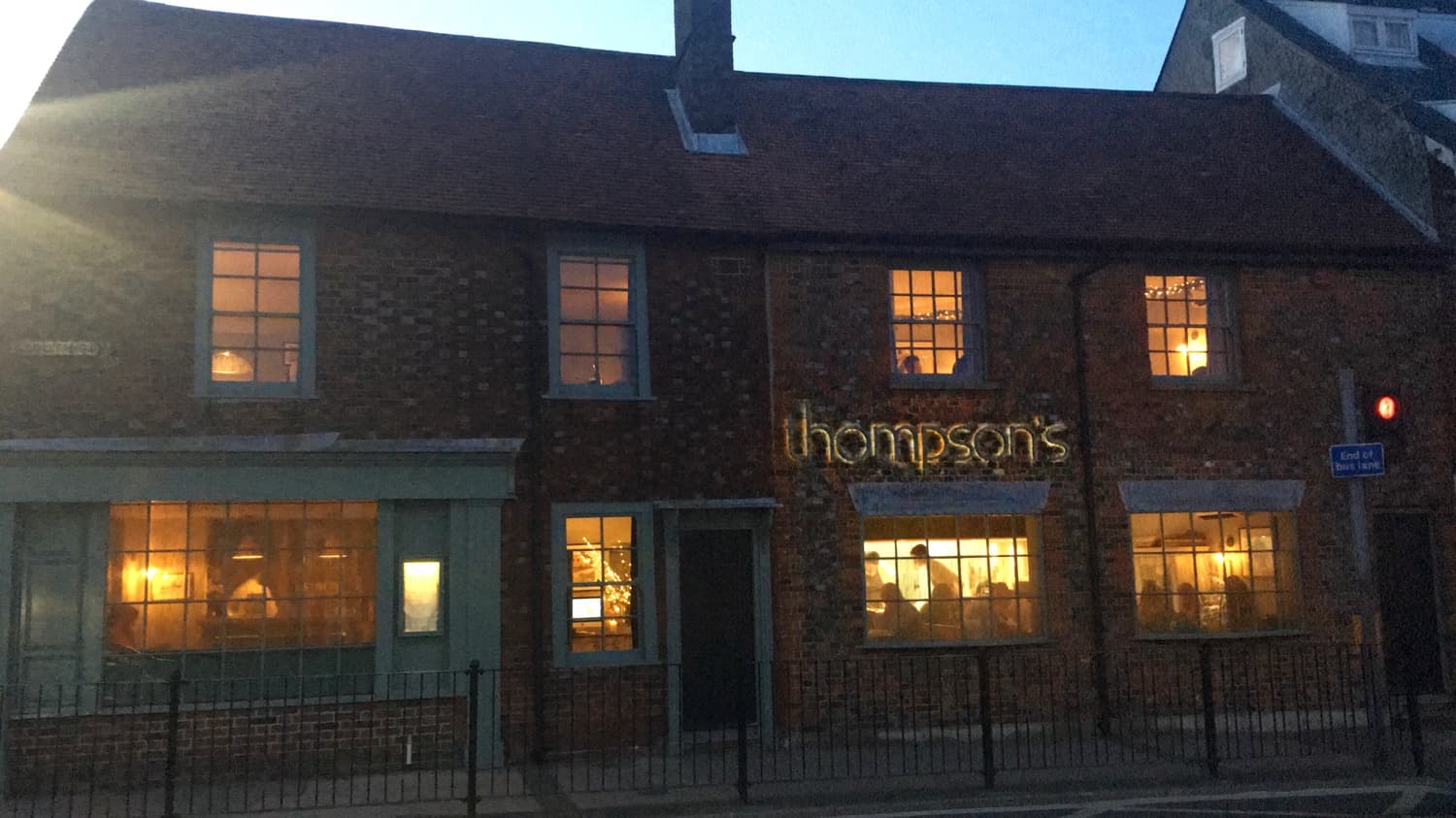 Thompson's
Town Lane, Newport
If you want to add a little ooh la la to your trip then Thompson's is a must. This was a wild card for us as it wasn't advertised anywhere that they did plant based/vegan food and let me tell you they really do know how to do it. In fact Robert Thompson is apparently one of the best chefs on the island and might I add, is Michelin star! So when we called up to query the whole vegan thing and book a table, we were pleasantly told that of course they would have a vegan menu for us. Just like that without a sigh or a judgmental grunt over the phone we were booked in to dine vegan, Michelin star style! Everything on the menu was freshly prepared, organic, seasonal and DELICIOUS! Seriously we were absolutely amazed how the simplest of foods were presented to us so full of flavour. Little additions were brought out to us in-between courses that consisted of pea mousse, rye cracker with marmalade and cherry sorbets that tied the whole meal together so beautifully. All I can say is I can't wait to go back!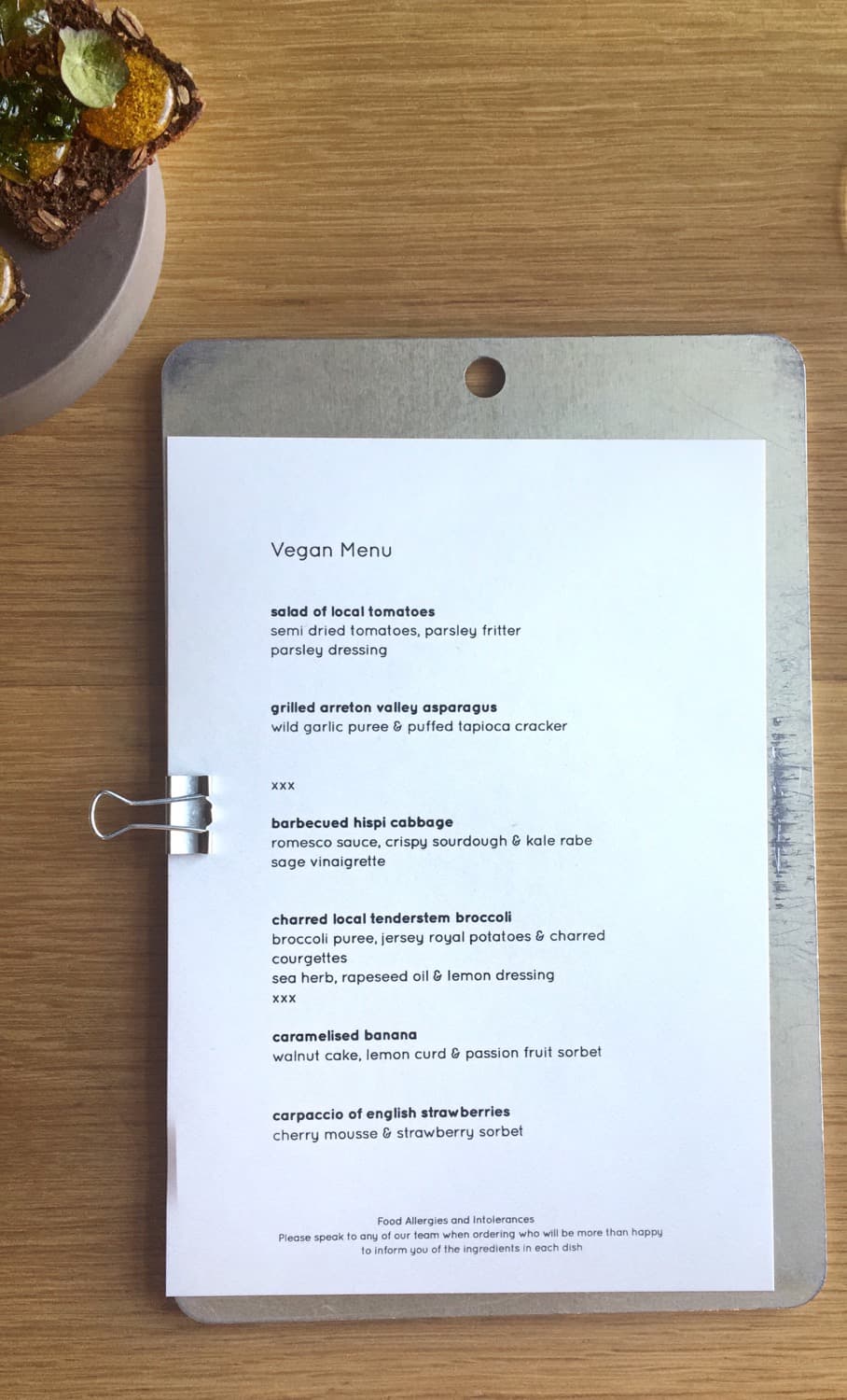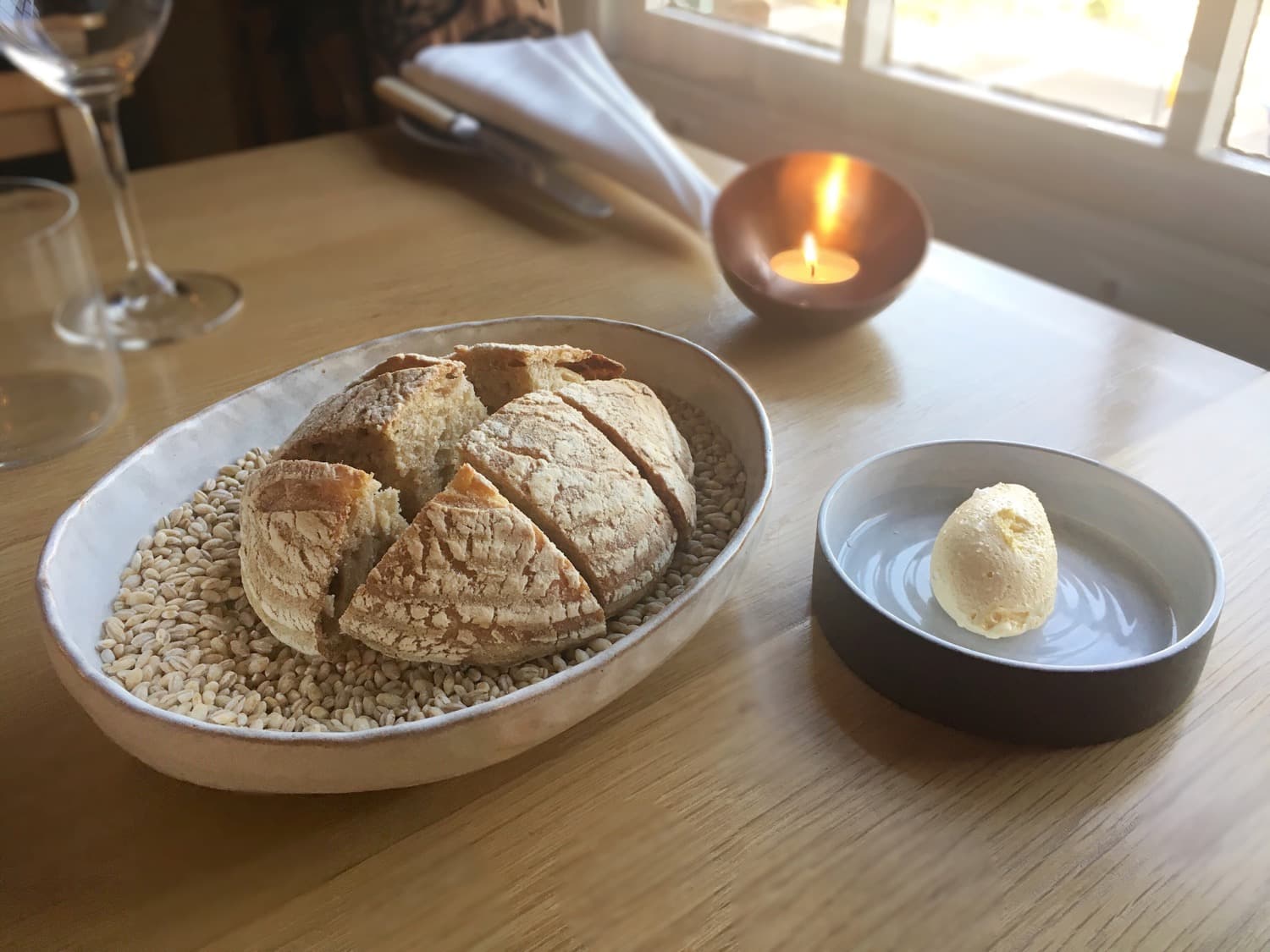 Homemade sourdough bread & homemade vegan butter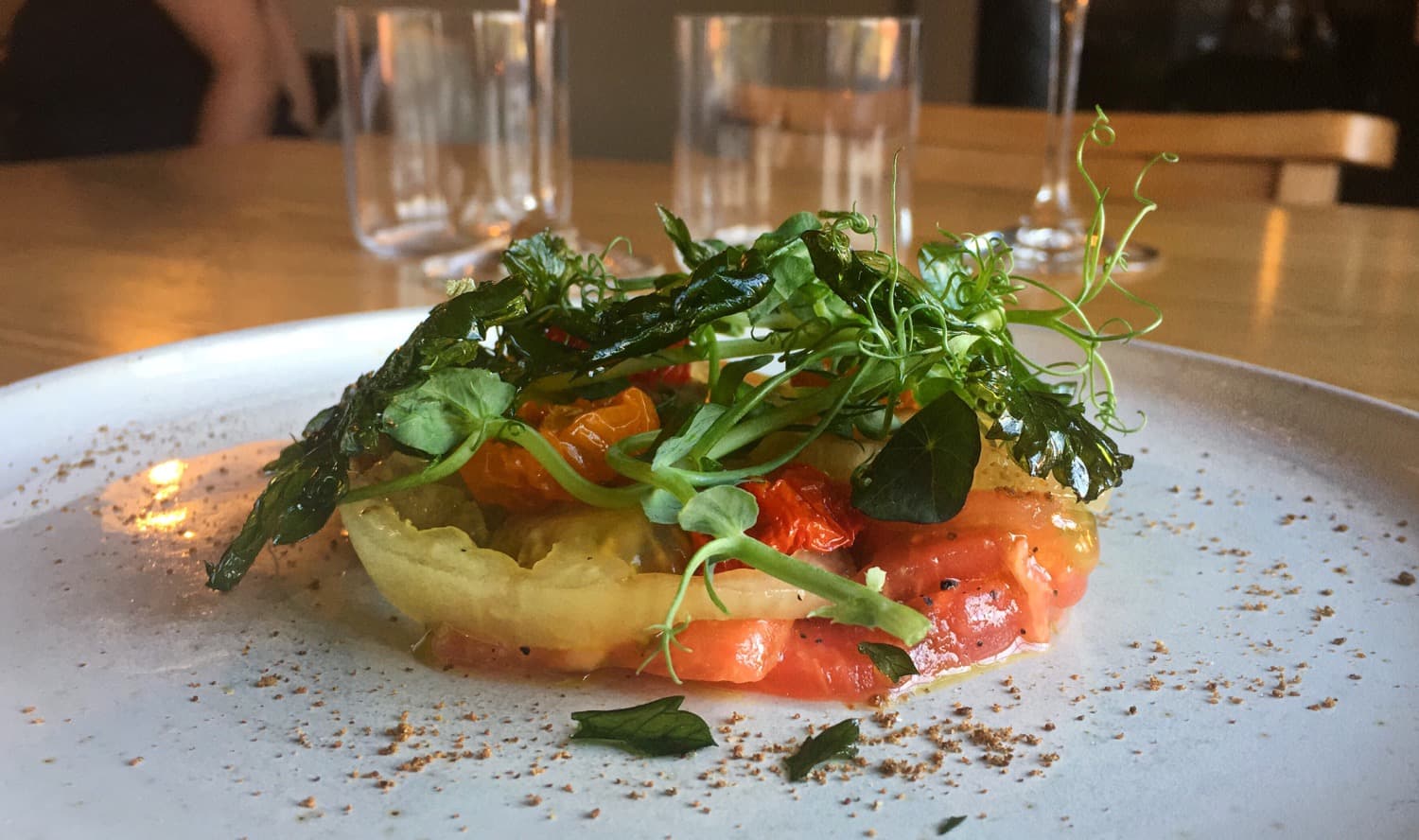 Semi dried tomatoes, parsley fritter & parsley dressing.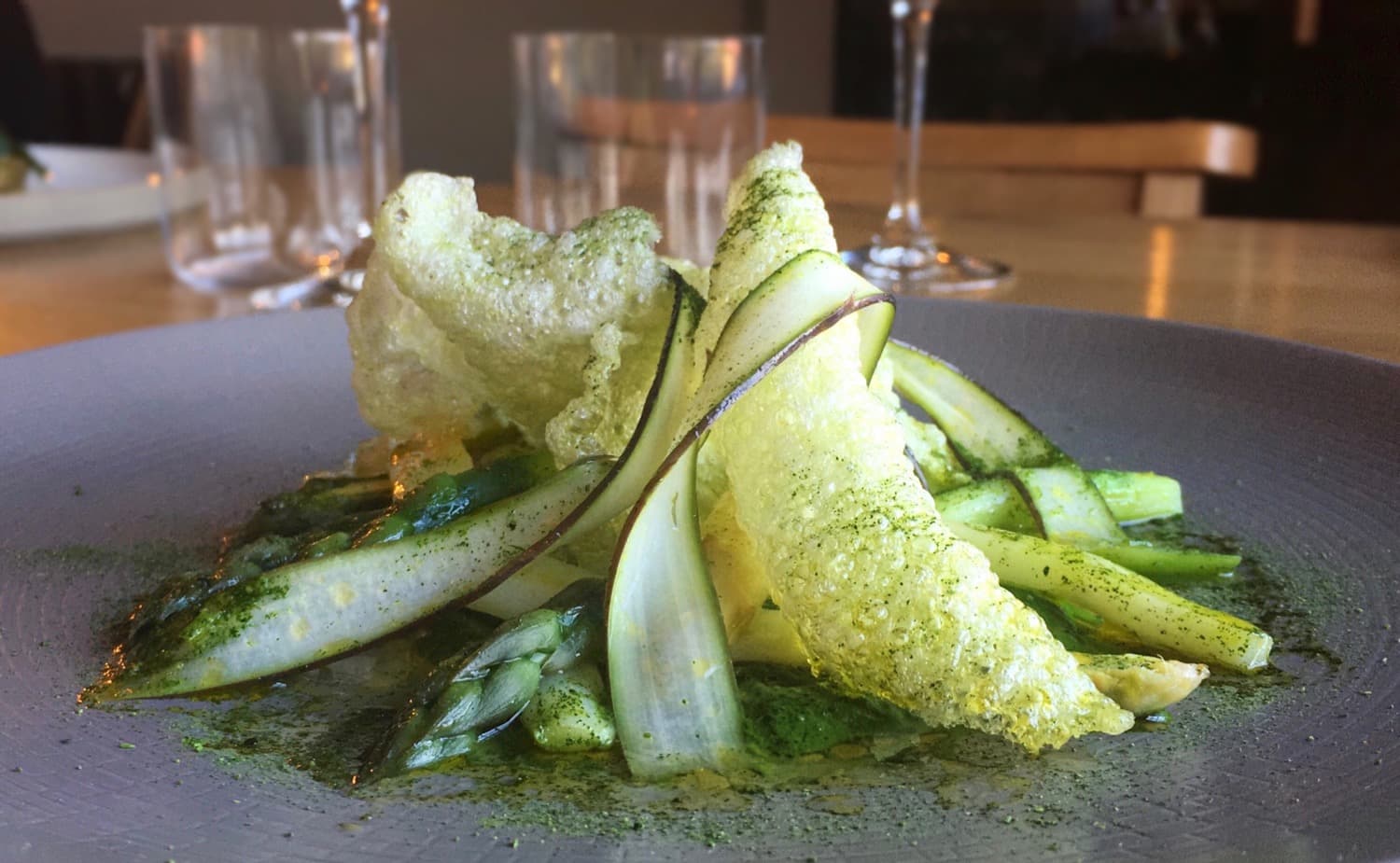 Grilled arreton valley asparagus, with garlic puree & puffed tapioca cracker.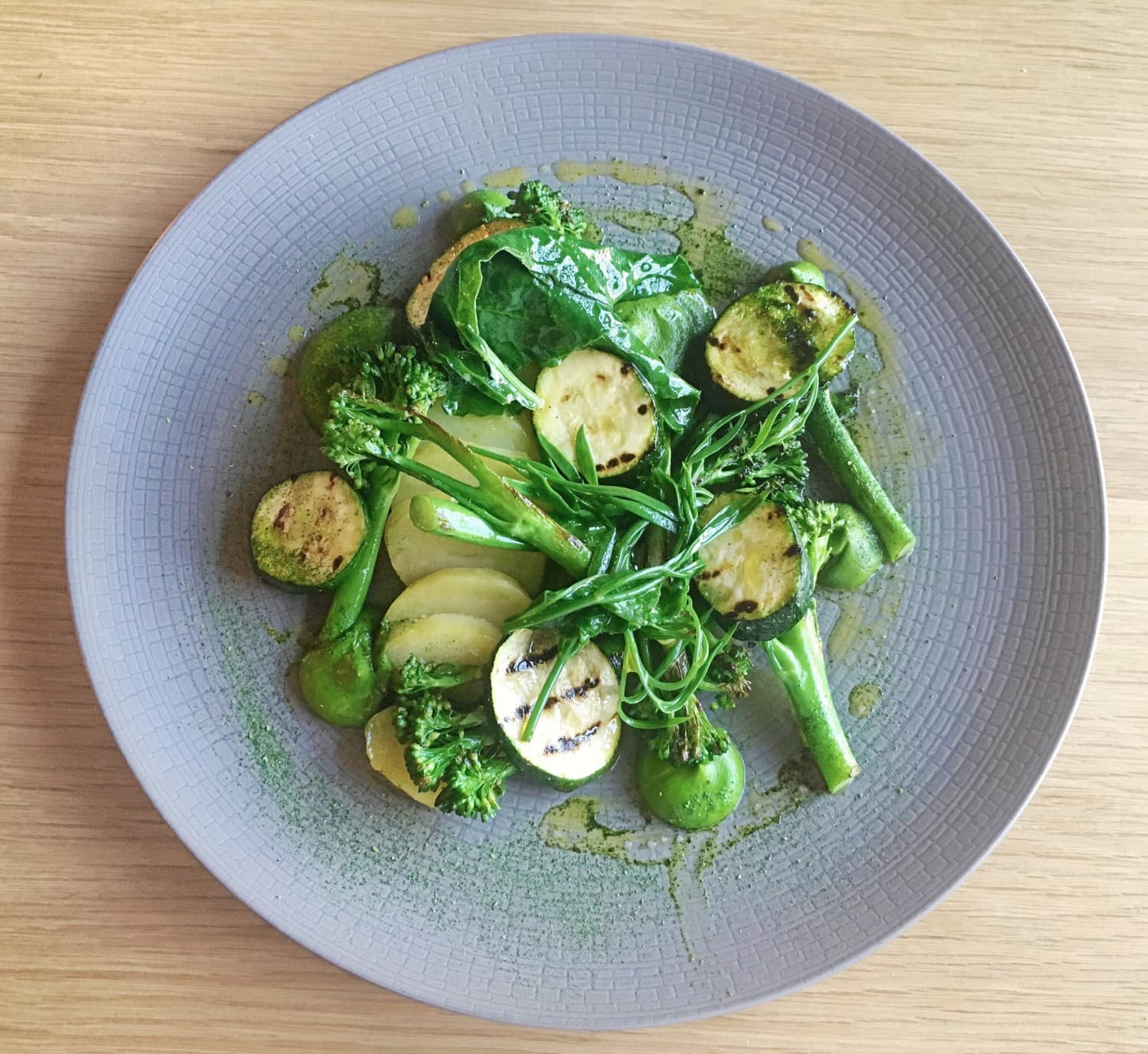 Charred local tenderstem broccoli, broccoli puree, jersey royal potatoes & charred courgettes, Sea herb, rapeseed oil & lemon dressing.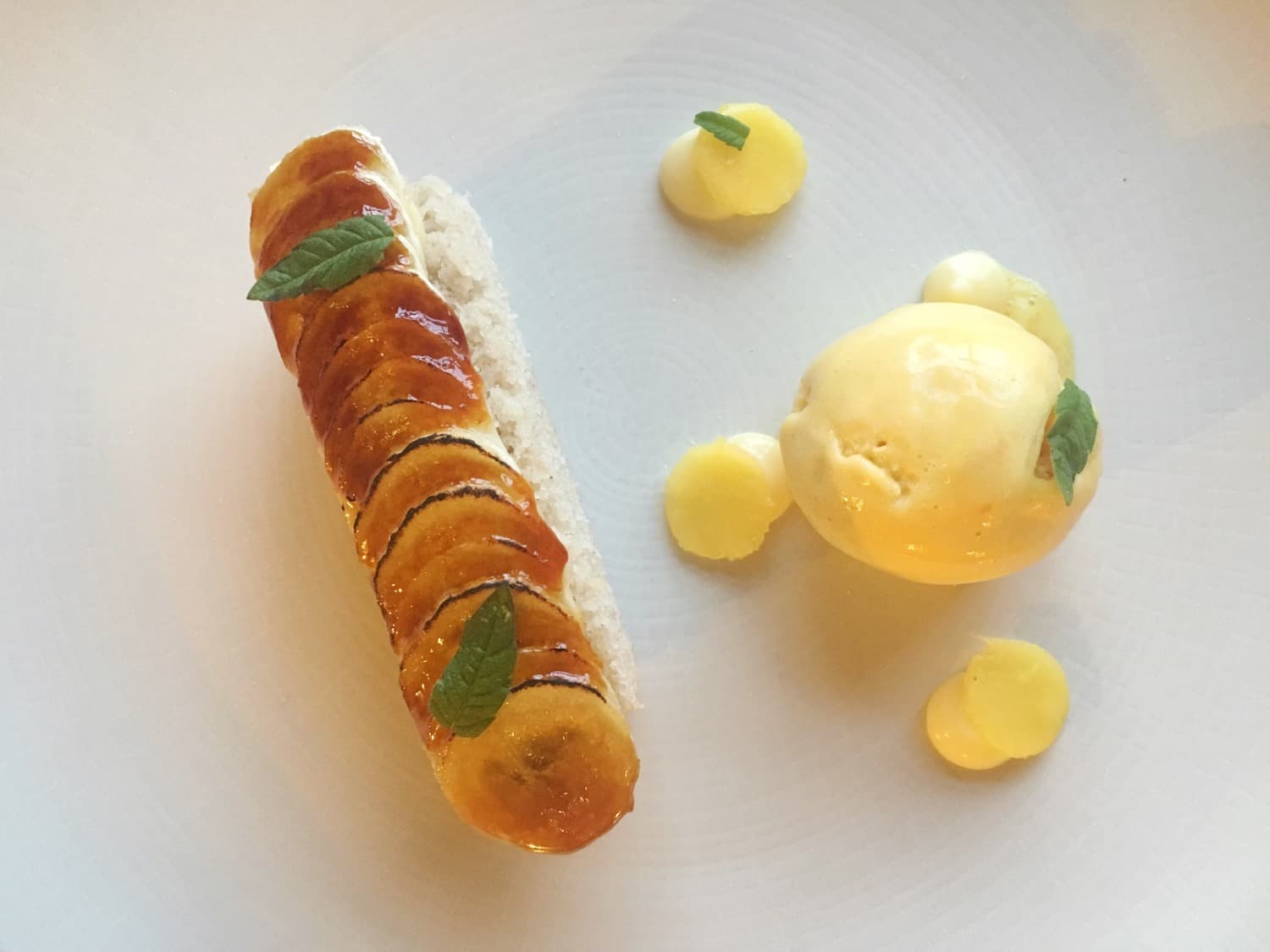 Caramelised banana, walnut cake, lemon curd and passion fruit sorbet
This trip was SO much fun! I fell in love with the island more and more as the days went on and will definitely be going back SOON! If you are looking for a simple, peaceful, outdoors holiday with plenty of plant based things to eat and do then you definitely need to visit the Isle Of Wight. From talking to the people on the island the plant based movement is only getting bigger and better. For me the Isle of Wight vibrated such a wonderful, peaceful energy that I will never forget. Relaxing was so so easy.
" Sometimes you just need to find a place to get away and be, without any distractions."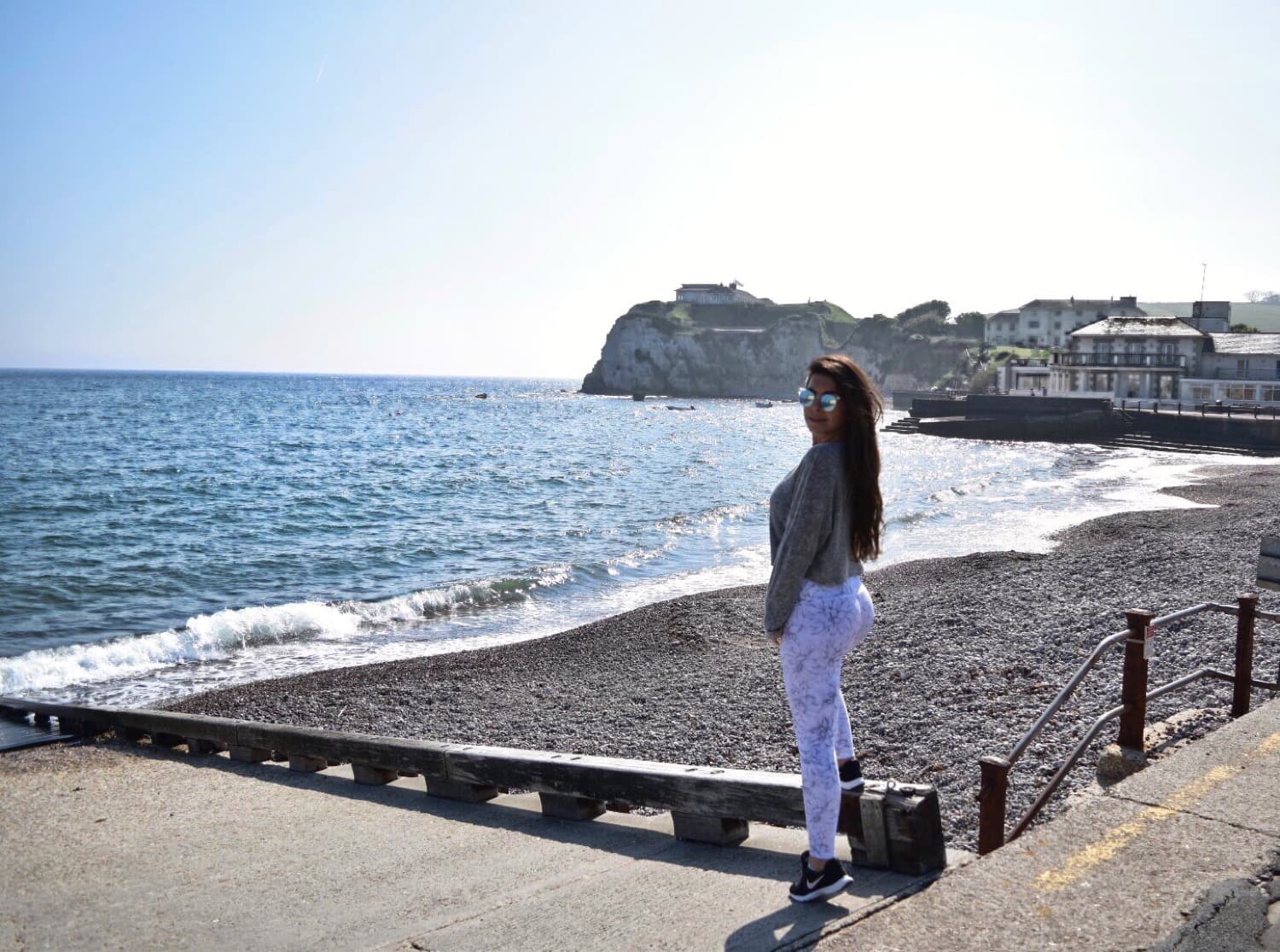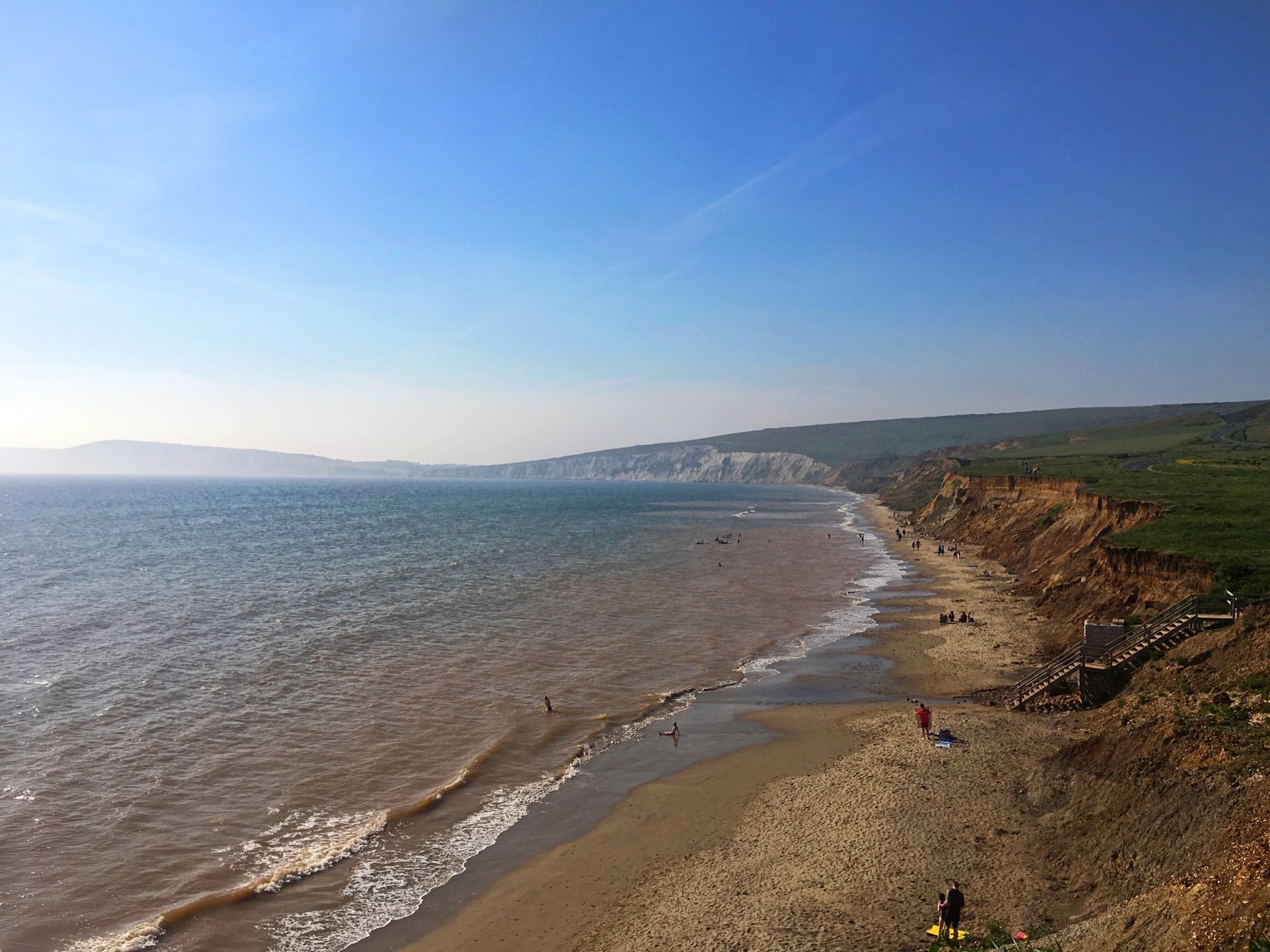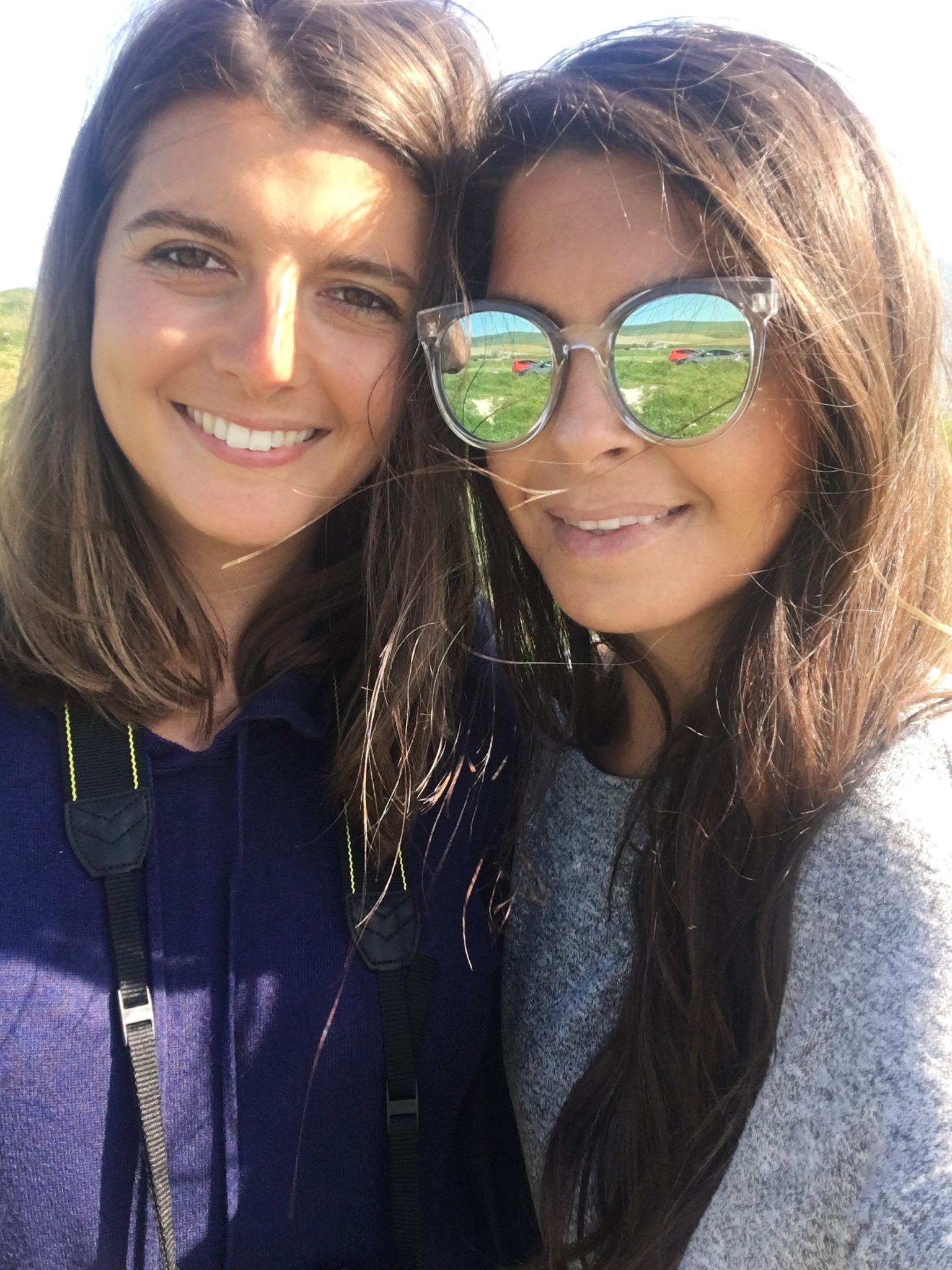 Honestly
Alessandra x