Raw Chocolate Easter Nests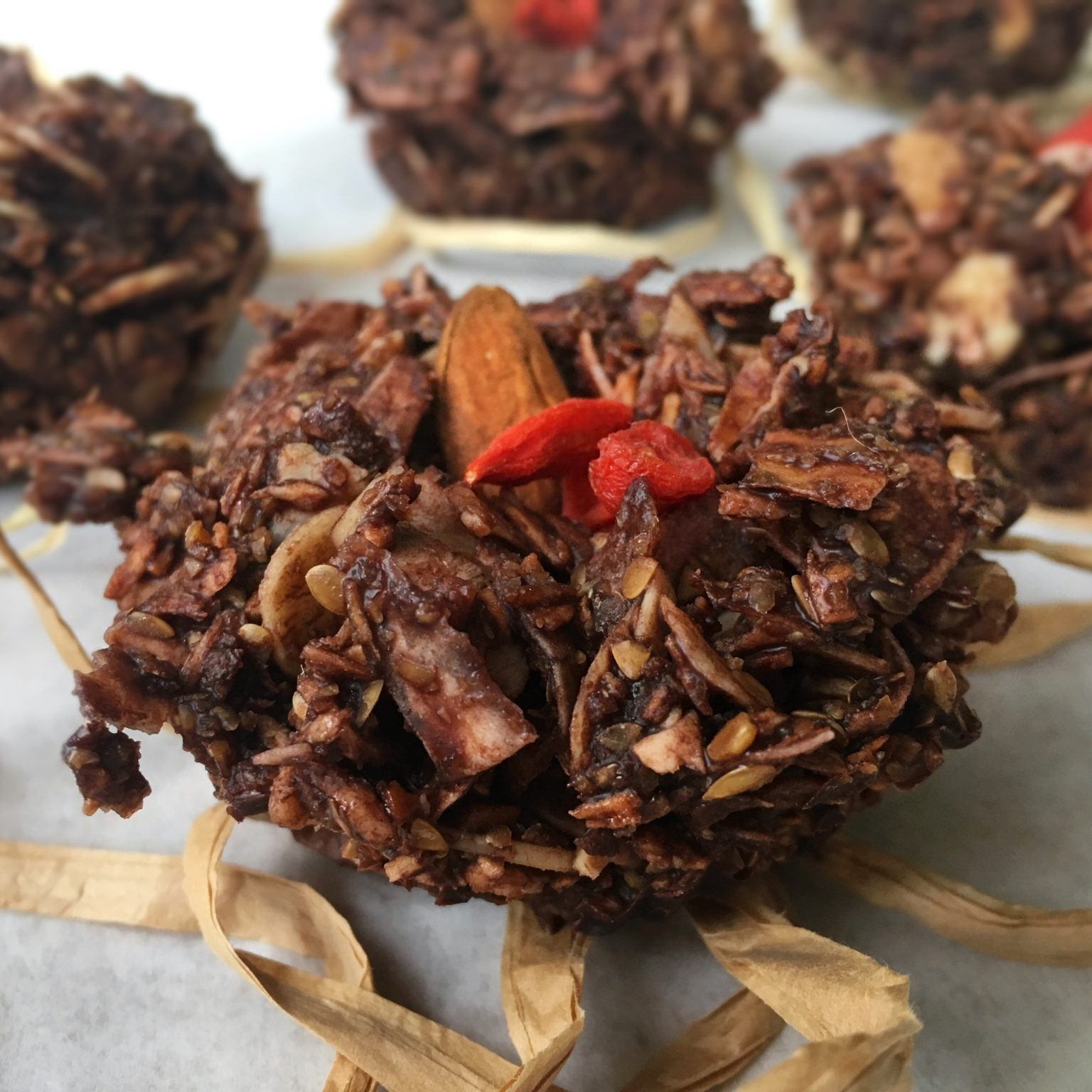 One of the hardest (food related) times of year has come around, I'm talking about Easter where fake, nasty chocolate seems to be everywhere, packaged up all nice and pretty to tempt us into over indulging on absolute rubbish! That's not going to happen this year, with my Raw Chocolate Easter Nests you'll be indulging on a whole different level. A healthy, nutritious, delicious kinda level LOL. I'm spending this holiday with the fam, it's a chilled one. There is nothing better than having pyjama days, watching movies and eating yummy homemade treats.
Let's do this….
Raw Chocolate Easter Nests Recipe
Ingredients
Dry Mixture
1 cup Buckwheat flakes1
1 cup Shredded Coconut
1 cup Flaked almonds
Wet Mixture
3 tbs of cacao
1 tbs cacao butter
4 tbs maple syrup
2 tbs coconut oil
Directions
In a mixing bowl pour in a combine all of the dry ingredients.
Place the dry ingredients in a saucepan and on the lowest setting heat until slightly roasted.
Gently heat up all the wet ingredients over the stove until smooth.
Add wet mixture to dry mixture back in the mixing bowl and mix until all dry ingredients are covered in chocolate.
On a muffin tray or  lined make little baskets by pressing mixture down, I use around 2 tablespoons for each one.
Place in the freezer for around an hour to set.
When ready to serve fill your baskets with whatever you want, I like to add goji berries and almond to keep it super healthy but you can add whatever you want. be creative!
I hope you enjoy making this holiday sweet treats for you and the family. You can enjoy the holidays just like everyone else without worrying about eating too much of the bad stuff with these all healthy all Raw Chocolate Easter Nests. Let me know how they went down by commenting below and don't forget to add to your Pinterest raw treats board!
Happy holidays guys 🙂
Love
Honestly Alessandra x