Raw Kelp Kale Noodle Salad Recipe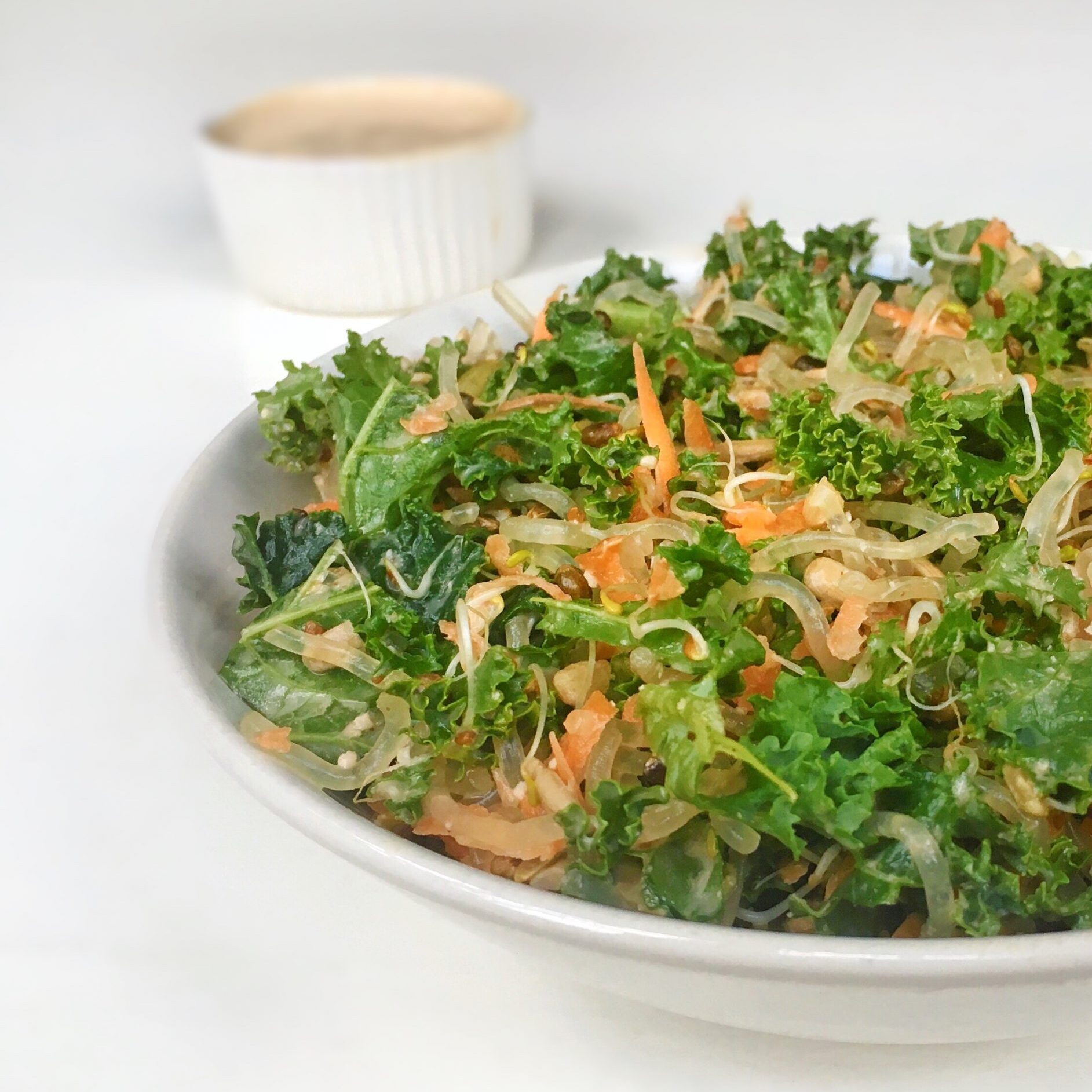 I have recently been craving lighter, easy digestable, raw foods, I think it's down to eating so much heavy cooked foods over the winter that I've reached my limit and my body is over it lol. This is one of my favourite raw salads as it has so much flavour and textures not to mention being utterly abundant in vitamins and nutrients. There is an ingredient in my Raw Kelp Kale Noodle Salad Recipe that some of you may not of heard of before that I want to introduce you to… kelp noodles. When I discovered these I quickly became obsessed and used them in practically everything for a while but today I'm sharing one of my favourite ways.
Kelp Noodles
Kelp noodles are basically seaweed that has been made into noodles, they are prepared using three ingredients, kelp (a sea weed), sodium alginate (natural salt derived from brown seaweed), and water, with no additional fillers. So that's all you should see on the back of the packet! They contain absolutely no fat, cholesterol, protein or sugar and are packed with a number of nutrients like  iron, calcium, vitamin K, A and exceptionally high in iodine which is vital in metabolism and thyroid function as well as fucoidan which helps to prevent the blood clotting preventing many dangerous health problems including strokes and heart attacks.
Let's do this….
Raw Kelp Kale Noodle Salad Recipe
Ingredients
Salad
1 bag of kelp noodles
1 bag of kale
Handful of pumpkin Seeds
1 carrot
Handful of sunflower seeds
Handful of Sprouts
Dressing
1/4 cap of pine nuts
1 tablespoon of apple cider vinegar
1 tablespoon of tamari
1/2 cup of spring water
Directions
Place all of the dressing  ingredients in the blender and blend at full speed
Grate the carrots.
Place all the Salad ingredients into a large bowl. A little tip of mine is to get a pair of scissors and cut the kelp noodles into smaller pieces.
Pour the dressing onto the salad and mix in well.
Plate up and enjoy.
What did you think of this weeks salad recipe? Let me know by commenting below. Don't forget this recipe to your raw food board on Pinterest so you always have it to hand!
Until next time..
Honestly
Alessandra x