Cacao Protein Packed Smoothie Recipe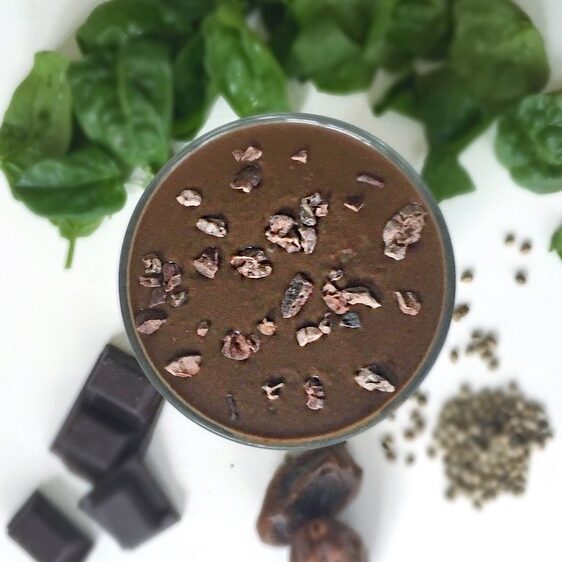 We should all be well into the swing of things, working our butts off with better health choices and lifestyle overhauls throughout January. This week I wanted to share with you an actual, real protein smoothie for you to have after a work out and get those of you who are buying these chemically loaded protein shakes to stop!!! Not only do they not have any nutritional value they have dangerous ingredients in them that are so harmful to our bodies. Try googling a few of the ingredients… it's shocking! We need to remind ourselves to go back to nature as the plant kingdom has everything there for us. Protein that our body can actually understand! This is where my Cocoa Protein Packed Smoothie Recipe came from. I certainly wasn't going to be putting any kind of fake protein smoothie my body so I made my own.
Hemp Seeds
are a great protein source as more than 25% of their total calories are from high quality protein! Not only do they contain all 20 essential amino acids, but also each of the 9 essential amino acids that our body can not produce on it's own. This makes Hemp seeds a complete protein source. Only 2-3 tablespoons provide about 11 grams! Hemp seeds are also rich in the essential fatty acids, Omega 3 and 6, which promote cardiovascular health and naturally balance hormones.
Chia seeds
Chia means strength in Mayan language, and were known as 'runners food' as warriors would use them as fuel while running long distances during battle! These seeds pack a punch in protein, 100 grams of chia seeds has 17 grams of protein, which is why they are so great for those who are trying to burn fat, put on lean muscle and balance blood sugar levels cialis 5mg pas cher. Chia also contains essential fatty acids 3 and 6 and contain vitamins A, B, E and D.
Spinach
Popeye tried telling us! Spinach is full of nutrients and low in calories which is great for aiding weight loss and is also a great source of vitamin A, C, Iron, Potassium and Calcium. Combining Spinach with high plant protein sources like Hemp and Chia seeds are great to get your daily recommended intake.
Cacao
had to be the main ingredient! I mean who doesn't like a chocolate smoothie! Cocoa has an abundance of health properties from lowering blood pressure, relieves constipation and bowl related diseases to enhancing your mood. As well as being very rich in minerals like iron and calcium and a good source of zinc, potassium and selenium.
Dates
are great for building muscle tone, enhancing you physically and strengthens your nervous system as they are extremely rich in potassium. Dates are full of vitamins B1, B2, B3 and B5 and rich in selenium, Manganese, Copper and magnesium which are all vital for keeping bones strong and healthy.
Maca Powder
this may be one of my favourite super foods. It has a lovely nutty taste which always compliments cocoa. Maca is great for this smoothie as it contains 4 grams of protein per tablespoon. In fact maca is used among many natural body builders and athletes as it's also anabolic which mean building up muscle as well as helping with faster muscle recovery!
Let's get blending……
Cacao Protein Packed Smoothie Recipe
Ingredients
yields 2
2 tbs Cocoa
2 tbs Hemp seeds
1 1/2 cups Almond Milk
2 tbs Chia seeds
4 Dates
2 tbs Chia seeds
Handful of Spinach
1 tbs Maca Powder
Handful of Ice
Directions
Place all ingredients apart from the ice into your blender and blend until smooth.
Add the ice, Blend again
Pour and Enjoy!
I really hope that by trying my Cacao Protein Packed Smoothie you guys can see how easy and delicious a home made, all natural post workout shake is! It helps you steer clear of those dangerous, chemical concoctions, the long term health effects are scary! We want to stay fit and healthy the safe, honest way. All comments or questions dont' forget to comment below, I'd love to hear what you guys think.
until next week…
Honestly
Alessandra x