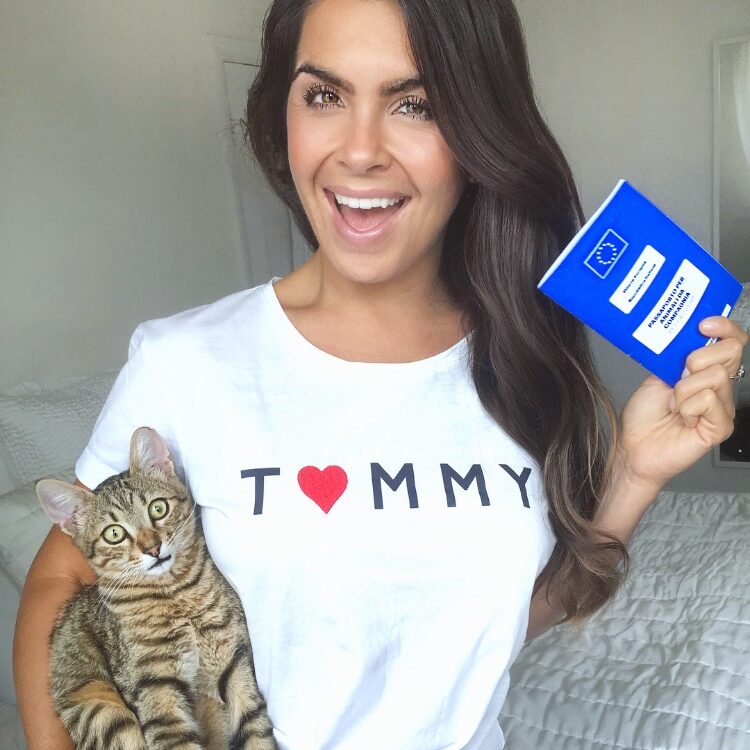 Tommy's Home!
Many of you have been asking me where my Nonna Elvira's cat is, Tommy. As I posted about him when he turned up at her door at home in Italy a couple months back. I love the love out there for little Tommy as well as the support from so many of you over this difficult phase of my life. So thank you for all the messages asking about him. Well you will all be happy to hear that Tommy's Home! He's doing great even though he's had a jam packed first few months of his life, he's been a little star.
Tommy's story so far….
My Nonna loved telling stories and one of my favourite things in the world would be listening to them with a cup of tea in our hands. She was brilliant at story telling and had some real good ones the tell. So I thought I'd do exactly that and tell you this quick story, so go on,  grab yourself a cupa.
When my Italian grandmother, Nonna Elvira was unwell, she sadly was diagnosed with lung cancer back in march. She called me a week before I was due to arrive, to ask me if I could buy her a kitten when I got to Italy, which of course I agreed to. The following day my father called me and said "You're not going to believe this, I opened the front door and a little kitten was sitting on the doorstep, he's walked into the house and won't leave, she's already called him Tommy!" My Nonna Elvira was so happy, her dream had come true sooner then expected.
Tommy stayed with her throughout her illness, not only helping her but helping us through the difficult time. He was the perfect distraction. Always wanting cuddles, giving love and running around like a maniac, driving us mad every time Nonna would got up throughout the night. Giving us all moments of relief from the difficult situations we were dealing with. A sweet distraction. Unfortunately my Nonna Elvira lost her battle to the terrible disease on July 24th 2017, and of course Tommy was by her side till the end. Just before she passed she asked me what would happen to Tommy and I promised her I would bring him to London. At this point I didn't expect she was going to pass, maybe I just couldn't except it. So I didn't think it would get to that point.
She was so delighted, that she told everyone in the small Italian village that Tommy was going to London. I had this little kitten staring up at me after it was all over, of course I was taking him with us. After a train ride  to Lucca where we all stopped for 2 weeks with Tommy and 5 days on the road with the amazing pet couriers Tommy arrived home in London safe and sound, although extremely confused. It is so nice to have him here, a piece of that moment still with us, even though it was one of the most difficult things I have ever been through.
I believe that people need stories to inspire them, to teach and take them away from the reality they are in for just a moment – enough to feel another's experience as if they were standing in their shoes – Alessandra 
Thank you
The reason I am sharing this story is to just show that even in life's most difficult situations there is beauty. Even when at first you really can't see it.  Lessons to be learnt, growth for everyone involved, being surrounded by overwhelming love and strength, you just have to open you're eyes and mind and see them. I have learnt things about myself and had strength that I never would of imagined. My experiance has shown me that even in the most terrible situations, that you think you could never handle and can't see any good or light at the end of the tunnel. There are the most amazing things/moments that happen and the feeling you get back from it all is indescribable.
My heart is of course broken and I miss Nonna so so much, more as each day goes by. But as she said "Life has to go on, I need to make room for the next person". Life has to go on, she wouldn't want me to do anything else but enjoy the rest of the time I have. Which is what I intend to do and I'm definately not going to let her down. Thankfully I have a little memory from the whole experience, Tommy. She had to leave someone to keep an eye over me lol. I know she's around me now laughing at the journey we've had so far.
Nonna Elvira
Thank you all again for the overwhelming love and support you have given me over the past few months. You guys really gave me moments of happiness and peace when I needed it the most. You're messages have been so thoughtful and uplifting which has really meant the world to me. I appreciate each and every one of you so much. I wish I could hug you all.
Thank you.
All my love
Alessandra x