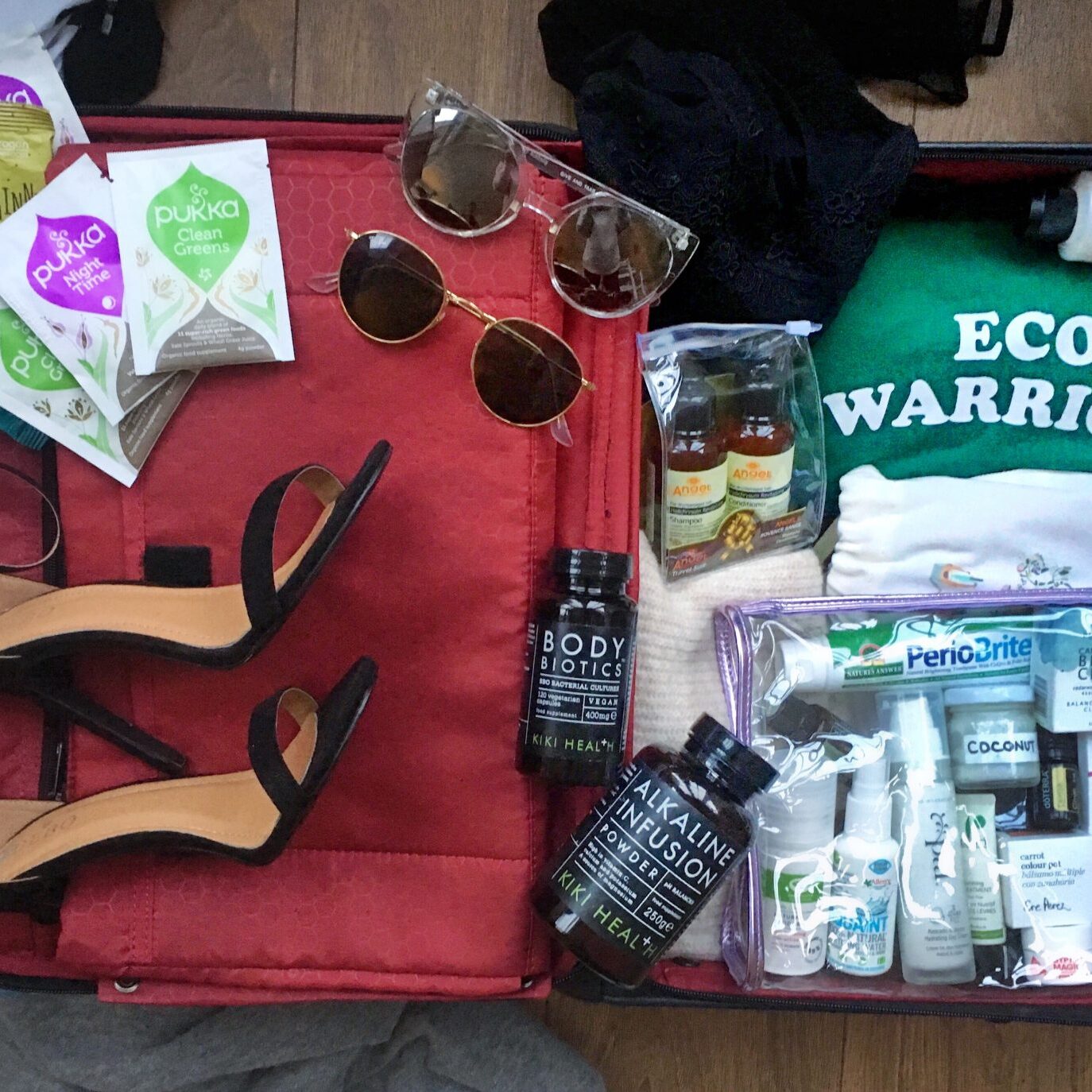 I'm on my way to New York as we speak and thought It would be nice to do a What's in my Bag? post for you guys to see what I can't live without while travelling! This is the first time going to New York for me so I'm super excited and obviously I had to  plan the essentials. I need to keep me functioning in the right way, it's about being comfortable at all times, you feel me?
So…. let's take a look at my city trip essentials,
My Travel Bag
Kiki Health SBO Probiotics – Vital! Whenever you go anywhere where you will be eating out a lot and not familiar with the cuisine. I don't leave the house without these!  Soil based probiotics will get you through it, comfortably while keeping your gut nice and healthy. When your gut is working properly so does the rest of you.
Coconut Oil – So multi purpose! Make up remover, moisturiser, hair oil all in one and a quick
Greens plant based supplement – When staying in hotels you can never be sure that you will get a green juice for the morning so I pack spirulina or chlorella as well as a few others in the tester sachet ( I call them travel sachet's lol) so in a worst case scenario I can just mix with some water and drink so that I'm getting my daily dose of goodness. Which of course is essential when you have no idea what your going to be eating, or if the food will be nutrient dense enough. My Sweet Spirulina shot is fairly easy to do if you have any apple juice in your hotel!
Doterra Essential Oil – I have recently become obsessed with essential oils as they have so many beautiful effects on us whether it's smelling them, applying them to our skin or eating them. When I'm travelling I like calming, digestion aiding oils to help me along my way. For this trip I've packed fennel which is fantastic for a wide range of  gut health i'e digestion, gas and general uncomfortableness. I also packed lemon for an energy boost. It's great if there aren't any lemons about for my morning hot drink. A couple of drops of this does the trick!
Hair.goo Matcha Antioxidant Dry Shampoo – As it's a city and trip and there is SO much to see, hair washing sometimes becomes less of a priority so Hair.goo dry shampoo is a life saver. I have tried all of the dry shampoo's out there ( even the nasty chemical ones). This one definately beats them all.
Have you guys got any travel tips that you find really useful? Also if you know of any plant based places to eat at or where's good to go in the city? Let me know!
Honestly
Alessandra x