Creamy Vegan Walnut Spaghetti Sauce Recipe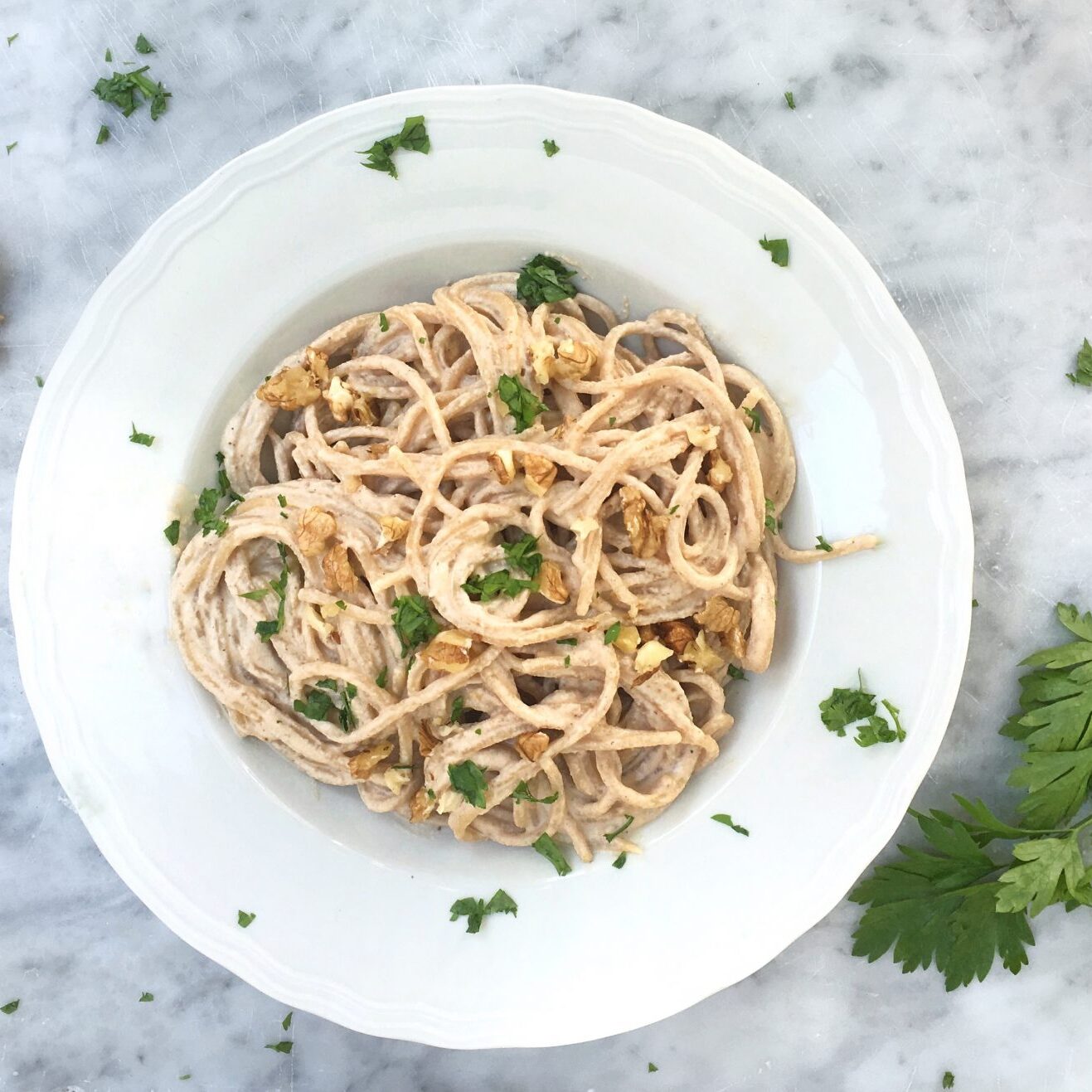 We've been on the road for the most of this week driving from London to France, Switzerland, Germany and finally back home in Italy. I know I'm like a yo-yo these days, I swear I don't know whether I'm coming or going! I thought while I'm here I would share one of my favourite pasta recipes, my Creamy Vegan Walnut Spaghetti Sauce Recipe. My neighbours brought me a tray of walnuts just picked from their garden this morning so I really  couldn't have picked a better time to share this recipe! This is a dish that is filling, warming, nutrient dense, dairy-free, completely guilt free without loosing any of the rich, creamy texture..
Walnuts
Burns Belly Fat
Walnuts contain a compound that burns belly fat and is loaded with a ton of fatty acids and some protein, too, both of which help make you feel full. This is fantastic for avoiding unnecessary food cravings for things such as sugar refined carbohydrates. Walnuts are nutrient dense meaning you will consume a large amount of vitamins, minerals and fats for a small percentage of your daily calories!
Helps Prevent Cancer
As walnuts contain a wide variety of antioxidants and are an amazing anti-inflammatory food, strengthening the immune system which can help prevent cancer formation.
In 2013, researchers from the University of Texas Health Science Center investigated whether a standard mouse diet supplemented with walnuts reduced the establishment and growth of human prostate cancer cells. They found that the walnut-enriched diet reduced the number of tumors as well as the growth of tumors significantly and that the final average tumor size in the walnut-diet animals was roughly one-fourth the average size of the prostate tumors in the mice that ate the control diet!
Brain Health
Walnuts contain a number of vitamins and minerals that support brain health including vitamin E, folate, melatonin, omega-3 fats, and antioxidants. Did you ever notice that a walnut looks just like a human brain? The omega 3 fats in walnuts support memory, thought processes as well as being a natural remedy for depression and preventing diseases like alzheimer's.
Did you know – the outer skin of the walnut contain 90% of the antioxidants. Making it the most healthiest part to consume!
Let's do this…..
Creamy Vegan Walnut Spaghetti Sauce Recipe
Ingredients
2 cups of walnuts
1 1/2 cups of walnut milk
2 tablespoons of coconut cream
3 tablespoons of nutritional yeast
1/2 a white onion
2 cloves of garlic
Handful of fresh parsley
1 tablespoon of coconut oil
Himalayan Salt
Pepper
Directions
Place the walnut milk, coconut cream and walnuts in the blender and blend
Boil a pot of water to cook the spaghetti.
In a pan fry off the chopped up onions and garlic in a tablespoon of coconut oil, you are looking for the onions to turn translucent that's when they are ready.
Once the onion and garlic is sautéed add them to the blender with the walnut mix, nutritional yeast, salt, pepper and blend again.
Once all is blended, pour mixture into a saucepan and heat on a low heat.
Add in the cooked Spaghetti and combine everything. If the consistency is a little thick then add in some more walnut milk to help everything combine.
Wash and chop parsley, crush a handful of walnuts and add them into the pan.
Stir for a couple of minutes, then take the pan off the heat, you're done!
Plate up, sprinkle a few more crushed walnuts on top, add salt and pepper to taste and enjoy!
I hope you guys enjoyed this weeks recipe, let me know what you think by sharing you're thoughts below and don't forget to add this recipe to your Vegan pasta recipe board on Pinterest.
Honestly
Alessandra x