Dairy Free Creamy Strawberry Milkshake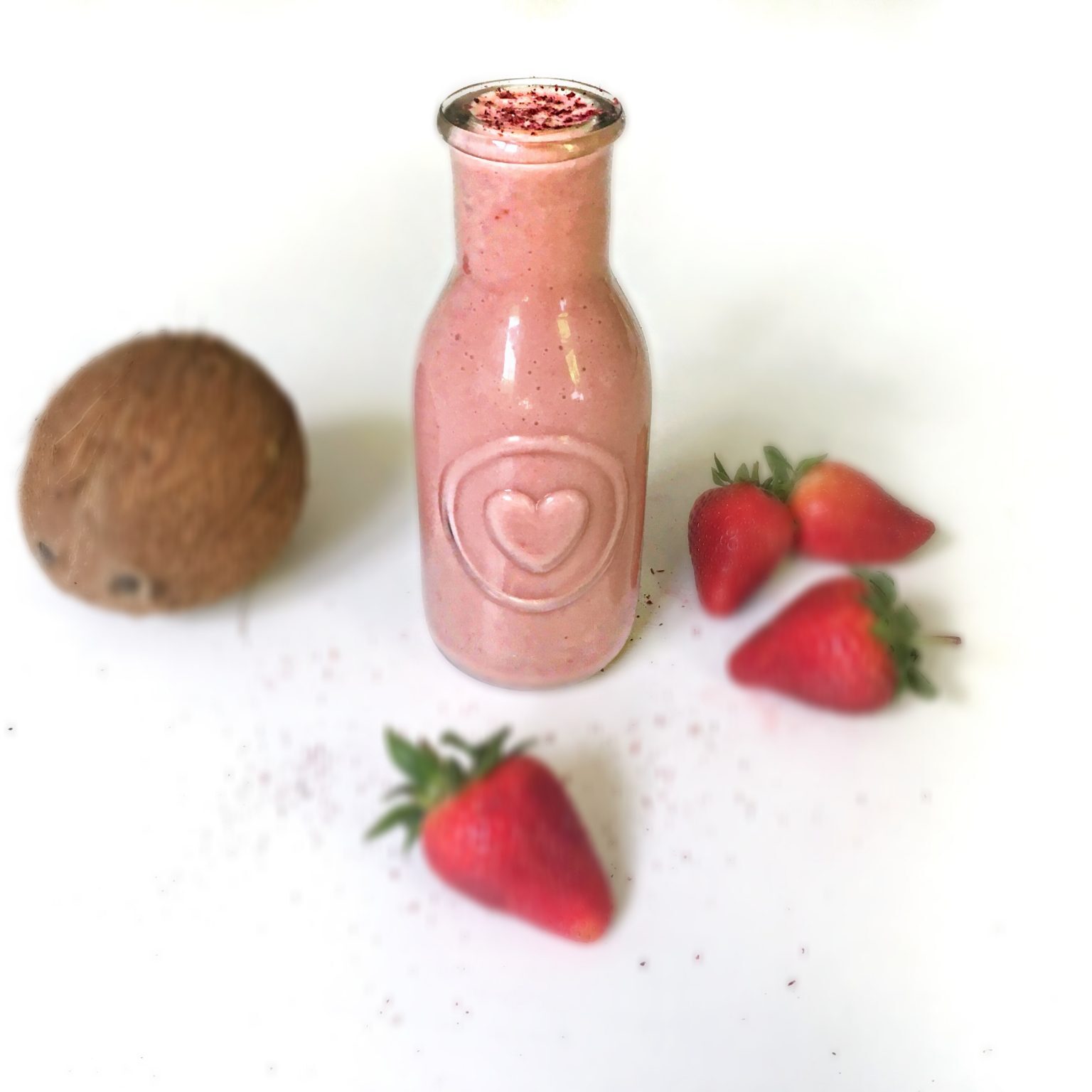 I thought I'd bring back the classic strawberry milkshake this week but dairy free, plant based style. When I was a kid I LOVED me a strawberry milkshake. It was such a rarity in our household as it was only allowed as a "treat". My parents didn't allow us to have anything other than water, if only they had this recipe, I would have been able to have a Dairy Free Strawberry Milkshake all day long! lol. It occurred to me the other day while I watched my friend's lil nephew slurping away at one that I haven't had one since my school days! What!?! That was a long time ago! So on my way home I picked up a punnet of strawberry's to re create this, it had to be done. Obviously making your strawberry milkshake this way will give you all of the amazing benefits from the fresh, nutrient rich ingredients rather than the powdered formulas or ready-made ones you can buy, who knows what the hell is in them!? Plus I think this one tastes way better then my school day ones.
Strawberry
are members of the rose family and isn't really a fruit or a berry but the enlarged receptacle of the flower. Strawberries contain more than 100 percent of our daily recommended intake of vitamin C in just one cup, have high in fiber content which helps out our digestive system and bowel movements, are an amazing source of folate, and also contain antioxidants in particular anthrocyanin which protects from damaging effects from the environment and when consumed via strawberry's, this protection lasts up to 24 hours!
Anti Ageing Properties
with strawberry's being an excellent source of vitamin C which is what is involved in the production of collagen. Keeping wrinkles, blemishes and fine lines away!
Protects the Heart
The B vitamins present in strawberry's strengthen the cardiac muscles keeping our hearts functioning and strong. The perfect combination of high fiber content, folate, no fats, and high levels of antioxidants such as vitamin-C and those phytochemicals reduce cholesterol in the arteries and vessels.
Bone Health
Strawberryies strengthen bones preventing breakage and bone loss as they contain potassium, magnesium and Vitamin K which are all essential for bone health.
Strengthens Immune System
with strawberryies high vitamin C content this stimulates the activity of white blood cells, the body's first line of defense against toxins and foreign bodies. Our immune system are our body's first line of defense against infections and many other damaging and dangerous conditions that can affect our bodies
Preventing Hair Loss
The high content of ellagic acid in strawberry protects your from thinning or falling. It also contains folate and Vitamin B6 which help to combat the problem of hair loss.
Let's get blending….
Dairy Free Creamy Strawberry Milkshake Recipe
Ingredients
yields 2
1 cup of fresh Strawberry's
1 can of Coconut Cream  (I like to use Biona's Coconut cream as there aren't any nasty added chemicals.
2 tablespoons of Date Syrup  (you can use another sweetener  like maple syrup but I prefer a more natural ingredient)
1 Banana
Directions
Place all of the ingredients into the blender and blend until smooth and creamy.
Pour into a glass and enjoy!
I hope I took you guys back to your childhood with this week's Dairy Free Creamy Strawberry Milkshake recipe. If only the milkshakes were actually like this for us when we were at school #dreams. If you are still in school then show your dinner ladies this recipe! #makeachange. Let me know your feelings on this one by commenting below. Don't forget to add the recipe to your smoothie board on Pintrest!
Until next time….
Honestly
Alessandra x