Keeping it plant Based | Amalfi coast Italy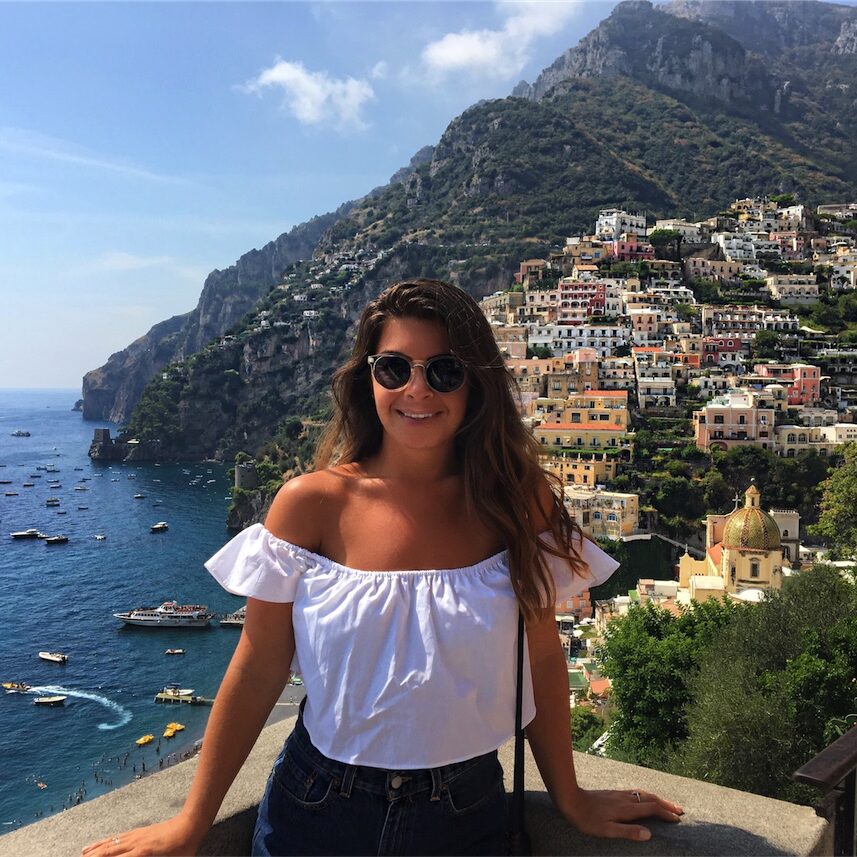 Stefania and I recently went on a relaxing trip to the beautiful Amalfi coast in the south of Italy and I'm so excited to share with you all of the special places I found along the coast to help you guys out if your ever there! Are journey immediately started as soon when we flew into Naples airport where we were  greeted by warm-hearted Italians with their big smiles and their even bigger personalities (how refreshing!). We drove past Vesuvius and the heart of Naples until we reached Angri where our journey up hill began, through the narrowest, windiest roads with the most breathtaking views. We passed quaint little villages filled with family's sitting in their piazzas, kids playing in the streets with their grandparents looking on. Each village just as beautiful as the next. We continued through the mountains until we finally reached Ravello and oh my….. Wow!
Keeping it plant Based | Amalfi coast Italy
Ravello
Nonna Elvira's
Italian Classics with vegan twist
Ravello is perched right at the top of one of the mountains with a view of the coast, more mountains and the sea. Each corner turned or street walked down a new just as breathtaking view sits before you. I've been going their since I was a little girl and I still stand there (for some time) in amazement. Luckily for me my grandmother, Nonna Elvira, was born in Ravello 89 years ago! And is still there which is the main reason I constantly visit (ok and nonna's cooking lol).
My food journey really begins right at home with Nonna Elvira, as she is a vegetarian. Each dish, even the Italian classics, she makes in her own vegetarian way! My favourite dish that she makes is her vegan parmigiana which is Aubergines fried and then layered with her to die for tomato sauce and bechamel. ( Nonna even uses coconut oil to fry with and she makes her bechamel sauce with chestnut flour and almond milk (which I gave her a heads up on lol).
Nonna Elvira still grows her own food in her garden. Her diet consists of about 80% what she's grown which I feel is the reason she has stayed strong and healthy for so long! Her grape tree is da bomb! Honestly you guys the sweetest grapes I have ever tasted.
Eating in Italy can prove to be quite difficult in small little villages like this and saying your a vegan or a raw foodie to the Italians especially the older generations, well they think your unwell lol!  Now I completely understand that you have to try the local foods even though they may not 100% be what you would eat usually. When ever I am away in a new place I'll always try the local foods I just make sure my probiotics are right by my side and I order a huge green salad to add fibre to help it all pass through .
Side note:  I never have any meat or dairy…anywhere!!
Ravello Piazza
Maiori
Tutti Frutti
Local Fruit & Veg – Nuts – Superfoods – Coconut milk – Coconut Water
Luckily here on the coast there are more then enough local little fruit and veg market shops as well as a markets dotted around, So getting fresh local delicious produce is easy! (If your doing your own cooking). I always go to 'tutti frutti' in Maiori which has local, seasonal fruit and veg as well as nuts, seeds, goji berries, coconut milk and even coconut water!! Tutti Frutti is only a short bus ride from Ravello and is accessible from anywhere on the coast! This place has been a life saver for me!!
Local Market
Fruit-Veg-Nuts-Legumes-Grains
Going to all the Local markets especially with Nonna Elvira is such a treat for me.I love watching her haggle and banter with the vendors as well as picking up fresh food! There are two markets I like to go one in Maiori which is the larger one of the two and is open every Monday morning 9.00-12.00. Ravello Market is the other which is located just underneath the main square and is on every Tuesday between 8:00-12:00 (Ravello market is closed the first three Tuesdays of August so if you are travelling at that time then you will need to go to Maiori).
Amalfi
Andrea Pansa
Patisserie – Dark Chocolate – Almond milk
I was so fortunate to get a bit of a behind the scenes tour of one of the most famous patisserie on the Amalfi coast. Andrea Pansa is in the main square of Amalfi and offers all of the classic Italian sweets, and chocolates. What is special about this place is that they use the finest ingredients and they also make dark chocolate which is why I go when I fancy something sweet. When I spent the day with Andrea you could instantly see how passionate he was and how important it was to him to use the best ingredients. He started off by taking us to his very own lemon grove. I had never seen so many lemons in all my life!
All the lemon cakes, pastries and ice creams in Andrea Pansa are made with his very own fresh organic lemons!
You would never be without your water and lemon in the morning if you owned one of these #dream #goals lol!
After the lemon grove we made our way to the Andrea Pansa factory where all the my favourite dark chocolates are made!
Like I mentioned earlier all of the best ingredients are sourced, so this is why I like to buy my chocolates from here and I can also grab a glass of homemade almond milk, who would have thought! Andrea shared his story of his recent trip to Madagascar where he visited a cocoa farm! He even let me try a cocoa bean that he brought back with him! I always buy a bag of cocoa powder and cocoa butter from him to make my raw chocolates for us and Nonna Elvira at home. Yes old skool Nonna Elvira eats raw chocolate!
His adorable daughter kept feeding us chocolates! (My kinda girl lol)
All of the classic Italian desserts and sweets are available here too. So if you want to taste a bit of Italy at least you do with the best ingredients which honestly are absolutely delicious.
Positano
La Bottegga de Casa
Vegan-Raw-Local Produce-Bio
When I heard about this place, there wasn't a shadow of a doubt that I had to get there! La Bottega de Casa is in the stunning village of Positano. It is the only place to eat, on the coast that you will find locally grown, organic, vegan and raw foods that taste soooo good! I went straight in and ordered the avocado berry smoothie (without yogurt) for my breakfast .
Soon after we ordered the huge spinach, avocado salad. The quinoa salad and the red rice with roasted vegetables. (Don't judge me I was hungry! ) which was all made right in front of us on the bar at the open kitchen!
Stefania and I ended up staying a while since we got talking to the very sweet Tanina. The lady who owns La bottegga de Casa. Tanina has so much time for her customers. She spends her day checking that everyone is ok and chatting away. She shared her story with us, of the journey she made to be a vegetarian and the importance of eating good organic, local foods. Which led her to open this little treasure. Tanina is 60 and still full of life with a heart full of passion. Not to mention is looking incredible! What an inspiration!
Stefania and I ended up getting a juice each before the ride home. We had stayed for some time, to be honest I could of stayed for dinner lol! I had the berry and Stefania had the mango smoothie.
Everywhere
Spring Water
Fountains with fresh water from the mountains
You won't have to worry about staying hydrated around here! There are fountains everywhere with constant flowing fresh water straight from the mountain! No need to worry about nasty chemicals and plastics in this place. Just make sure you always have a water bottle to fill as it can get very hot!
Before you leave the coast make sure you try the famous ice cream in Amalfi. These probably have to be the best in the world so don't leave without tasting one of these! The dairy free flavours are all the fruit flavours and my all time favourite, "fondente" (dark chocolate).

We left the coast with very satisfied bellies that's for sure! This truly is a beautiful place with delicious foods! It's so nice to be able to eat fresh local foods and encouraging to see more and more places being more adventurous and doing it the eco friendly, healthy way! I Hope you guys have found this blog to have given you the confidence that when visiting the coast food isn't going to be a problem and you can chill and enjoy yourselves.
Here's a few more pics just before I go …
We spent most of our time on Castiglione beach (Ravello beach). You can only get to it by steps or boat and has the clearest water! The best time to go June and September.
I always had my jar of salad with me for my lunch on the beach. The avocados out here (yes you can get avocados here) are so big and have a really nutty taste so I really took advantage!
Nonna Elvira and I chatting away while we are waiting for the bus to go to the market. She has the best stories.
F.Y.I steps everywhere..be prepared!
Everywhere you walk you can find figs, lemons and blackberries as well as so many others fruits and vegetables. We would pick them on the way down to the beach! Just make sure you don't get caught lol
You will always find a festival in a Piazza whether it's celebrating lemons, wine or chestnuts . There always a reason for everyone to come out and spend time together!
When we were on our way to the airport we caught the sun setting over Vesuivus and Naples. I could have sat here for hours. Hold up, why am I leaving this place?!?
Make sure to check out my other Keeping it Plant Based Blogs incase I've already been to your next destination!
Until next time …
Honestly
Alessandra x