Plantbased Christmas | Sweet Potato Cheezy Polish Pierogi (Dumplings) Recipe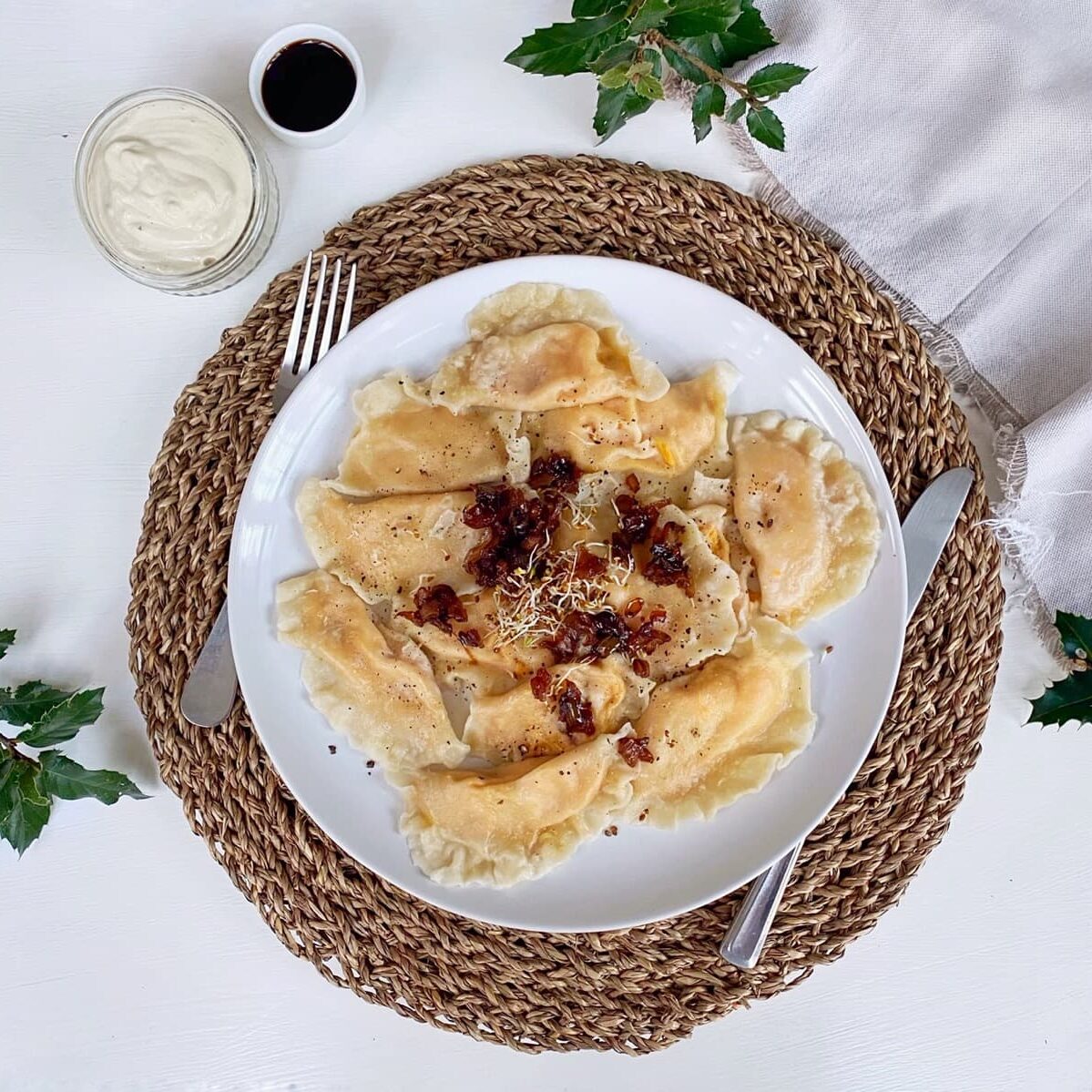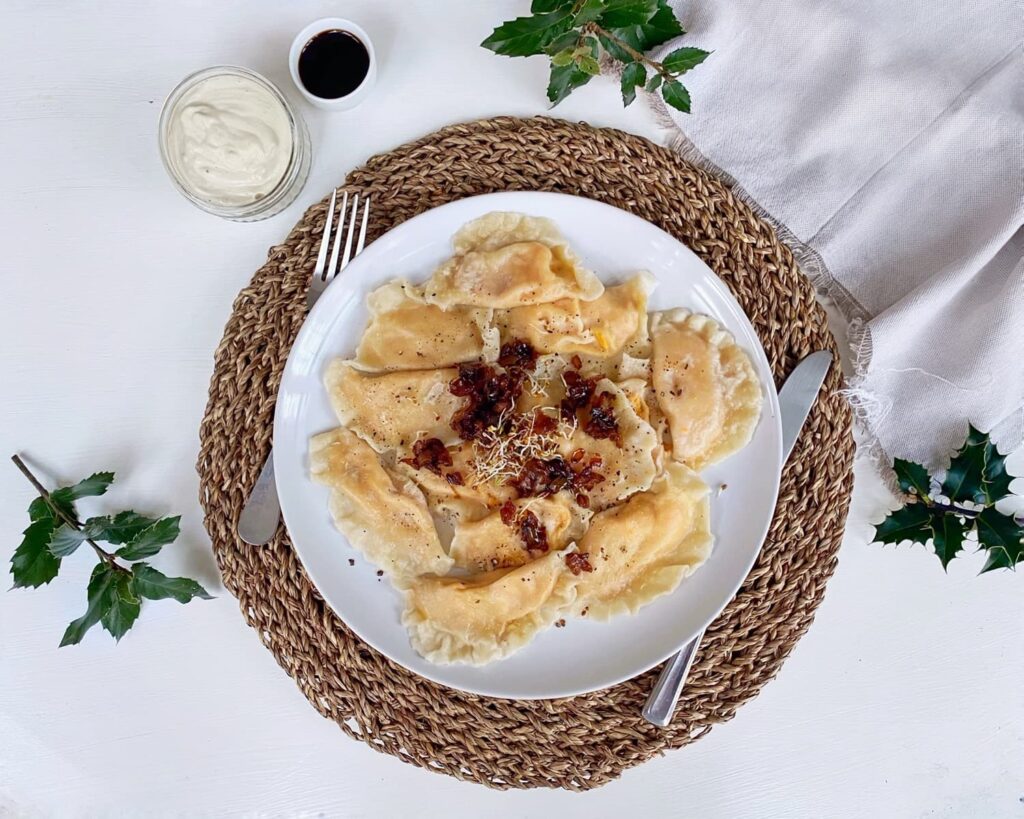 Christmas is so nostalgic for me. My Babcia (Polish grandmother) LOVED Christmas. She would always buy beautiful decorations to decorate with and spend all of her time making her incredible recipes for the whole family to enjoy, it made her year and meant the world the whole family was together. Since she passed away I have continued her tradition and make all of her amazing dishes. One of my favourites to make and eat is pierogi (polish dumplings) and over the years I have created a plantbased version which I am sharing with you today. My Plantbased Christmas Sweet Potato Cheezy Polish Pierogi (Dumplings) Recipe is such a great addition to the Christmas table.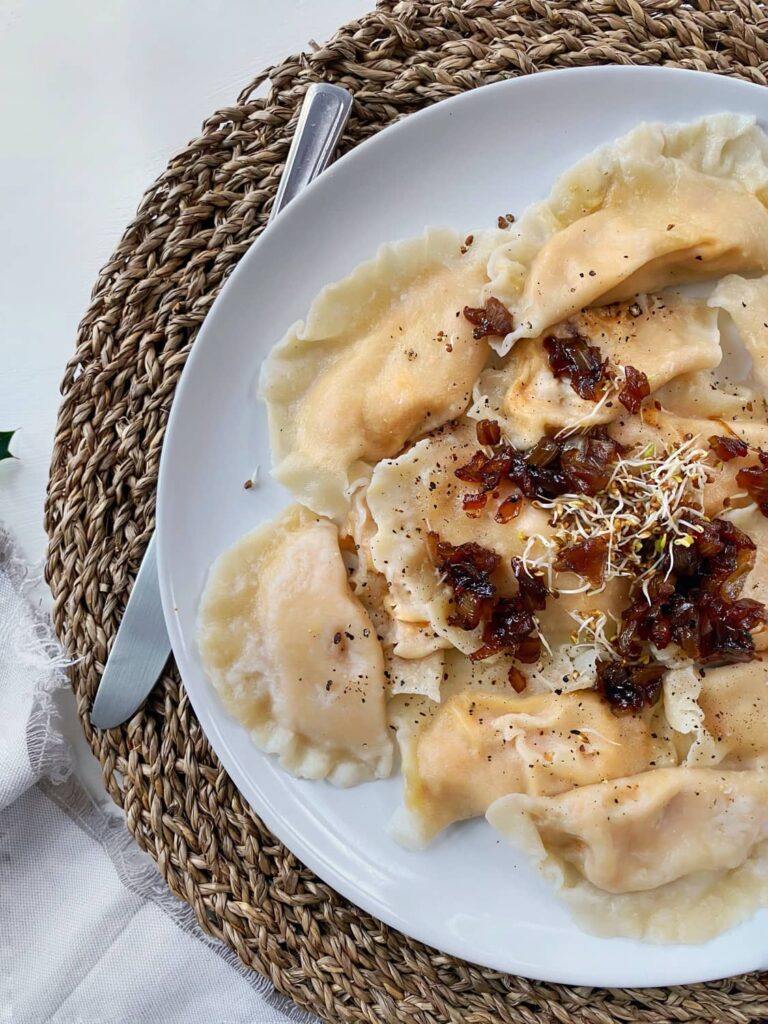 Let's Do This….
Plantbased Christmas | Sweet Potato Cheezy Polish Pierogi (Dumplings) Recipe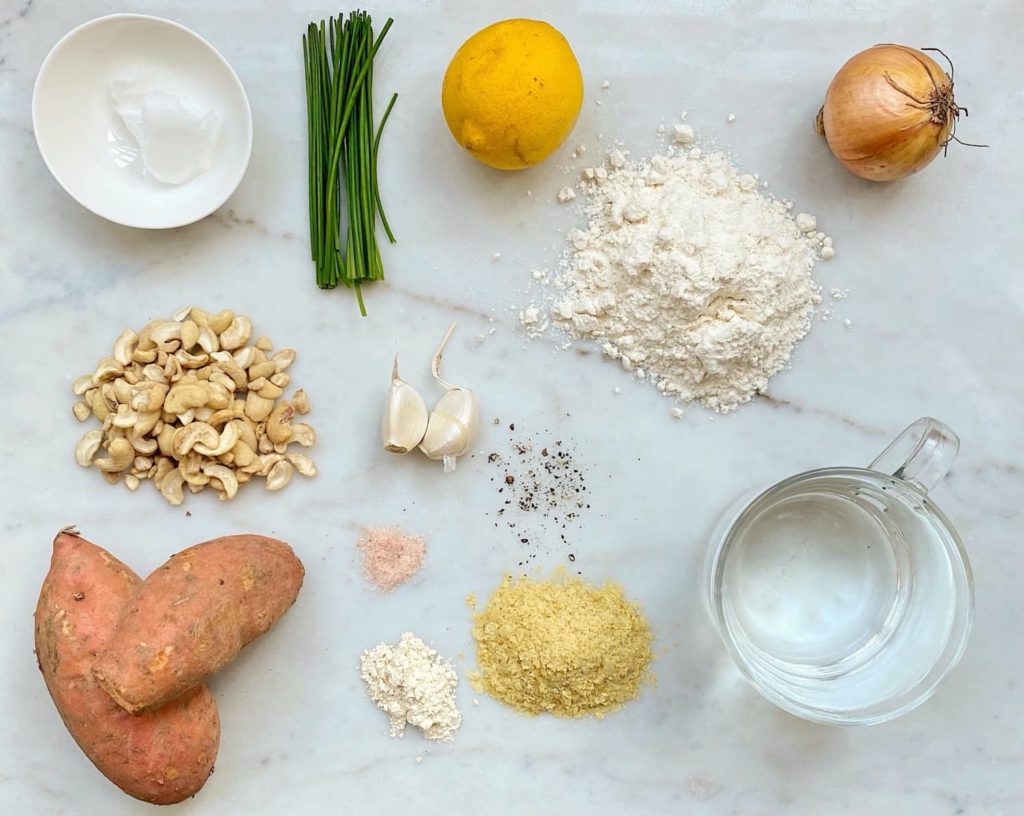 Ingredients
Dough
3 cups of flour (it's best to get dumpling flour, you can get it in any polish supermarket)
1/4 tsp Himalayan salt
1/2 Coconut oil (melted)
3/4 cup of spring water
Filling
Sweet potatoes, chopped
2 Onion
1 cups Cashews
1/2 cup Nutritional Yeast
1 teaspoon tbsp garlic powder
Freshly squeezed lemon juice from 1/2 lemon
1/4 cup of Spring water
Himalayan salt to taste
Black pepper to taste
Topping
Chives
Homemade Plantbased Sour cream
Onions
Directions
Prep
*Soak cashews for 2-3 hours in water.
For the dough
Make enough space to prepare the dough on a table or work top. Start by sieving all the flour on the worktop.
Make a little hole with your finger in the middle of the dough and add in the coconut oil and Himalayan salt and mix.
Next slowly add the water in and keep mixing and kneeling until dough forms. Once it has kneed for a few minutes more.
Wrap in cling film and place in the fridge for minimum half an hour.
For the filling
Start by peeling the sweet potatoes and putting them into boiling water until soft.
For the cashew cheese, In the blender add the cashews, nutritional yeast, salt, pepper, lemon, garlic powder and spring water and blender until mixture is smooth.
Dice the two onions and the place in a pan with a little coconut oil and fry until slightly brown and set aside.
Drain the potatoes and add in the cashew cream and onions and mash. Add in salt and pepper to adjust the taste to your preference. Mix well and leave in the fridge for 20 minutes to cool down and slightly harden. ( Leave some of the onions and 'cheeze' aside for topping the dumplings when serving)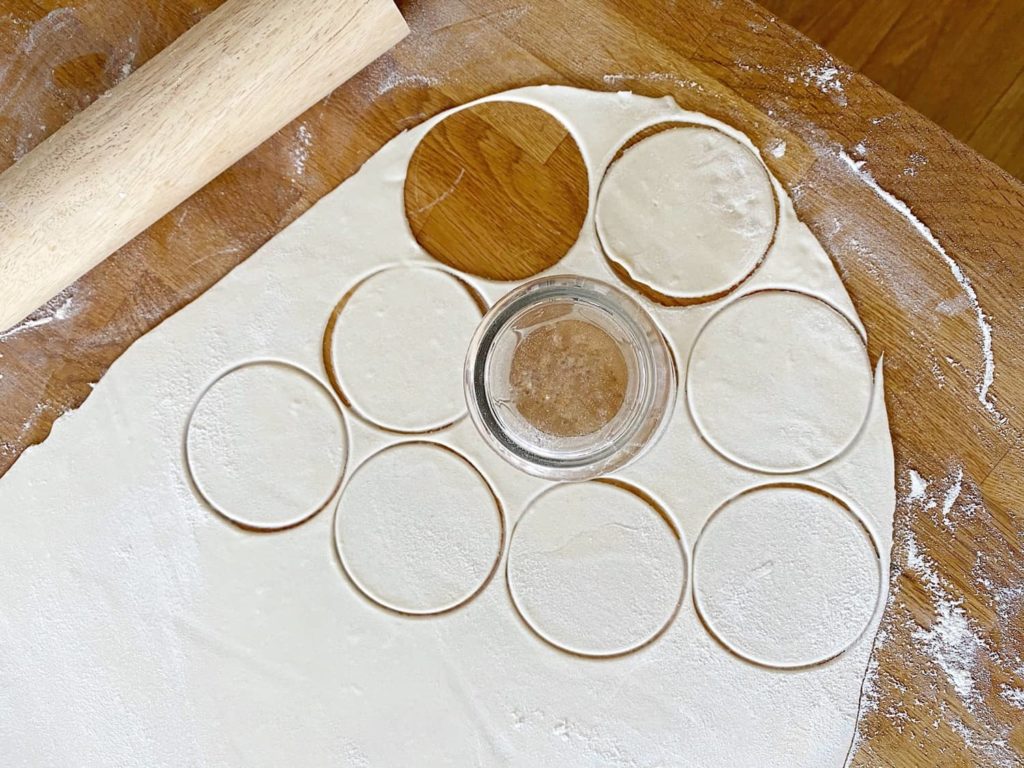 Time to make the dumplings
Take the dough from the fridge and cut a large piece, wrap the remaining dough back up and place in the fridge. It's best to do it this way to prevent the dough drying out.
Flour where you will be rolling well through out as well as flour plates/dish clothes that you will place the made dumplings (this is to prevent them sticking)
Roll out the piece of dough you have out. You don't want it to be too thick so roll out well. Also not to thin to the point it's transparent. Take a large glass and cut out circles.
In each circle take dollop the filling mixture on. Take a little glass of water and with your finger wet half of the edge of the dumping and then pinch together the sides with your thumb and forefinger until the dumpling is closed with the filling packed well inside.
Repeat these steps until you have used all of the ingredients.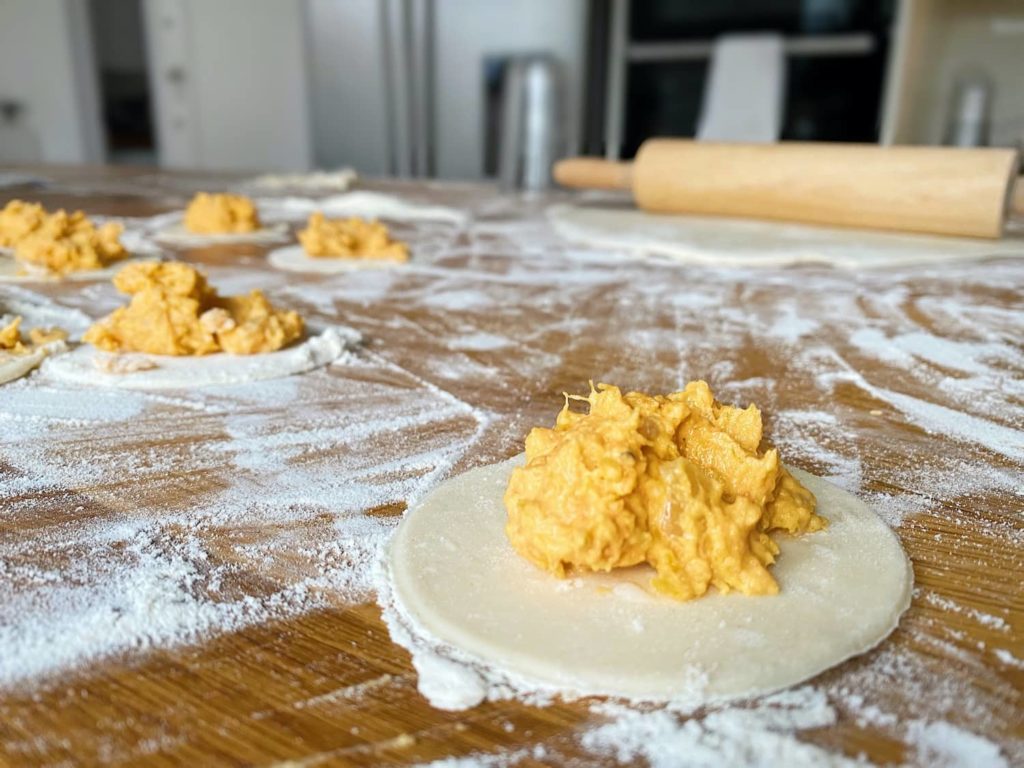 Cooking the dumplings
Boil water in a large pan. Once boiled one by one drop the dumplings in.
When they are ready they will float to the top. Use a large spoon with holes in it to remove each dumpling.
You can then put them on a frying pan and fry off the dumplings slightly if you'd like otherwise you can eat them straight from boiling.
If you do fry them off use the remainder of the fried onions to top with along with some chives and the remainder of the 'cheeze' from the filling.
Enjoy!
This is a really easy dish to make I promise it's also so fun! I get the whole family involved. One rolling the dough, another pressing out the circle, another filling and someone filling! You can freezer these too, I always make a little more so I can enjoy them well into the new year! I hope you guys enjoy this, it's a recipe that's very dear to my heart.
Happy Holidays

Love
Honestly Alessandra
x