Raw Caramel Chocolate Slice Recipe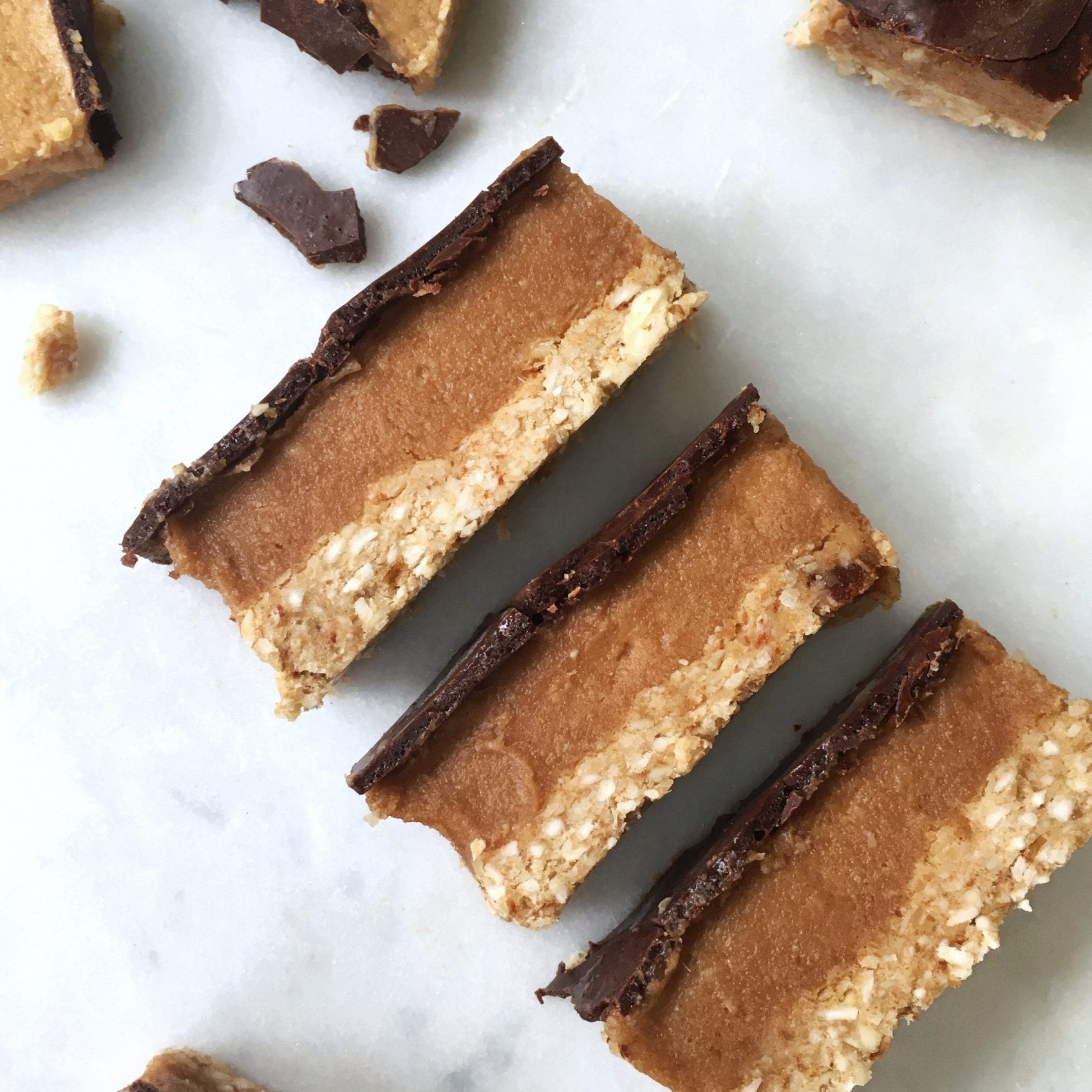 I know that you've started the new year being super behaved. Keeping healthy, eating salads, juicing and keeping it clean but who said you can't stay healthy and eat delicious sweet treats too? You just need to eating the right ones. What would be a better time then now to share my Raw Caramel Chocolate Slice Recipe with you. It's made only from whole foods like nuts, coconut and dates without containing any refined sugars, or oils! So you can pig out on these without a worry in the world.
Let's do this….
Raw Caramel Chocolate Slice Recipe
Ingredients
Base
1 cup of cashews
1 cup of desiccated coconut
A tablespoon of coconut oil
1 cup of dates (pitted and soaked overnight)
Raw Caramel
1 cup of Dates (pitted and soaked overnight)
1/2 teaspoon of himalayan salt
1 tablespoon of maple syrup
1 tablespoon of maca powder (optional)
Hot filtered water
Raw Chocolate topping
Raw cacao powder
Cocoa butter
Coconut oil
1 tablespoon of maple Syrup
Pinch of himalayan salt
Directions
Place all the base ingredients in a food processor and combine all the ingredients.
2. Once combined ( it should kind of resemble a doughy texture) press the mixture into a tray. I like to use ones where the bottom pops up so you can easily get everything out when you're done but if you don't have one of them then put a piece of clingfilm on the bottom of the tray, that way you can pull the clingfilm up keeping everything in tact. When you have pressed the mixture down pop it in the fridge while you make the raw caramel.
3.Place all the ingredients for the raw caramel in the blender and blend until the mixture is smooth.
4. Take your tray out of the fridge and pour the raw caramel on top of the base and even it  out with a spatula. Place back into the fridge for an hour.
5. While you are waiting for you're raw caramel to set you can prepare the raw chocolate topping. Place all the raw chocolate topping ingredients into a saucepan and keep on the lowest heat until everything is combined (don't let it get too hot).
6. Take the tray out of the freezer and pour the raw chocolate topping over, covering the entire surface and then place back in the freezer for another 15 mins.
7. Once the mixture is solid you can remove it from the freezer and cut it up into smaller pieces and enjoy. Remember to always store these in the freezer to keep them fresh!
Did you enjoy the recipe? I hope I have made the whole keeping healthy thing a lot easier for you!
If you are looking for another healthy chocolate treat check out my Raw Double Chocolate Kale Cookie Recipe 
Please let me know what you think below and if you have any requests for next weeks blog. Let me know below!
Until next time……
Honestly
Alessandra x