Simple Plant based Winter Veggie Soup Recipe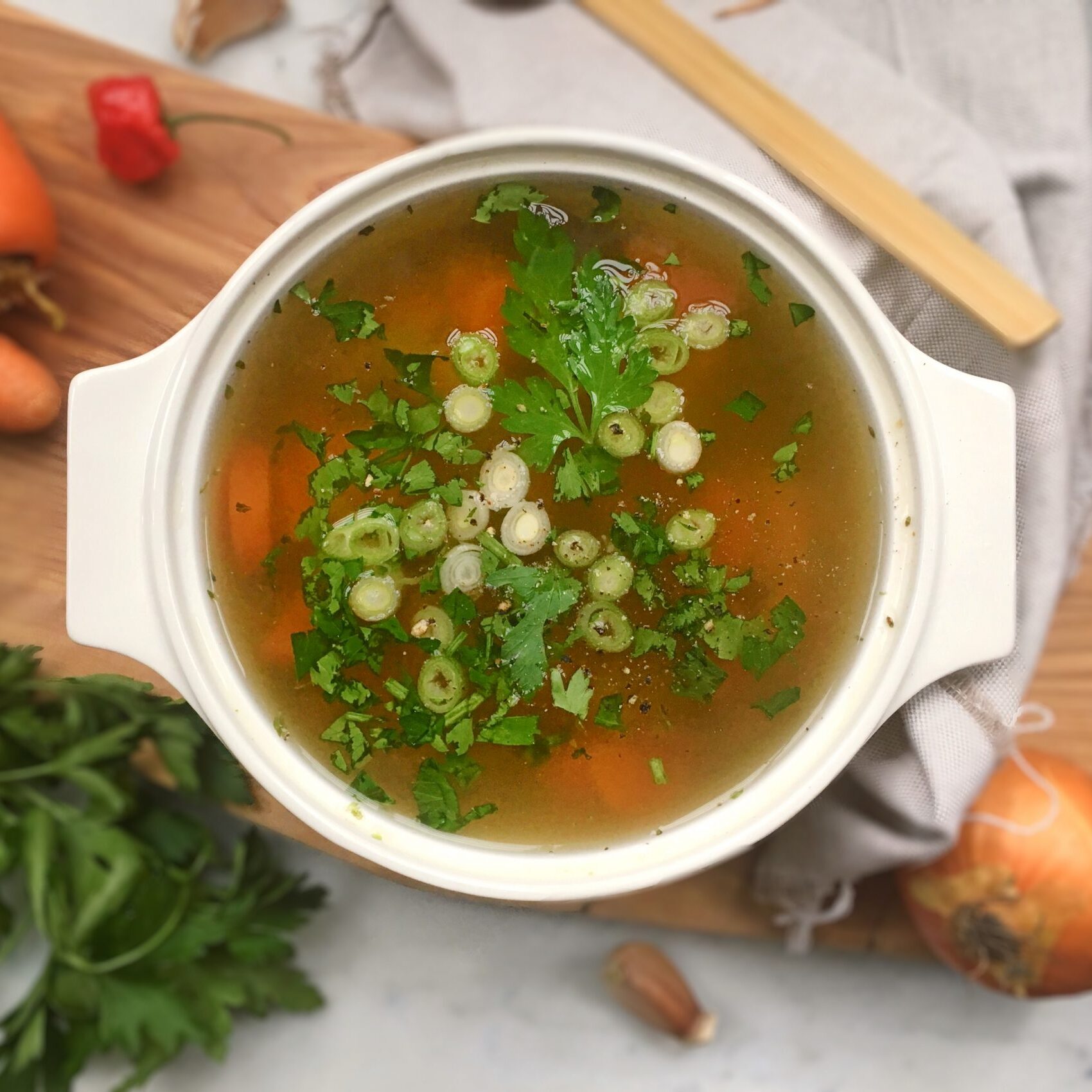 What a cold week we've had here in London! I've spent the most of my week hibernating inside, writing and recipe experimenting which has actually been quite therapeutic. If you follow me on Instagram you would have seen that I love my soups this time if year, there's really nothing better to warm you up from the inside out. I've decided to share my really simple but very delicious Simple Plant based Winter Veggie Soup Recipe with you as it's so easy to do.
Benefits of a Warming Soup
Did you know that regularly eating soup throughout the winter months has health benefits? The most obvious one is warming the body up when temperatures are low avoiding the flu, adding a little chilli is a great way to clear out any congestion. There is another benefit of heating the body, getting rid of toxins, your body's endocrine system activates and you start to sweat which is an essential part of getting rid of toxins. Hydration is another great benefit of eating soup, as it's colder we tend to not drink as much water as we do in the summer, I am so guilty of this I just forget to! Weightloss, improved circulation and better digestion are a few other reason to make soup a regular wi tea dish!
Let's do this…..
Simple Plant based Winter Veggie Soup Recipe

Ingredients 
1 Onion
2 Garlic
3 Celery
4 Carrots
1 Suede
3 Parsnip
2 Organic vegetable stock cubes
2 Spring Onion
Handful of sprouts
Handful of parsley
3 tablespoons of oregano
1 tablespoon of himalayan salt
1 Chilli
1/2 tablespoon of pepper
2 litres of spring water
Directions
1.For this recipe it is best to get all the vegetables cut and ready before you start cooking so wash, peel and cut the veg. The onion garlic can be cut into small pieces, but the rest can be cut quite chunky, I like to do them bit size as I like quite chunky foods in my soup.
2. Place the chopped onion and garlic into a large saucepan. Add a little bit of water and cook them until they start to go translucent. keep added water if needed, don't let it dry out.
3. Then add the rest of the cut vegetables and stir.
4.  Start adding in spring water and fill until all the vegetables are covered.
5. Add in the stock, oregano, Himalayan salt, pepper and chilli.
6. Allow to cook for 45mins. Once it has reached boiling turn the gas down lower and simmer
7. Plate up into a bowl and the sprinkle the spring onion, sprouts, parsley and enjoy. ( I like to sprinkle nutritional yeast on too!)
I hope you enjoyed my Simple Plant based Winter Veggie Soup Recipe as much as I do. A little tip of mine is that you can always add to this soup as you will have a few days worth of it. I sometimes add bean pastas or other veg that you have in the fridge depending on how I feel that day! Remember to add this recipe to you're Pinterest plant based soup recipes board!
Until next time…
Honestly
Alessandra x