Tropical Skin Plumping Smoothie Recipe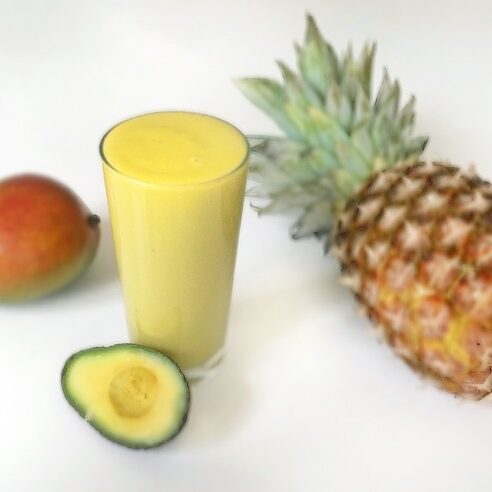 The smoothie i'm going to be sharing with you today is my Tropical Skin Plumping Smoothie Recipe that contains a perfect blend of skin loving beauty foods which will beautify you from the inside out. With the cold winter in full swing and drying out our skin i thought this would be perfect!
Pineapple
are one of the the richest sources of absorbic acid as a only a single serving has over 130% of  the daily requirement of Vitamin C! Which is what our bodies need to reduce illnesses, strengthen our immune system and help our bodies deal with healing wounds and injuries quickly. Pineapples are also a great beauty food as they have astringent properties which tighten and tone the body. Preventing things like hair and tooth loss, skin loosening, strengthen gums and muscle weakness. Full of these vitamins and nutrients and minerals, potassium, copper, manganese, insoluble and soluble fiber, calcium, magnesium, beta- carotene, B6, folate, thiamine, bromelaine and vitamin A and C I'm definitely going to get me some more of this delicious fruit!
Mango
Contains beta- carotene which our body converts into Vitamin A which  is vital for our skin to encourage it to repair itself and perfect for keeping those blemishes and scars at bay and rejuvenating your skin to have a healthy, glowing complexion naturally! Mangoes are also loaded with antioxidants which help delay the ageing process and pigmentation.
Baoab
your probably thinking what the hell is baoab! Well it's a fruit, only this fruit is the only fruit that dries on the branch of Africa's 'tree of life' where it is then harvested and sieved into a powder for us to enjoy it's rich content of nutrients this superfood provides. This is another great beauty food packed with Vitamin C, Potassium, Calcium, Magnesium and dietary fiber (roughage) keeping our skin glowing, teeth and bones strong, muscle and heart function and good gut health leading me to my next point…
Baobab has prebiotic properties fertilzing the good bacteria already in our guts. We know how important our gut health is with more and more studies proving our guts are our 'second brain' we definitely need to keep it healthy and moving as clogged up and toxic guts lead to many health problems as well as bad skin. I've added a link for you to my favourite Baoab product by Aduna Health so you can try it out. Aduna Baoab Powder 275g
Let's get blending…..
Tropical Skin Plumping Smoothie Recipe
Avocado
One of my favorite beauty foods! Avocados are a definite my go to beauty food as they are key when it comes to the way it's fat acids moisturize and soften your skin cells! The monounsaturated fatty acid keeps the moisture in the epidermal layer of your skin. Helping to make it soft and hydrated. The omega-9 fat in avocados is one of the budding blocks to healthier, glowing and  hydrated complexion. As well as regenerating damaged skin cells and  reducing facial redness and irritations.  Avocados are also rich in vitamins C and E. Which are the antioxidants that protects our skin from free radical damage aiding with the firmness and structure of your skin.
Coconut Water
Our skin can't be plumped if it's not hydrated! Coconut water contains the same electrolyte balance as human blood making it the perfect hydrators.
Ingredients
yields 2
1/2 cup of pineapple
1 Mango
1/2 Avocado
1 tbs Baoab
1 glass of coconut water
Directions
Blend all of the ingredients
Pour and Enjoy!
Happy blending you guys! Drinking this regulalry is definitely going to make a difference to your skin and overall health. Try putting some of these ingredients on your face. Whenever I cut an avocado I spread the remainders left in the skin over my face and leave it on while i eat my lunch! Have you got any skin food tips? if so please share by commenting below
Until next time…
Honestly
Alessandra x