Thai Yum Spiced Nuts Recipe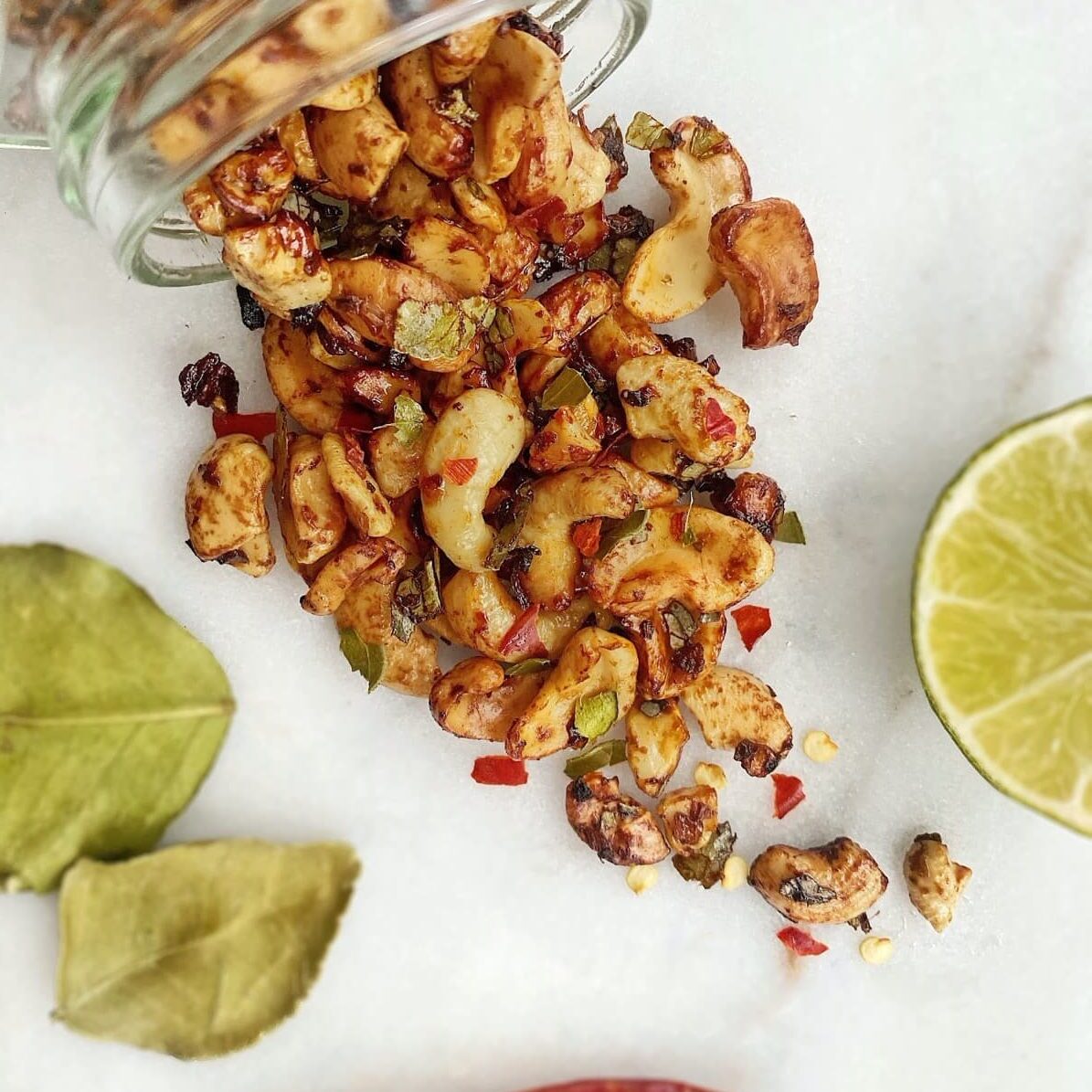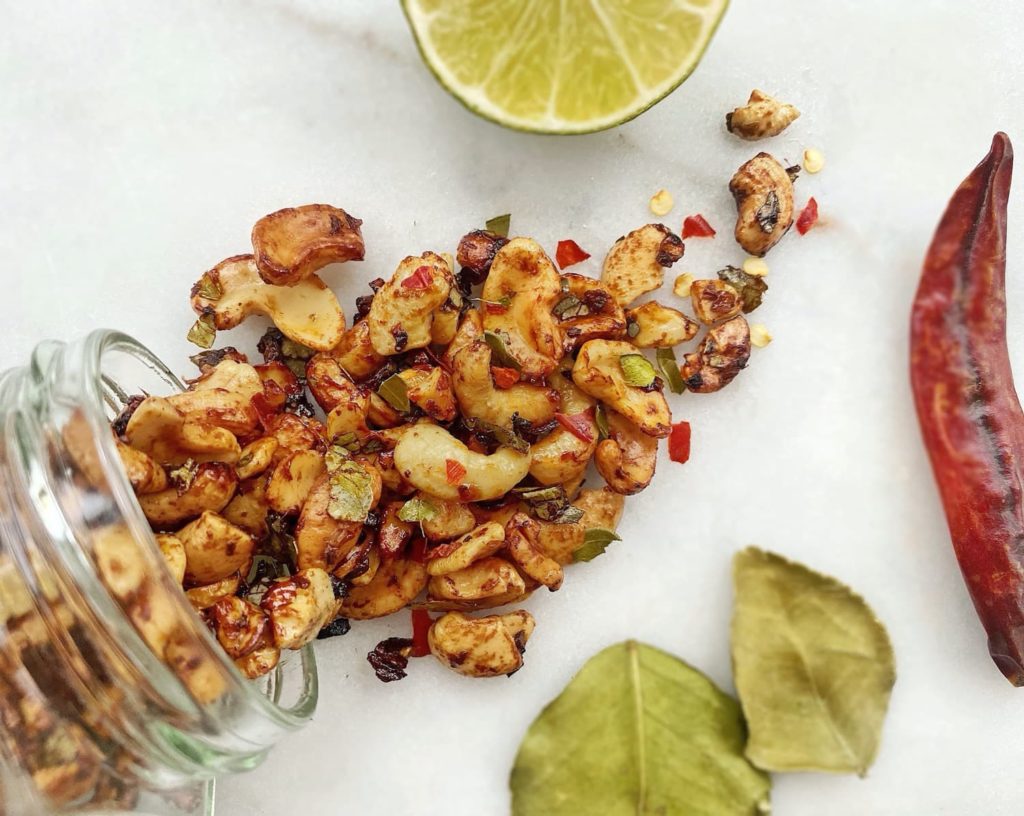 On my recent trip to Thailand I discovered one of my favourite snacks ever! Tom yam cashew nuts! Tom yam is classically a delicious, flavourful soup which I love but struggle to eat in the 35 degree heat so when I saw it in a nut snack I was delighted! Nuts are such a great healthy snack for us to be enjoying but can get little boring sometimes which is why my Thai Yum Spiced Nuts Recipe is going to have you struggling to put the jar away!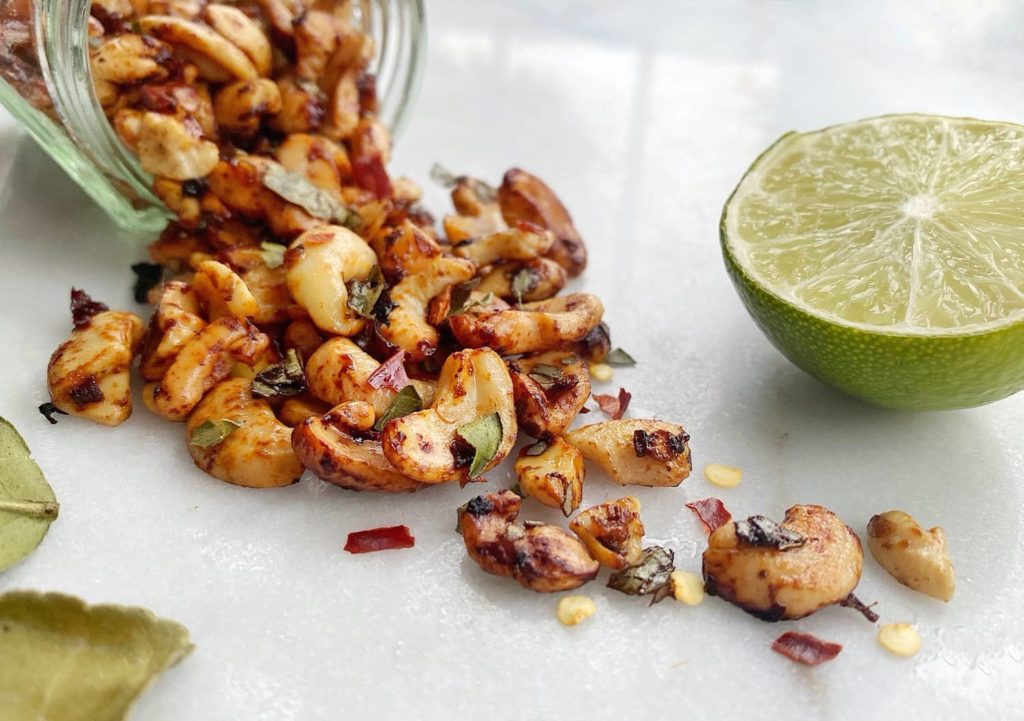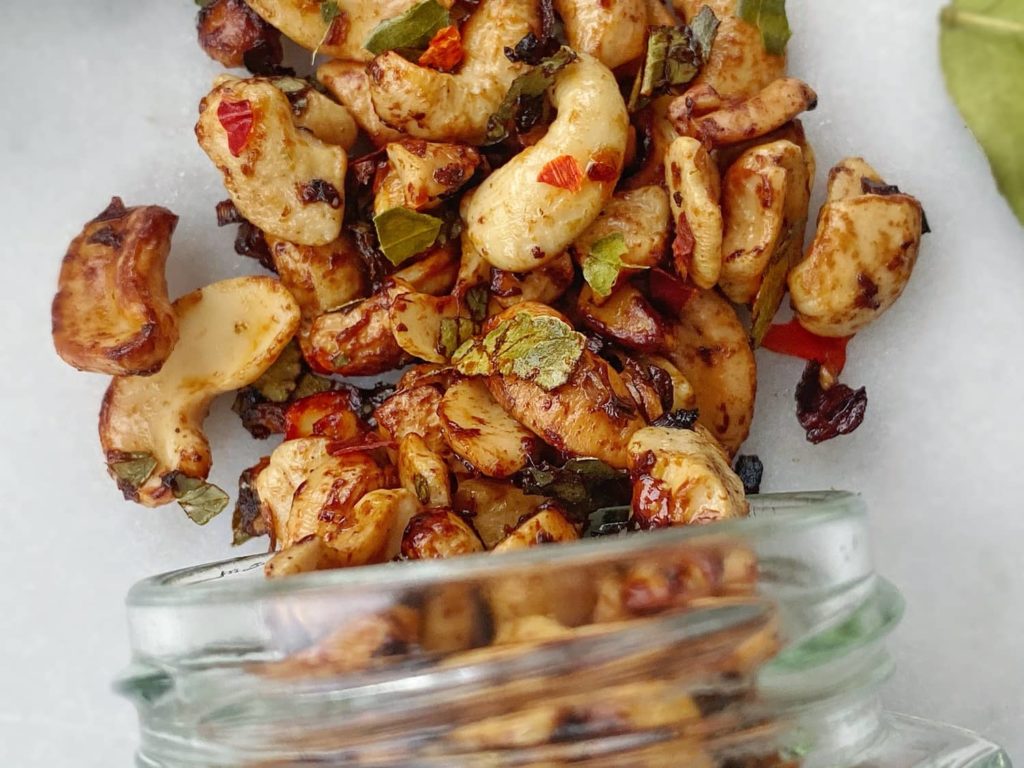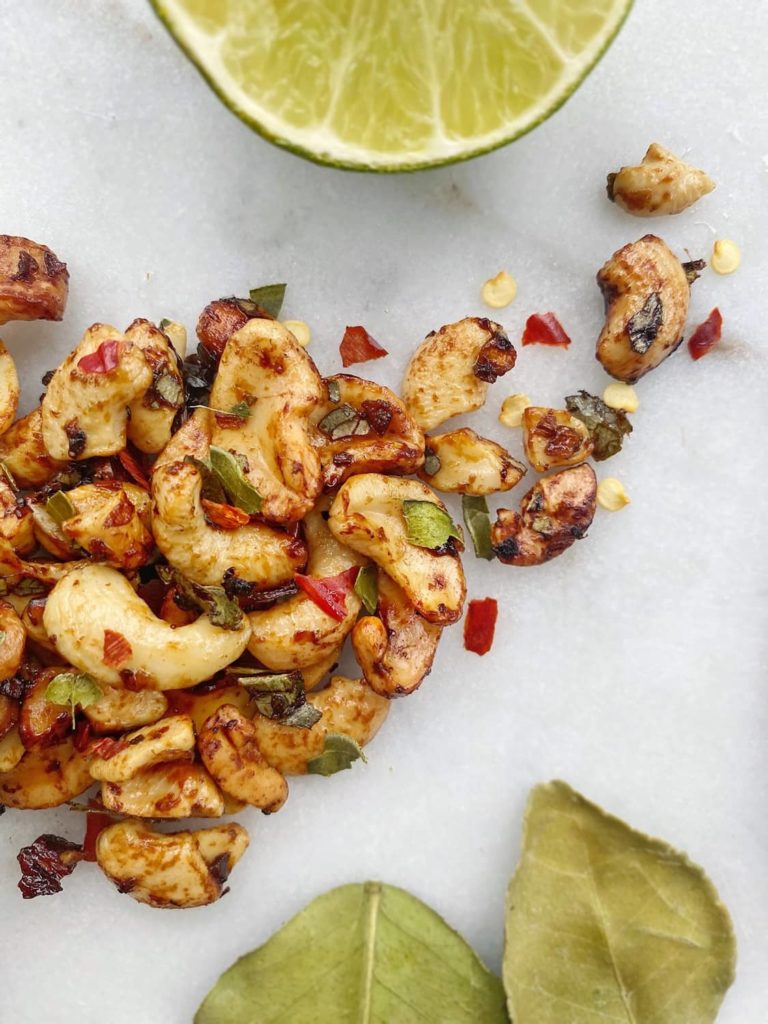 Cashews
Cashew nuts are a creamy nut filled with minerals. In the past the cashew has had some bad rep as they contain fat, making people think that it will make them gain weight. There is a difference between good fat and bad fat, the cashew has good fat. Good fats are essential to give your body energy to support cell growth, feed and protect the brain. Did you know that our brains are composed of 60 percent fat!! Cashews also help protect your organs and help keep your body warm. Fats help your body absorb some nutrients and produce important hormones, too. Your body definitely needs fat.
Excellent source of antioxidants
Lowers your risk of gallstones
Protien rich
Protects our eyes
Keeps skin and hair healthy
Weight loss
Improves joint and bone health
Protects our hearts
Protects against cancer
Let's do this…..
Thai Yum Spiced Nuts Recipe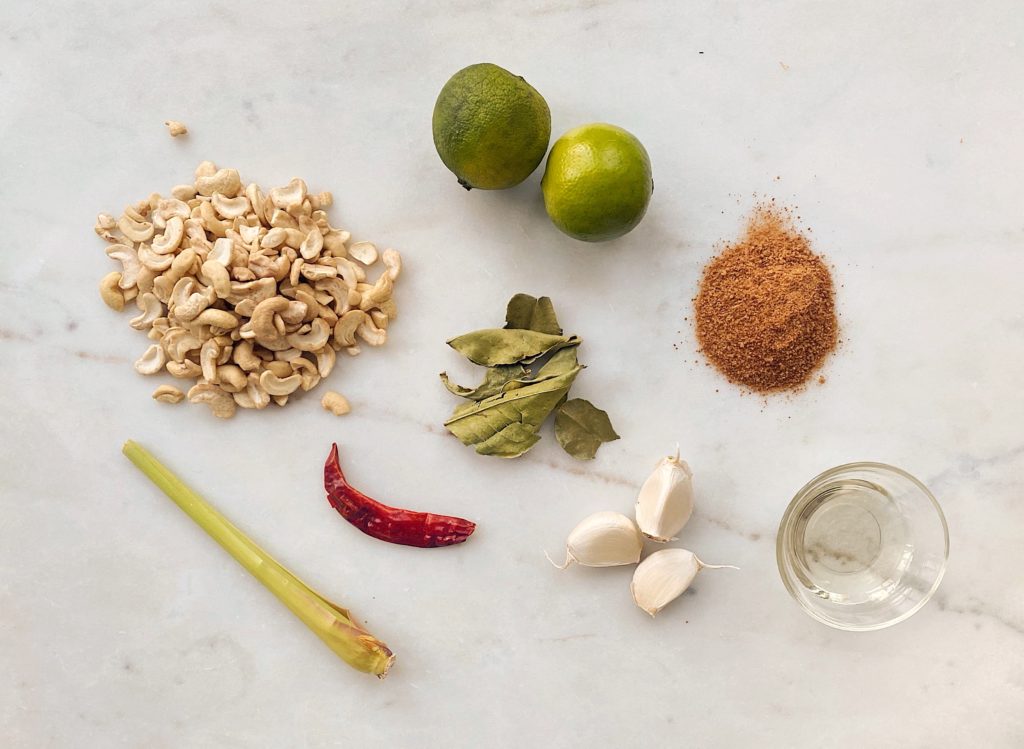 Ingredients
Wet ingredients
1 Garlic
2nLemongrass
2 tbs avocado oil
Juice of 2 limes
Dry ingredients
1 cup cashew nuts
handful of keffir lime
1 dried chilli
2 tbs Coconut sugar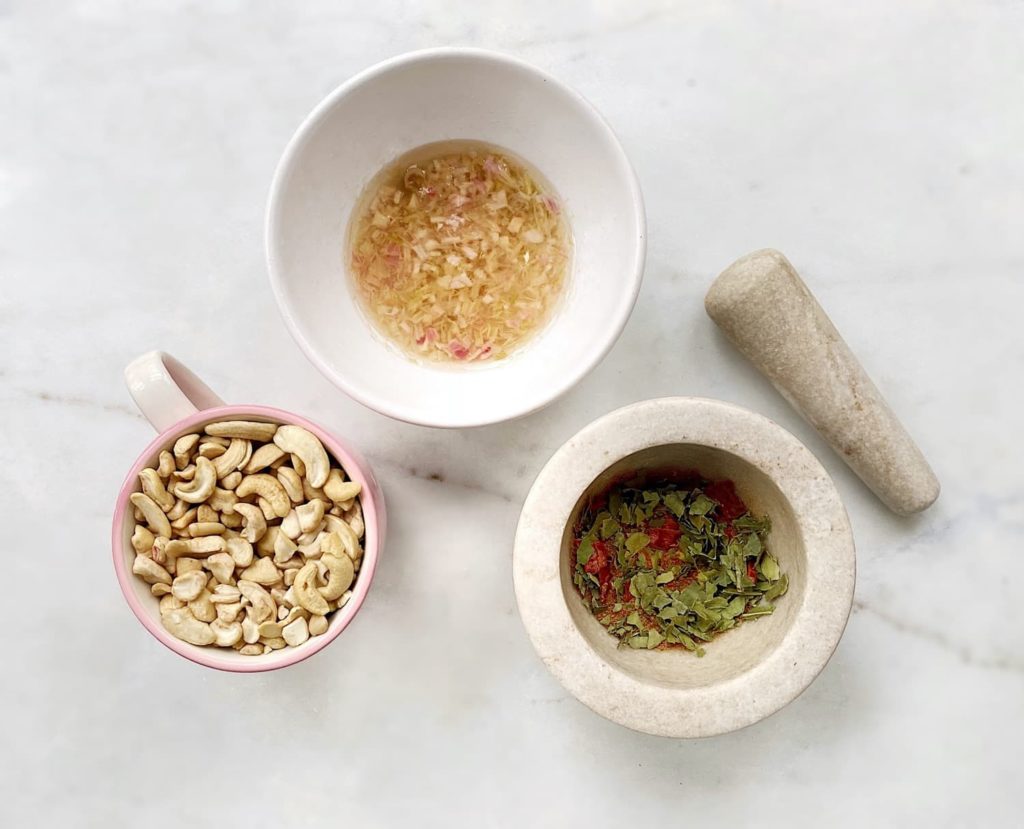 Directions
Cut/grate the garlic and lemongrass into small pieces and marinate in a bowl with lime juice and avocado oil for around 4 hours.
Place all of the dry ingredients (apart from the cashews) in a bowl and with your fingers crush and mix until everything is mixed well.
Next combine the cashew with the dry ingredients.
Pre heat oven at 180
Once the wet mixture is marinated pour the mixture in with the dry mixture until everything is combined well.
Place onto a tray covered with a baking sheet and put into the oven for 40 minutes on the lowest heat. Make sure to occasionally mix the nuts and spread them out.
Take them out of the oven and let them cool and harden before eating. Place into a secure glass container and enjoy!
Such a flavourful, quick and easy snack to make! You can store these Thai Yum Spiced Nuts in a air tight container and enjoy them over a long period of time, if they last lol! Comment below I'd love to hear what you guys thought and also what delicious recipes you would like me to share next.
Lots of love
Honestly
Alessandra x